Ladies hit the field at Notre Dame Stadium for annual Football 101 event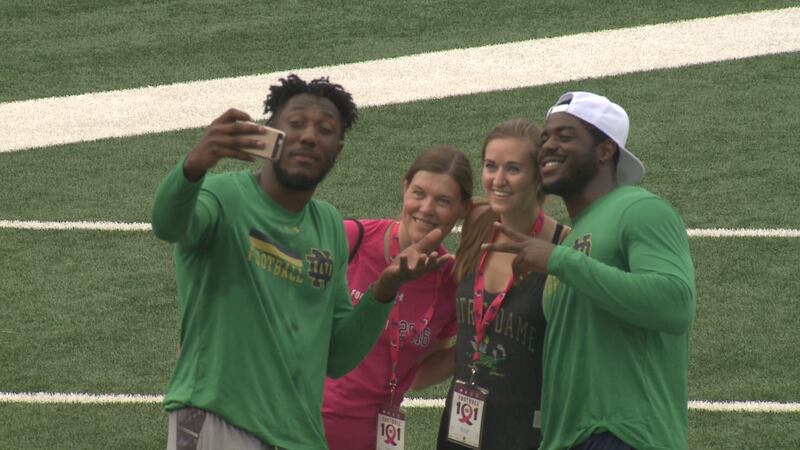 Published: Jun. 13, 2017 at 11:55 PM EDT
Ladies hit the gridiron for the 8th annual Football 101 Tuesday night at Notre Dame.
The event, presented by the Kelly Cares Foundation, has Notre Dame football players teaching women the ins and outs of the football program including running them through drills on the field at Notre Dame Stadium.
"To come into the stadium and to look around, it's a little bit overwhelming so we actually have to tell the ladies it's going to be OK out there," Irish coach Brian Kelly said.
But some of the women on the field Tuesday night were more than OK, including one that was booting long field goals.
"There some good kickers," says Irish defensive back Julian Love who was assisting coach Mike Elston in the field goal drill. "One girl was good, we moved her back to the 20 yard line and she booted it. So I know Justin [Yoon], look out."
For the Irish players---this was a great opportunity to interact with fans and give back.
"This is amazing," says Irish running back Josh Adams. "They are having more fun than me but I'm just trying to help them out through these drills but it's a blast out here. It's just something special. Not everyone gets to do this. I'm just blessed to be here."
And the players' efforts to make this a great experience is something that's very much appreciated.
"The players do such a great job," says Paqui Kelly. "Student athletes... don't get the chance to be college students sometimes because of their schedule. This is an opportunity where they can just be themselves and it's stuff they already know how to do and just have a great time with it. I can't say enough about the players, they really make it fun for everybody."
Football 101 is the original event for the Kelly Cares Foundation since the Kelly family arrived in South Bend in 2010. It's something that means a lot to Paqui, a two-time cancer survivor.
"For me, this is a part of my heeling," Paqui said. "I've had great support when I was sick. Brian and I couldn't really employ the number of people that reached out to us, it's one of those give back things. When people come up to you and say, 'thank you for doing this,' we don't do it by ourselves, it's a team effort."