Notre Dame guard Farrell stunned as his brother arrives home from Afghanistan to surprise him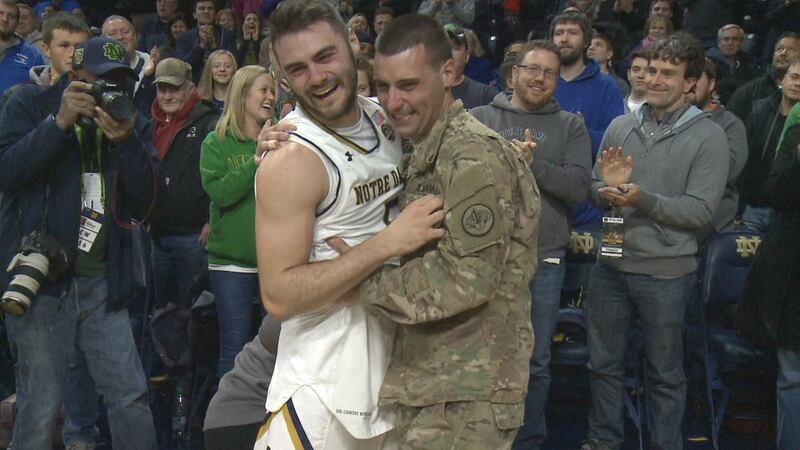 Published: Dec. 20, 2016 at 1:49 AM EST
It was a sluggish men's basketball game Monday night at Purcell Pavilion but the moments immediately following Notre Dame's win over Colgate will be remembered for years to come.
Bo Farrell is a 1st Lieutenant in the 3rd Calvary Regiment of the U.S. Army, currently stationed in Afghanistan. He was scheduled to return home in February to see his family.
His younger brother Matt is the point guard at Notre Dame.
As Notre Dame lined up to sing the Alma mater following their victory, the public address announcer asked everyone to instead face the videoboard for a special message from Bo. Matt's face turned into shock and excitement.
"Matty I've been watching your game from here and hearing Jack Nolan call your game," Bo said on the jumbotron with the American flag as his background.
The video continued to digitize as you would expect from a signal "all the way from Afghanistan."
"For us, home is where ever we are together and I look forward to being home with you soon----really, really soon," Bo said as the camera pulled out to reveal that he was not actually broadcasting from Afghanistan but instead the Notre Dame locker room.
The digitized video was just a part of the elaborate plan to surprise Matt.
Matt fell into the arms of his teammates and started crying. He then walked towards the Notre Dame locker room as his brother emerged onto the court and the two brothers embraced in an incredible moment. Their mom and dad joined them on the court. Mom and dad had no idea either.
'I don't even know what to say," Matt said in the locker room after the game sitting next to his brother. "I'm at a loss for words."
This was a truly elaborate plan. Bo contacted USO, who contacted the ROTC and then eventually it got to Notre Dame. Former Irish captain AJ Burgett works in the athletic department and got Bo on the phone with Fighting Irish Media's Aaron Horvath who began the planing process in early November. Notre Dame was all in on making the event happen.
Horvath picked Bo up at the airport Sunday night and the video was taped Monday at 9:30am. Only 12 people knew what was going down before Monday, when the number swelled to 50 to ensure it would go off without any issues.
There were no issues. It could haven't gone better. Matt was completely fooled.
"I just thought it was a Christmas message from somebody," Matt explained. "They caught me off guard. Coach Brey knew--I'm pissed at him. I'm pissed at the whole staff--they all knew. It's just awesome."
Matt and Bo talk every day and Bo actually returned to the U.S. a couple of weeks ago so he had to lie to his little brother every day to save up for this moment.
"I would have to match up the time difference and wake up at 3am here to talk to them and then go back to sleep to try and continue to play it off," Bo explained.
"Oh I tried to facetime you that one time and you didn't answer," Matt said figuring it out from two nights earlier. "Now I know why."
Bo actually watched the game from the last row of the building and started ducking when he thought Matt might be looking in his direction--Matt of course--was focused on the game and had no clue.
With the Irish not scheduled to play against until December 28th, the Farrell family now heads home to New Jersey to celebrate the holidays as one big family.
"We don't ask much for Christmas anyway so this is the best present I've ever gotten," Matt said.