1-on-1 with Brian Kelly about the Irish quarterback battle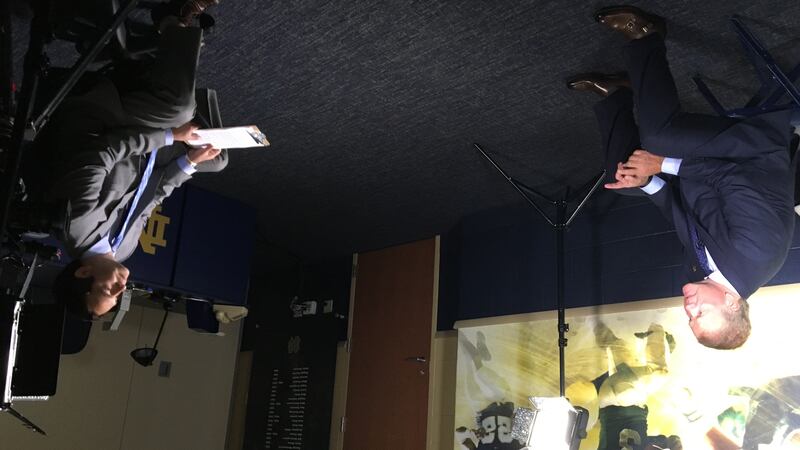 Published: Aug. 25, 2016 at 6:53 PM EDT
Last Wednesday, Irish football Coach Brian Kelly announced that DeShone Kizer and Malik Zaire would both play against Texas in the season opener. After making the announcement at Media Day, Kelly sat down with NewsCenter 16's Angelo Di Carlo for a 1-on-1 conversation. Multiple topics were discussed. In Part 1 of the conversation, we focused on the quarterbacks.
: "Obviously this is a [quarterback] decision that is probably one of the most difficult you've had to make in your years as a coach?
: "Yeah. I think so especially here at Notre Dame. I think it's easy to just play one quarterback and I think if you just go on the body of work with DeShone last year, it's probably the easist thing to do is to fall to that but both of these guys make plays. We have some young players on offense and to beat Texas, I think we need both of them to play against this team. we'll see what happens when we move forward but I think it's the right thing to do is to get them both on the field against Texas."
: "When you started camp, did you think you would have one quarterback against Texas?
: "I wasn't sure. I think I was meaning more towards one than two but as they continued to make plays in team--not 7-on-7. I knew 7-on-7 was not going to separate. It was actual team time and it was team time and it was team time not only with the first unit but also the 2nd unit. Usually the 2nd unit is a disaster--you know. You have guys coming through. Even in the 2nd team, they made the 2nd team look good."
: "At what point did you just say, I can't make a decision between these two?"
: "I know most of my staff felt like this is too hard and as we continued to practice, the same results would come up, both of them made plays. Finally I said--we can continue to do this but we are going to get to the same place--both of them are going to make plays."
: "Do you think ultimately---I don't know if it's week 2, week 5, week 7---that you'll have one guy or do you think this will be a scenario where you have co-starters all season long?"
: "I think Angelo both of those are possible. It's possible they can sort this thing out on the field and it's possible they could come together and it requires both of them to work this together as well. If we win and they both play well, they are going to be fine. Every NFL team will see what they've done and they'll have a body of work to prove it."
: "Ultimately, do you feel your team is better with those guys playing versus with just one guy playing?"
: "I certainly do. I know we need playmakers against a team like Texas on the road with some young players around them--having both of those guys--with their ability. I believe playing both of them during that game is in our best interest."