Web of betrayal: Warning signs of abusive relationships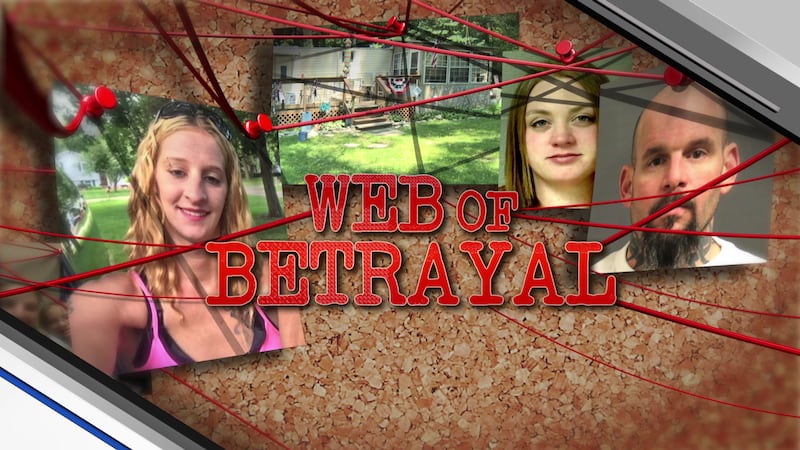 Published: Apr. 26, 2019 at 4:51 PM EDT
Twenty-eight-year-old Christina Woods was in a relationship with Daniel Lynn, a man married to her best friend Brooke Taylor.
During the relationship, Christina called police on Daniel, claiming he had abused her. Unfortunately, cases like this are all too common.
According to national statistics, every minute 20 people are physically abused by an intimate partner; that adds up to more than 10 million men and women per year. There are usually warning signs in most cases and there were many in Christina's case.
"I think the biggest warning sign that I had seen was Christina had filed a domestic violence case against Daniel Lynn less than a month prior to her death," said Joshua Harmon, a detective with the St. Joseph County Police Department. "She ended up recanting that story later on and no charges were filed because the prosecution couldn't get the victim to cooperate to push charges."
In the months leading up to her death, Christina called police three times to report being assaulted by both Daniel and Brooke.
"She did the right thing at first and reported the crime," said Detective Harmon.
On a typical day, there are more than 200,000 phone calls placed to domestic violence hotlines nationwide. But Detective Harmon says the real difficulty is getting the victims to press charges.
"Whenever victims are recanting their stories to protect the people they're in relationships with, it's hard for police and prosecutors to continue the fight after that."
Christina's murder is part of a much bigger and even more heartbreaking statistic. The FBI says of the 1,800 women murdered by men in 2016, 85 percent were murdered by a man they knew.
"This person literally put his hands on my daughter, strangled her and took her last breaths from her. You have no right to harm another person and take their life," said Christina's mother, Mary Robinson.
Christina's family is haunted by the thought this all could have been prevented.
"There were warning signs but I never thought they would go as far as they did," said Robinson.
"Abusive partners are extremely charming and very good at slowly ramping up the control," said licensed psychologist Dr. John Petersen, who discussed why it's so hard for victims of domestic abuse to walk away.
"Victims slowly give away parts of themselves and it's like a frog and water beginning to boil. Next thing you know, you're trapped," Petersen continued.
Petersen also says anyone feeling trapped should get support from a professional trained to help people escape dangerous situations.
"Often the decision to leave can be a turning point, but you have to turn that into a careful plan because leaving can put you at the most highest risk," Petersen said. "It's very scary, it's very high stakes and it takes a lot of courage on a number of levels."
Christina made that decision by herself, but unfortunately her plan to leave did not work.
"There are times when I look down at my phone and I want to pick it up and talk to her," Robinson said. "It just gets harder and harder as you go."
As Daniel and Brooke sit behind bars for their role in Christina's death, Christina's four young children are now growing up without a mom.
"Haley, Serrina, Anthony, Kira, they all need their mom here. I don't know how to get used to her not being here," said Robinson. "You're supposed to forgive and maybe one day I will forgive. Not for him, but for myself, but I'm not there yet."
Domestic violence is becoming far too common and it's time to start talking about it.
There's a national domestic violence hotline available 24/7, 365 days a year if you, or someone you know, needs help. That number 1-800-799-7233.
There are many local resources that can help. Hannah's House is a Catholic-Christian agency offering a continuum of shelter, staff support and programming for the physical, emotional and spiritual well-being of pregnant and parenting single/homeless young women. To learn more about this organization, click
Dr. Petersen also advises those looking to leave their abusive partner to seek help from the Family Justice Center of St. Joseph County. Click
for a link to their website.
Hope Ministries in South Bend also provides emergency and transitional housing for 18 families with children, 35 single men and 16 single women. Residents can stay between 12-18 months if needed. To learn more about their mission and care, click
As Christina's family continues to mourn her loss, they're hopeful her story will help more victims recognize signs of abuse and seek help before it's too late.
To connect with a counselor or to seek treatment for mental health, the Family Psychology of South Bend can help. To learn more, click
To read Part 1 of a Web of Betrayal, click here.