Pence to deliver commencement address at Notre Dame in May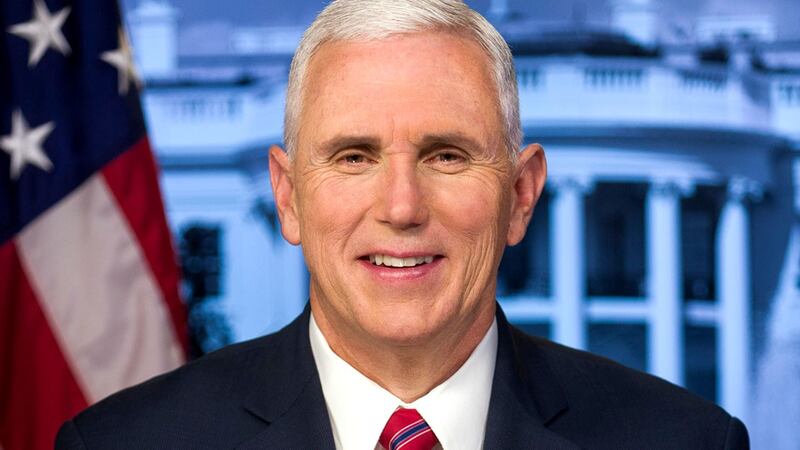 Published: Mar. 2, 2017 at 11:08 AM EST
There have been 171 commencement speakers in Notre Dame's history. Not one of those speakers has been a sitting vice-president of the United States. But that will change soon when Mike Pence addresses the class of 2017.
With 171 people including an assortment of presidents, it's amazing there hasn't been a sitting vice-president yet. But Notre Dame says with his growing worldwide respect and being a Hoosier, he's a prefect choice for the ceremony.
Vice-President Mike Pence isn't a stranger to Notre Dame's campus or its staff. He's spoken there several times before.
"Most recently at a memorial for the late Father Hesburgh." Notre Dame's Vice-President for Communications Paul Browne said.
But for the past couple presidents since Bush Jr. They both have been speakers on their election year. So a big question was if President Trump was considered for the position.
"We don't announce who hasn't come or who wasn't invited," Browne said. "We announce who was invited and accepted."
Notre Dame says they understand where the idea came from, but there are plenty of years where this didn't happen.
"President Kennedy," Browne said. "President Johsnon, President Nixon, President Ford. None of them spoke at the commencement...It hasn't been the case that every president has spoken at commencement."
That's not to say it isn't going to be a big deal to bring the VP back to ND.
"Any time someone is stature of the vice-president of the United States is going to be on campus, it's pretty exciting." Browne said.
Having a high profile Hoosier speak just makes sense to the school.
"The fact that it coincides with Notre Dame's 175th founding here in Indiana, to have the governor of Indiana- now vice-president- join us is an honor and I think it will make for a very good commencement ceremony." Browne said.
Pence is the first VP to speak, but during other commencement years, past vice-presidents have been in the audience. Then-vice-president Joe Biden was there just last year. He was given a laetare medal. When Vice-President Pence shows up to the commencement this year, Notre Dame is going to make him an honorary doctor of law.
The stadium will still be under construction, but Notre Dame says the construction will be suspended so the ceremony can be held there.
From the University of Notre Dame:
Vice President Mike Pence will receive an honorary degree and serve as principal speaker at the University of Notre Dame's 172nd commencement ceremony May 21 (Sunday). He becomes the first vice president of the United States to deliver the commencement address at Notre Dame.
"It is fitting that in the 175th year of our founding on Indiana soil that Notre Dame recognize a native son who served our state and now the nation with quiet earnestness, moral conviction and a dedication to the common good characteristic of true statesmen," said Notre Dame President Rev. John I. Jenkins, C.S.C. "With his own brand of reserved dignity, Mike Pence instilled confidence on the state level then, and on the world stage now. We are proud to welcome him to represent the new administration."
Pence was born in Columbus, Indiana, June 7, 1959, one of six children of Edward and Nancy Pence, who established a successful convenience store in their small Indiana city 45 miles south of Indianapolis.
Pence earned a bachelor's degree in history in 1981 from Hanover College. He later attended Indiana University School of Law, where he met his future wife, Karen. The Pences have three children: Michael, Charlotte and Audrey. After graduating from law school, Pence practiced law, led the Indiana Policy Review Foundation, and began hosting "The Mike Pence Show," a syndicated talk radio show, and a weekly television public affairs program in Indiana.
In 2000, he launched a successful bid for his local congressional seat, entering the U.S. House of Representatives at the age of 40. The people of East-Central Indiana elected Pence six times to represent them in Congress. He was subsequently elected by his colleagues to serve as chairman of the House Republican Study Committee and House Republican Conference chairman.
In 2013, Pence was elected the 50th governor of Indiana, and served through the end of last year. The Republican Party's nominees for president and vice president of the United States, Donald Trump and Mike Pence, were elected Nov. 8 and took their oaths of office Jan. 20.
From the Office of the Vice President:
Vice President Mike Pence will deliver the commencement address at the University of Notre Dame on Sunday, May 21, 2017. Vice President Pence will become the first sitting Vice President of the United States to address the graduates during their commencement ceremony.
"It is extraordinarily humbling to return to my home state and address the graduates of Notre Dame," said Vice President Pence. "The young adults in the Class of 2017 will leave school with the charge and opportunity to make new discoveries and assume leadership roles that will make a profound impact benefiting the lives of millions of people. The hopes of their parents and our country go with them as they enter a world filled with optimism for the future."
Vice President Pence will join a list of distinguished commencement speakers at the University of Notre Dame that include Presidents of the United States, Prime Ministers, leading journalists, military and government leaders, and numerous distinguished scholars.
During the ceremony, Notre Dame will also confer an honorary Doctor of Laws on the Vice President.
Vice President Pence was born and raised in Indiana. He received his undergraduate degree from Hanover College and his law degree from Indiana University. The Vice President was elected six times to represent East-Central Indiana in the U.S. House of Representatives. In 2012 he was elected the 50th Governor of Indiana. On January 20, 2017, during the inauguration ceremony for President Donald Trump, Vice President Pence took the Oath of Office to become the 48th Vice President of the United States.