Toddler saved in Lake Michigan after winds carry inflatable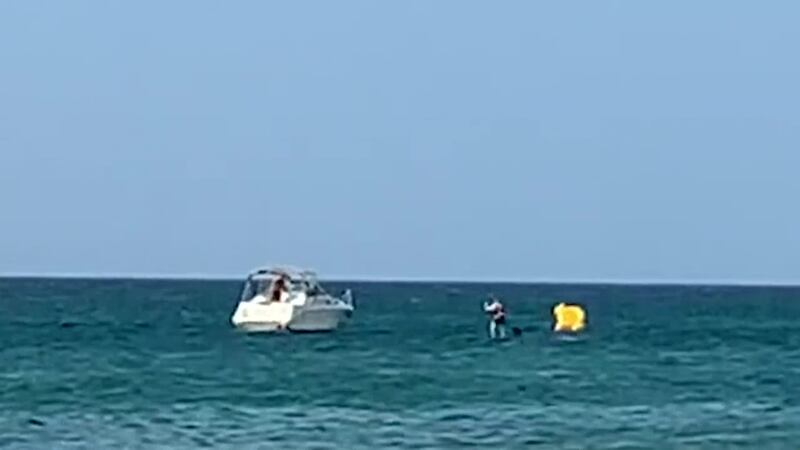 Published: Jul. 16, 2019 at 11:10 AM EDT
A toddler on an inflatable duck was rescued in Lake Michigan at Washington Park Beach in Michigan City, and it was all caught on camera.
Dave Benjamin and others assisted in the rescue. Benjamin said he was checking out the beach when he noticed an inflatable duck holding a child drifting away fast.
He said the boy's mom turned her back to help her other child when the duck took off. She was unable to rescue the boy.
Benjamin said he saw boaters nearby and tried getting their attention.
A man on an inner tube was attempting to get to the boy but was unsuccessful.
Benjamin said he quickly got his stand-up paddle board and got into the water, making his way to the boy.
"It was high-anxiety and full--exhaustion," Benjamin said.
He said the boy was terrified and went into full crying mode.
The boy eventually fell off his duck, and although wearing arm floaties, Benjamin said this would not have been enough to save the boy.
Boaters jumped into the water, assisting in the rescue. With a team effort, they saved the boy's life.
Benjamin happens to work for Great Lakes Surf Rescue Project. Ironically enough, he teaches water safety and tracks drownings.
"These drowning statistics are updating almost daily. Right now, we are at 36 Great Lakes drownings in 2019," he said.
Benjamin also said 17 of this year's Great Lake drownings are in Lake Michigan.
"You know, we need to look at water safety from three aspects: safer water, safer swimmers and safer response," Benjamin said.
The Department of Natural Resources confirmed that no one needed medical treatment.
NewsCenter 16 reached out to the parks and recreation department in Michigan City to see where the lifeguards were during all of this, but we have not heard back. However, the DNR confirmed the lifeguards were on scene but could not assist because the little boy was too far out.