Storm drain art project to encourage public to keep environment clean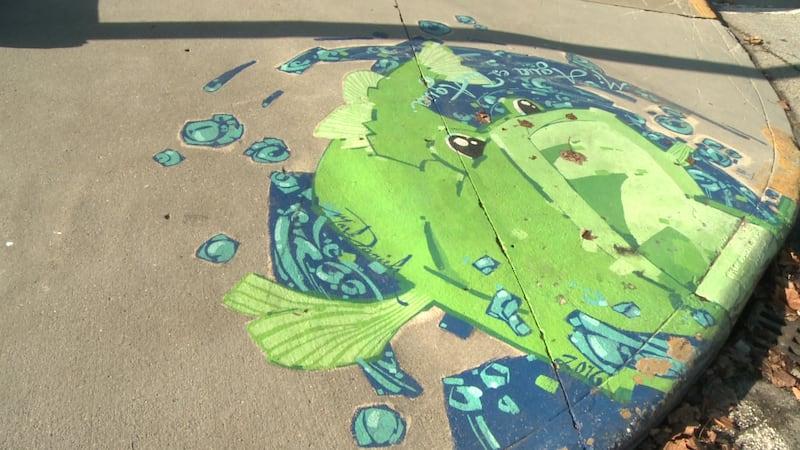 Published: Jan. 3, 2019 at 4:47 PM EST
People probably don't think long and hard about storm drains on the street. An initiative in Elkhart County might encourage the public to think twice when they see soon-to-be beautified grates.
"This was a way to draw attention to storm drains and how to make a difference by less pollution," said Michelle Kercher, co-owner of My Community My Water.
She and her business partner have been contracted by the cities of Goshen and Elkhart to lead the 2019 Street Drain Art Project. Eight drains each will be decorated in the two cities. In 2016, the areas around eight drains were painted in Goshen.
"Stormwater is the only type of water pollution that is increasing at this time, and anything we can do to reduce the amount of pollutants is going to improve the quality of our water," explained Jason Kauffman, stormwater coordinator for Goshen.
According to Kauffman, stormwater represents runoff from a street or hard surface, which likely picks up pollutants. Stormwater in Goshen flows into waterways, such as the Elkhart River.
Kercher hopes a decorated storm drain makes people more cognizant of their environmental sensibilities.
"We just want them to think about how they can make a difference in their environment," she said. "It's not always big, huge changes. Sometimes, it's just little things that you change, whether it's picking up trash that's near the storm drain or not putting your lawn clippings in the street. It can be, again, when you're walking your dog, taking care of their disposals."
Participating in the Storm Drain Art Project also aids cities in fulfilling Clean Water Act requirements for public education and public participation.
To apply to paint one of the 16 storm drains, visit the
.
A panel will select the artists, who will be contacted in March. The paintings are expected to be unveiled in early June.