South Bend entrepreneur helps others with autism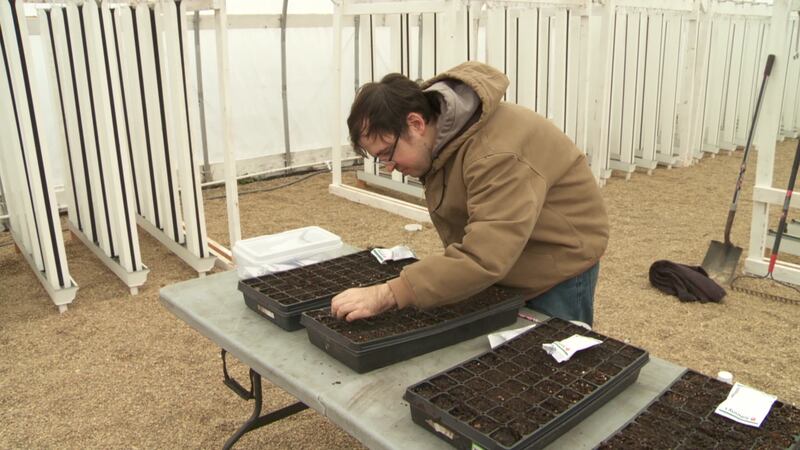 Published: Jan. 15, 2018 at 6:38 PM EST
We hear a lot about children with autism, but what happens when they grow up?
Many can't hold jobs, which is something a young Michiana man found out the hard way.
But as you'll see, this South Bend entrepreneur found his way, and he wants to help others do the same.
"I majored in French, and I had a double minor in chemistry and environmental studies," Chris Tidmarsh explains.
It would be a rigorous choice of majors for anyone, but Chris has autism. He landed a great job as an environmental researcher after college, but then he lost the position.
"The office that I was working in, they expected to follow instructions verbally," he explains. "I'm more of a visual learner."
Part of a sad statistic: almost nine out of ten autistic adults are unemployed.
With the help of his mother, that led to the birth of Green Bridge Growers, a commercial greenhouse in South Bend that provides fresh vegetables and flowers to local restaurants and florists.
"As a mother, to see that so many with autism across the community were unemployed, including my own son, Chris, I thought that an entrepreneurial approach to autism employment would be a great thing for this community," Jan Pilarski says.
The two combined their strong suits. Chris brought his passion for the environment and science, and Jan, a long-time professor, took over the business part of Green Bridge.
"It was a leap of faith for me. I was working and teaching here locally at Saint Mary's College," Jan says. "As a mother and someone concerned with social justice, this just seemed the right thing to do."
And the other right thing is that their vertical farming is sustainable and year-round.
Melissa Tomas is the outreach and training coordinator.
"This is our method for growing vertically. There's 16 towers in each stand and ten plants per tower, so the plants themselves grown horizontally out from here," she demonstrates.
Using aquaponics, fish and vegetables grow together in the same system. The fish waste turns into a form of nitrogen that the plants can take up and use, and plants in turn clean the water for the fish.
For Chris and his mom, this is a win-win.
"We're supplying restaurants, farm-to-table restaurants, brew pubs," Jan says.
But more importantly, they agree, they are using the gifts of adults living with autism, like Matt Coleman.
"It gives me a great opportunity to branch out," he explains. "We are hard workers just like any other person."
"It's great that we'll be employing other people on the autism spectrum and be able to help a lot of other people like me find employment," Chris says.
Employing their first four full-time employees this month, Jan says they've grown by leaps and bounds from their humble beginnings in 2013.
"We now have two 2,000-square-foot greenhouses," Jan says.
And with land that extends beyond these greenhouses, this young entrepreneur and his mom plan to expand their field of dreams to help many more.
In addition to sustainability, by using the vertical methods in their greenhouses, they are able to use 90 percent less water.
You can learn more at