River royalty returns to the waters of the St. Joe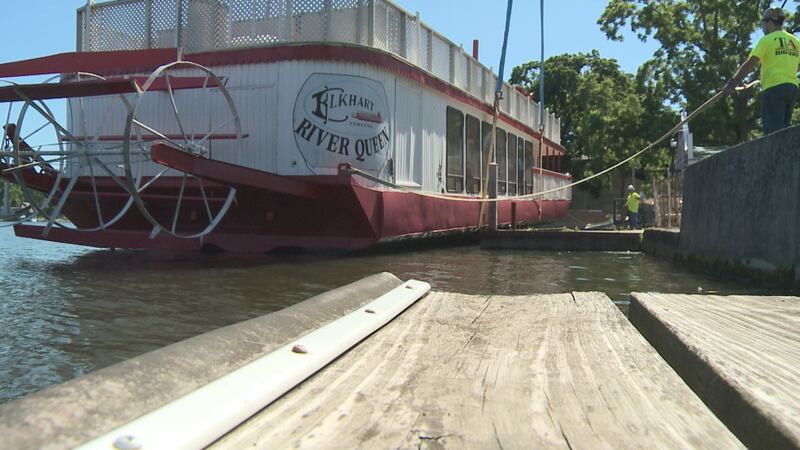 Published: Jun. 21, 2016 at 5:59 PM EDT
Restoring royalty to the river, Elkhart's iconic riverboat returned to the waters of the St. Joseph River on Tuesday.
This, after the Elkhart River Queen was hoisted to land six months ago for much-needed, and expensive, repairs. When all is said and done the non-profit, Save the Queen, will spend roughly $100,000 to update the vessel and make her river-worthy once again.
Her story sparks nostalgia in onlookers.
"I was about seven years old then, by the time I was 10 I was working on the boat, and by the time I was 12 I was driving it," said Tom Atkinson.
The River Queen was built in 1956 and for more than six decades it was host to countless parties and river tours.
"I was a little boy," Atkinson added, "I was given a wire brush and a drill with a brush on it and a mask and goggles and all this had to be sanded. The entire hull."
Decades in the water took its toll on the River Queen. In 2013, the boat was docked by the shore after it sprung too many leaks. After two years of unsuccessful sales, the non-profit Save the Queen purchased the riverboat in 2015.
She was hoisted and set on shore in December 2015 until enough funds could be raised to replace and repair the corroded steel hull.
"It was a sad day for me. I felt like it was another piece of my life and nostalgia that's gone," Atkinson added.
The group raised more than $75,000 and hired a local contract to fix the steel hull. Dave Dickman was the managing contractor for the project.
"I've been in the community all my life and the River Queen has always been floating up and down the river," said Dickman, "the hull had started to corrode and naturally it wanted to leak when the corrosion ate through to the outside."
They sandblasted the hull, cut out the damaged areas and re-welded plates to cover the problem spots.
"It's floating!" said Dickman cheerfully.
Within a few hours a massive crane secured and lifted the River Queen off her resting place on the bank and carefully placed her back in the water.
Tom Shoff, project manager for Save the Queen, said he was "pleasantly surprised" by the outpouring of support from the community.
Shoff has had the pleasure of driving the boat and watching her from the shore, he said he's excited to have the boat back on the water for this summer so another generation can enjoy all she has to offer.
The official launch of the River Queen will be on July 3rd as part of the city's Fourth of July celebrations.