River City Rollers beats Mayor Buttigieg, City Staff in marquee matchup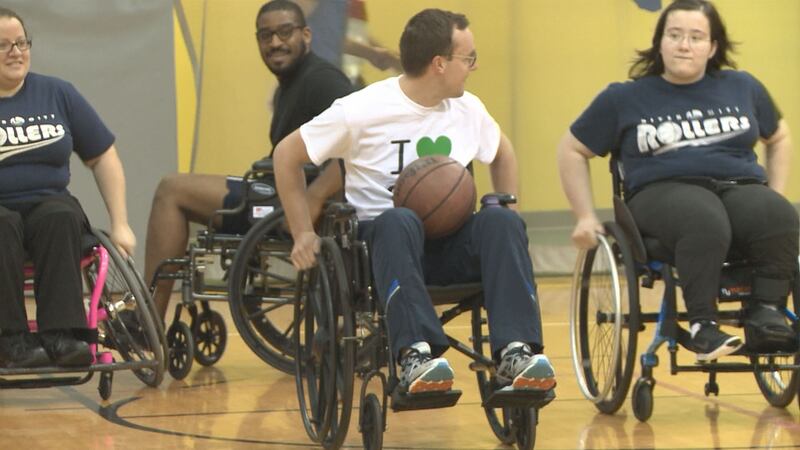 Published: May. 5, 2016 at 12:52 AM EDT
With a new home court and 1-0 start, a local wheelchair basketball team is ready to roll. The River City Rollers defeated the City of South Bend, a team comprised of Mayor Pete Buttigieg, Common Council President Tim Scott, and other staff. Fans and family members crowded around the Memorial Health and Lifestyle court, including the coach's mom, Dr. Bunmi Okanlami.
Of her son, she said: "It's amazing how misfortune can actually launch you on a different platform, and that is exactly what he has done with this injury."
A former Stanford triple jumper, Dr. Feranmi Okanlami suffered a C7 spinal cord injury on July 4, 2013, leaving him paralyzed from the chest downward. After rigorous rehab and two surgeries, the Family Medicine Resident at Memorial Hospital regained some feeling. Nowadays, he uses crutches or walks with assistance, but he uses a wheelchair at work.
Enter wheelchair basketball.
"I got to learn this because of my own injury, and that's how I got involved with the team," said Okanlami.
Founded in 1975, one of the original team members sat on the sidelines, admiring his legacy and its community impact.
"It's really great to see the City get behind the team and support them," remarked Jim Milliken, who lost both legs in the Vietnam War. "People with physical challenges can come out here and have a good time."
While the team gets together on the court each Wednesday, the bond spans beyond the hardwood. Dr. Okanlami said it's a chance for others to meet people in similar situations.
"Having this here is not just an outlet for social interaction or physical interaction but also for everyday needs that people in the disabled community might not have someone else who has a wheelchair to say, 'Where do you get your wheels fixed?' Or, 'How did you get your car to have hand controls so you can drive?'" reflected Okanlami.
South Bend's mayor related his experience on wheels to sidewalk renovations citywide.
"Something as simple as moving around on a smooth court is not easy. So, we're in the middle of a process to make our intersections, our curbs, and sidewalks more friendly to disabled residents. This gives me a whole new perspective," said Buttigieg.
He added the game's "everyone gets to play" air resonates well with the City's mission.
"[This] is one more example of why this is an inclusive community. It makes me really proud of South Bend," the Mayor said.
Like Buttigieg, Okanlami returned to the city where he grew up. The Stanford alum attended medical school at the University of Michigan and underwent the surgical residency program at Yale. A scholar, Okanlami recently graduated from the Engineering, Science and Technology Entrepreneurship Excellence Master's (ESTEEM) program at Notre Dame.
For now, the track spikes remain unlaced. The two-time Stanford team captain just rolls with the punches.
"You can do whatever you want to do," said Okanlami. "It might be modified in a little way, but you can do it."
The Wednesday game raised money for McKinley Primary Center PTO, as a way to say thanks to the school allowing the team to practice after-hours.
Final score: River City Rollers 44, City of South Bend 28