St. Joseph County Commissioners, county council at odds over new law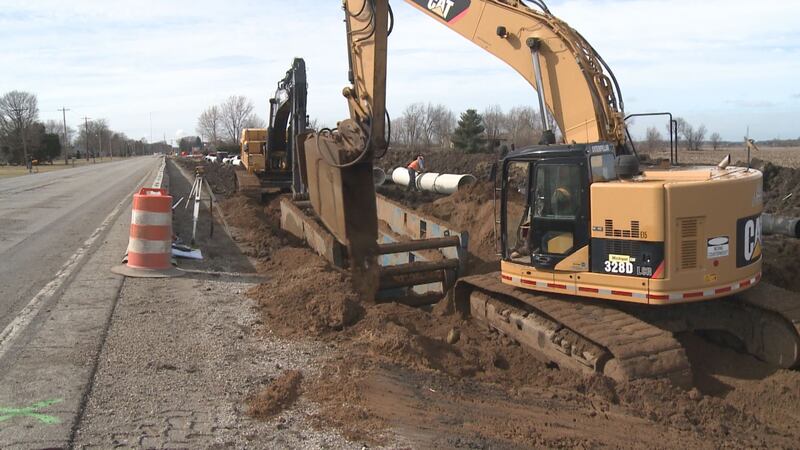 Published: Mar. 15, 2017 at 1:08 AM EDT
A new St. Joseph County law aims to fine-tune requirements for finding the lowest "responsible and responsive bidder" when it comes to awarding contracts. It's called the Responsible Bidder Ordinance (RBO). On Tuesday, the County Council overrode the Commissioners' veto, 6-3.
"Really, what it says in the title: We are looking for contractors that are responsible to train their workforce. They'll look to produce high-quality work for our public infrastructure, so we know we go with a particular contractor it'll be an investment that will last for a long time," said District E's Diana Hess, the ordinance co-sponsor.
But County Commissioner Andy Kostielney is unsure the name fits the law.
"It basically comes down to do we want to potentially pay more for a service, pay more than we need to? And, most taxpayers would be against that," maintained Kostielney.
Kostielney points to a credit that can 'discount' the bidding price for companies located in St. Joseph County.
Whichever is less, a 5% -- or $50,000 -- credit is applied to a local company's bid. The RBO stipulates a business or entity must be located in St. Joseph County for at least one year before bidding on the project. Secondly, the company must provide it paid at least $5,000 in county sales taxes 12 months prior to bidding. Additionally, the 12-step bid submission process requires potential bidders to show proof of participation in an apprenticeship and other related programs.
"We put the local (credit) portion in there because people who have their companies here in this county are paying taxes in this county so the money turns over more frequently," Hess argued.
But, Kostielney claims the new law favors St. Joseph County companies at the expense of taxpayer savings.
He offered the following example: A St. Joseph County contractor bids $100 for a project against an Elkhart County firm's $96. Provided the St. Joseph County company qualifies for the 5% bid credit, it would be awarded the contract (the credit discounts the bid to $95).
Chapter 25 of the Indiana Administrative Code (state law), Section 2-6-5 states: "The award of a contract shall be made on the basis of the lowest responsible and responsive bid."
Furthermore, the county's Responsible Bidder Ordinance states: "If the County applies any credit(s) toward a bid, the credit(s) will not reduce the amount of a contract."
Using Kostielney's example, this means St. Joseph County would pay $100 because the St. Joseph County company had the lowest bid (due to the 5-percent credit). Otherwise, the Elkhart County company would have received the contract, saving St. Joseph County $4.
"Again, that credit is an optional part," said Hess. "It says right in the ordinance, if the commissioners decide to include this credit, these are the criteria under which they have to operate."
"In concept, we're always on board when we're hiring local firms. If it's going to mean we're spending more taxpayer dollars, that's something we're not in a position to do right now," Kostielney said.
Kostielney also believes the 5-percent credit violates state law.
"That's the part we believe is illegal -- they're getting that artificial 5-percent discount to St. Joseph County firms," he contended.
But Hess said the County Council is confident in the legality of the law, particularly the credit for qualifying St. Joseph County contractors.
"We don't believe (it is illegal). Obviously, we wouldn't have proposed it," she responded. "We talked to several lawyers. We're still talking to attorneys, actually."
Kostielney said County Commissioners will not enforce the ordinance when they reviewing bids.
Kostielney said the Responsible Bidder Ordinance was written by an out-of-state special interest group. NewsCenter 16 asked Hess about his claim. She said the County Council worked with The Indiana, Illinois, Iowa Foundation for Fair Contracting (III FFC). She added that any time Indiana county governments pass Responsible Bidder Ordinances, the III FFC works with those entities.
According to
, the III FFC "is a labor-management organization, funded solely though participating contractors, established to support, promote and encourage fair contracting."
Based in Countryside, Ill., the group say it reviews municipal construction projects in the tri-state area.