New info: Former Rainbow Child Care Center employee charged with battery, neglect; court hearing scheduled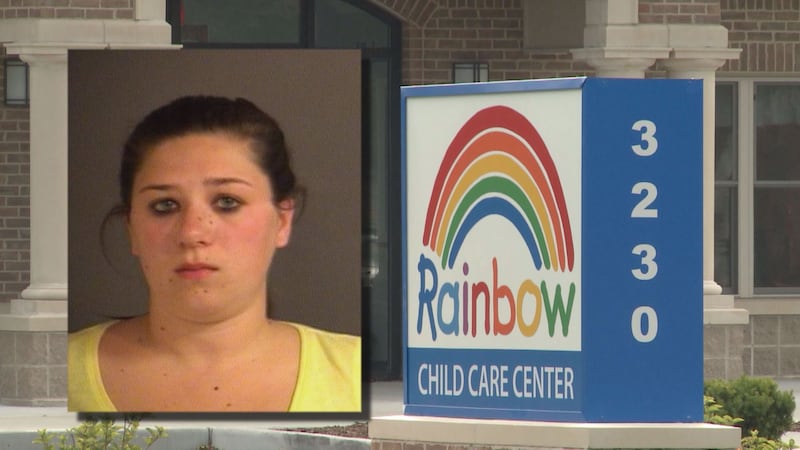 Published: Oct. 11, 2016 at 3:33 PM EDT
Charging documents and probable cause affidavit are attached under 'Related Documents' tab.
The South Bend daycare worker accused of battering a baby could be facing jail time. Marisa Jester, 22 of Goshen, was caring for an infant, when he suffered a broken arm.
The incident happened in June, but has now made its way into the county legal system.
Wednesday, Jester appeared before a St. Joseph County judge for her arraignment. She reported that she has hired an attorney for the case. Jester will re-appear in court on October 26 for an initial hearing.
While Jester will be tried criminally, the victim's family has filed a civil suit, and is seeking monetary compensation for the injuries sustained by the infant.
The family's lawyer says due to the ongoing case, he is not at will to speak on camera, but can say that negotiations are occurring with the liability insurance company for Rainbow Child Care Center. He says he is hoping they will settle out of court.
We're told the baby boy has recovered from the injuries he sustained during the incident.
Tuesday afternoon, Jester was charged with one count of Battery Resulting in Serious Bodily Injury to a person under 14, a Level 3 Felony, and one count of Neglect of a Dependent, a Level 6 Felony.
Tuesday evening, she was arrested and booked into St. Joseph County Jail. Within an hour of being booked, she was released from jail on a $5,000 cash bond.
If convicted, a Level 3 and a Level 6 felony carry a combined maximum weight of 18 years and six months.
Court documents state Jester was caring for the baby on the day of the incident, June 7, 2016, when he started crying and appeared to be in discomfort. The baby was described as guarding his arm throughout the day.
Investigators spoke with one of Jester's co-workers who described her "a little rough with children." She also said she had reported Jester's behavior to supervisors.
The baby reportedly continued to cry and Jester stated that she was "at her wits end."
Jester later told police that at one point during the day, the baby flailed his arm so she shifted it toward her and heard a "pop," resulting in an immediate reaction of pain from the child.
When the baby's mother picked her son up, she went straight to Med-point where she was referred to the hospital only to learn her child suffered a broken arm.
In September, investigators spoke with a pediatrician who reviewed x-rays of the baby's arm. The doctor reported that a significant amount of force would have had to cause the fracture; an injury like that would not have come from the routine care of a baby.
Samantha Maidment, Rainbow Child Care Center's South Bend director declined to speak on camera Tuesday.
Last week Maidment sent a letter to parents of all children in the program. According to the St. Joseph County Prosecutor's Office, some of the included information was false.
The letter, addressed October 6, 2016 references an "occurrence" that happened on June 7, 2016 -- four months ago.
It states the employee in question is being charged with "mishandling of a child and lack of reporting," yet charges weren't filed until Tuesday, and the charges Jester is facing are far more severe.
She goes on to state that since the June incident, staff members have been re-trained on child abuse and neglect.
A copy of the letter is attached below.
M.G. Shapiro, director of communications for Rainbow Child Care Center released the following statement to NewsCenter 16 Tuesday:
The safety and well-being of every child we are privileged to serve is the first priority at Rainbow Child Care Center. As soon as Rainbow was made aware of the situation, the employee in question was immediately placed on administrative leave and subsequently terminated. We have cooperated fully with the authorities during their investigation and continue to work with our state licensing representative, as well as provide additional training and support for our staff. Rainbow takes great care in developing a secure environment at our centers, including following all state and federal guidelines with regard to our hiring practices and procedures, as well as conducting comprehensive background checks on all employees before they are hired. Since this is a legal issue, we would direct any additional questions to the authorities at this time.
Copy of the letter sent to parents of children in the Rainbow Child Care Center program:
October 6, 2016 Dear Parents, We would like to update you regarding the occurrence that happened on June 7, 2016. This morning we received additional information and have now learned that the former staff member involved is being charged for mishandling of a child and lack of reporting, and will be arrested. Since the original incident, we have been working diligently with our state licensing representative in providing additional training and support for our staff. All staff members have received retraining on Child Abuse and Neglect and Mandated Reporting training. Additionally, at our upcoming Employee Education Conference Day, all staff members who work in our Infant and Toddler classrooms will receive specific training that focuses on appropriate interactions, appropriate handling, and guidance when working with infants and toddlers. The safety of your children remains, as always, our top concern. If you have any questions or concerns, please don't hesitate to contact me, as I will be available when and if needed. Sincerely, Samantha Maidment Program Director