Quadriplegic graduates with the help of his mother; both receive MBA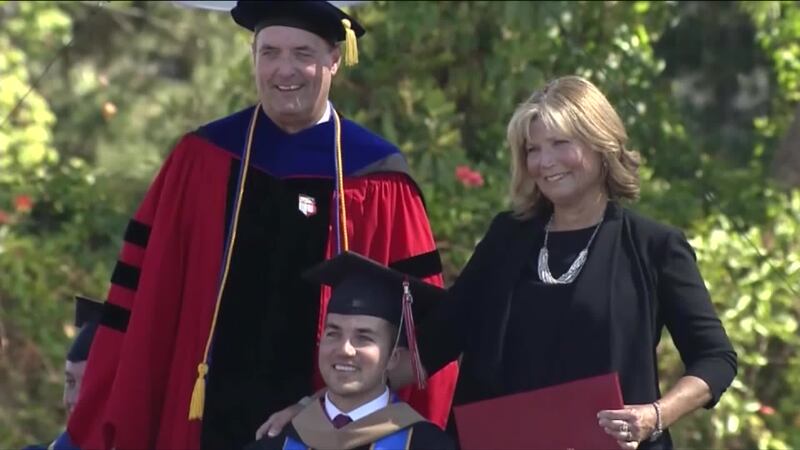 Published: May. 24, 2017 at 4:31 PM EDT
Marty O'Connor was a star basketball player for Notre Dame back in the 1950s.
Shortly after graduation, he was stricken with polio which meant he was bound to a wheelchair for the rest of his life.
But that didn't stop him from getting his law degree from Notre Dame.
Sixty years later his grandson, who also happens to be named Marty, also found himself bound to a wheelchair following his graduation from college after falling down some stairs.
And like his grandfather, young Marty's "new normal" wasn't going to stop him from achieving his dream of getting a post-graduate degree.
Marty O'Connor earned his undergrad from the University of Colorado in 2010.
He spent the next years on the fast track working in sales & traveling across the globe.
But in 2012 a fall down a flight of stairs changed all that.
He was paralyzed from the neck down.
"At first I was in denial. I was an athlete; I was in sports my entire life," Marty says.
Marty went into intense physical therapy five days a week pushing himself to get healed.
But he quickly learned just because he was mentally ready to get better, his body wasn't there yet.
Rather than give up he decided to enroll at Chapman University for his MBA.
"I was in such a funk mentally because every day was about the same thing. I just lacked that mental challenge," Marty says.
The challenge for Marty now is going back to school as a quadriplegic. He needed some help which he got from his devoted mother.
That's when mom stepped in as Marty's full time scribe.
"I was in Florida teaching at the time when Marty's accident happened and it was killing me. I couldn't have my own child needing me and me doing a job at the same time," expresses Judy.
The next two years these were inseparable.
Together for every class and long study sessions at home.
Judy O'Connor attended all of her son's classes with him, taking notes for him because he can't write.
Judy got a surprise of her own as she pushed her son across the stage to accept his diploma.
"I was totally blown away. I was trying to stay in the background," says Judy.
Judy O'Connor has spent the last two years in the shadow helping her son earn an MBA from Chapman University.
Last Saturday as he was getting his degree, Judy got pulled to center stage.
The faculty and the board of trustees have decided to honor with an honorary MBA degree.
"I thought if I ever got a masters it would be education because I was a teacher but no I was just helping my son," explains Judy.
In the end it paid off, the two crossed the stage together.
"I worked and talked to so many people to make it happen and I was just so excited for her because she deserved it so much," Marty explains.
"As a mom you just want to help your kids get through things and as a mom I knew I couldn't help him in that way but I always believed in him and I just wanted to have his back," Judy says.