Sheriff says toddler locked in box is worst case of child abuse he's ever seen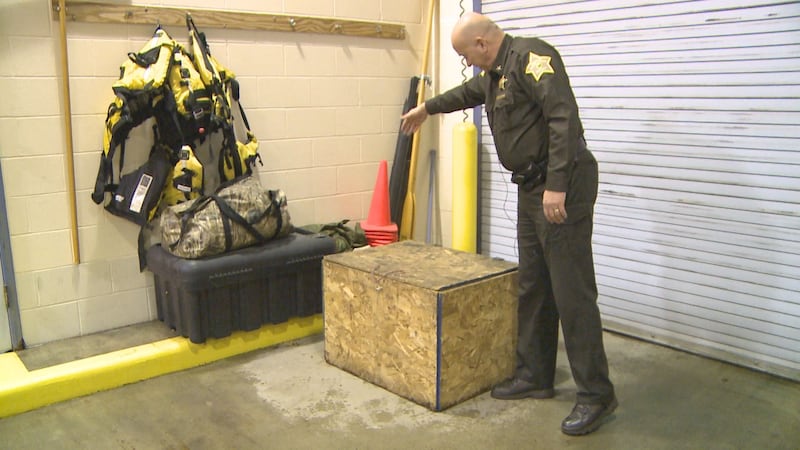 Published: Dec. 20, 2016 at 6:13 PM EST
It's a troubling case of child abuse. Early Wednesday morning, sheriff's deputies executed a no-knock search warrant at a home in Pulaski County. There they discovered a three-year-old girl who was being kept inside a wooden box.
The search warrant came after a tip was received by the Pulaski County Sheriff's Department.
Nine people at the home, including the toddler's father, were arrested for charges of neglect and failure to report child abuse.
It is so disturbing, Sheriff Jeffrey Richwine says this is the worst case of child abuse he can recall.
"Never seen anything like this. It's one of those deals, you go there and think, 'hopefully this is not true,'" said Sheriff Jeffrey Richwine, Pulaski County. "Nobody's going to have a small girl in a box, that's just not going to happen. And you go there, when they say it, you just don't believe it, you're thinking, 'my god, who would do this?'"
In the attached video clip, you'll see the plywood box that police say the child was kept in during the evenings and for extended periods of time.
"I've seen people treat their animals better. It's like a nightmare and I wish I'd wake up," said Frank Jackson, the toddler's grandfather.
Frank Jackson is the toddler's maternal grandfather and claims that in the last few years, Christopher Short, 25, has hardly let him see his grandchildren. He says this came after his daughter passed away.
"What kind of health issues are my grandkids going to have later in the future because of this? It could affect them for life. I pray not," said Jackson. "We would love and care for them kids in a flat minute."
Richwine says when deputies arrived at the home, located in the 7000 block of West 800 North in North Judson, they found the little girl curled up inside the box with the lid shut.
Lining the box is only a dirty blanket and pad; and if you take a closer look, you'll see dead bugs filling the corners.
Richwine believes the box was sometimes locked so that the toddler could not get out.
"It would loop over this, then come into that eye and then you'd actually have a small screw that you tighten up that makes it a complete circle to where it can't open," said Richwine.
In court documents, Christopher Short, the toddler's father, claims he did not know anything about the toddler being put into the box...rather he says she would climb in and out by herself.
Donna Short, 42, who also lives at the home and was arrested Wednesday, stated that the little girl chooses to "stay in the box all night."
Richwine says he fears that this child will end up in the hands of the same family members, and worries the cycle will repeat.
"This is definitely a problem, that somehow we've got to get this figured out where we're not putting kids back in these same messes and then letting it start all over again," said Richwine.
Tuesday, Deputy Director of Communications for Child Protective Services, James Wide, said per court order, he cannot release where the three-year-old girl is right now.
He says CPS looks for relative placement first, and if they cannot find a relative then they will look into a non-relative option. He says most importantly, they work to find a safe place for the child.
Wednesday, December 14, the following people were taken into custody in connection to this case of abuse:
Neglect of a Dependent, Level 5 Felony
Donna Short, 42, North Judson, Indiana
Christopher Short, 25, North Judson, Indiana
Patricia Meeks, 18, North Judson, Indiana
Failure to Report Child Abuse
Michael Meeks, 19, North Judson, Indiana
Thelma Meeks, 38, North Judson, Indiana
Derrick Butala, 36, North Judson, Indiana
Shawn Griffin, 18, North Judson, Indiana
Anna Senesac, 19, North Judson, Indiana
Timothy Senesac, 18, North Judson, Indiana
The following is a press release from the Pulaski County Sheriff's Department:
On Tuesday, December 13, 2016, the Pulaski County Sheriff's Office received information in reference to possible child abuse in the area of County Road 750 West and County Road 800 North. Information was obtained in reference to a three-year-old female being kept inside of a locked wooden box at the residence. The information stated the three-year-old female was locked in the box during the evening and for extended periods of time. A search warrant for the residence was issued out of Pulaski Circuit Court with the assistance of the Pulaski County Prosecutor's Office. Deputies from the Pulaski County Sheriff's Office executed the search warrant in the early hours of December 14, 2016. During the execution of this search warrant a three-year-old female was located inside of a plywood box found in the living room of the residence. Deputies located multiple adults inside of the residence as well as a vehicle and camper on the property. All adults located during the execution of the search warrant were taken into custody and transported to the Pulaski County Jail. Deputies located five additional juveniles and the victim inside of the residence. The juveniles were released at the scene into the custody of the Pulaski County Indiana Department of Child Services.