Plymouth man survives car accident after internal decapitation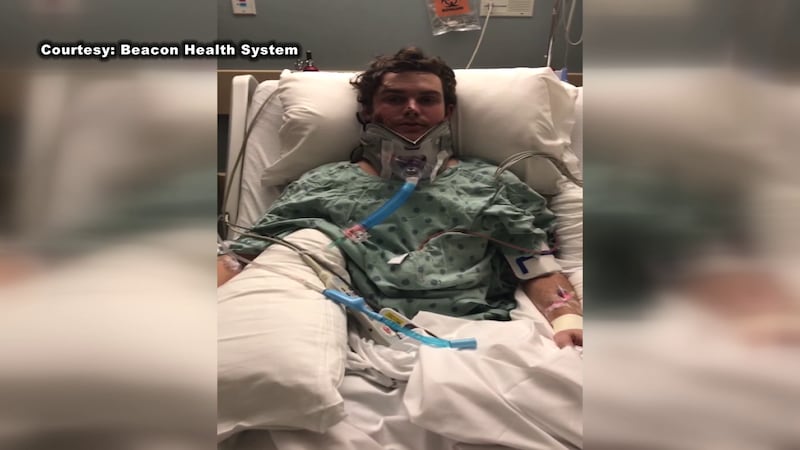 Published: Jul. 31, 2018 at 10:02 PM EDT
From his first word to his first steps, 2018 has been one of Brock Meister's toughest years.
January 12 could have been his last day on earth.
"I could have been drinking and driving, but we were doing the right thing and having somebody else driving, and still, something happened. It just doesn't make sense," Brock said.
After dinner with friends in Plymouth, it was off to his grandparents' house – about 10 minutes away.
Brock's friend was driving his truck when the vehicle hit black ice and rolled onto the passenger side.
Brock was catapulted from his seat belt, his head busted through the window before his friend could pull him back inside.
"Blood was just running down my face. My neck hurt but I didn't realize how bad it was hurt that night," Brock said.
His friends kept him still until paramedics arrived and rushed him to the hospital.
Dr. Kashif Shaikh was part of Brock's surgery team at Memorial Hospital in South Bend.
"The thing that saved him was not having anything happen from the time of the injury all the way to here," Dr. Shaikh said.
Brock had been internally decapitated – his skull completely separated from his spine.
"This is the joint that connects the skull to the spine. This bone right here is supposed to be sitting right in here," said Dr. Shaikh, as he pointed to a Brock's X-Ray.
With the help of screws and rods the two surgeons realigned Brock's bones and joints so his body could start healing. Once back home, Brock wore a head brace for three months and started physical therapy.
"It helps with the strength of your fingers and then stretches your arm out," Brock said.
He was determined to survive, but he always been a fighter – from needing CPR at birth to overcoming a brain tumor when he was 16.
"Brock reminds us every day not to sweat the small stuff. Nobody's guaranteed tomorrow, and so he's living proof that you've got to live each day to the fullest," said Jenna Meister, Brock's mom.
His days aren't always positive, but the 22-year-old is proud of his consistent progress. Right now, he has 50 percent movement in his neck.
Brock said family and friends help keep his outlook high as he continues to beat the odds here on Earth.
"Some days you do want to give up, but I love being outside waxing trucks and mowing. You gotta get out and do things you love."
Brock has also dealt with nerve pain in his lower body, but Dr. Shaikh is hopeful Brock's life will be fairly normal.
For now, he'll continue outpatient therapy at Memorial Hospital.
And in addition to recovering, another one of Brock's goals is to move out of his parent's house and live on his own.