UPDATE: Mother in shock after Niles school bus shot twice with BB gun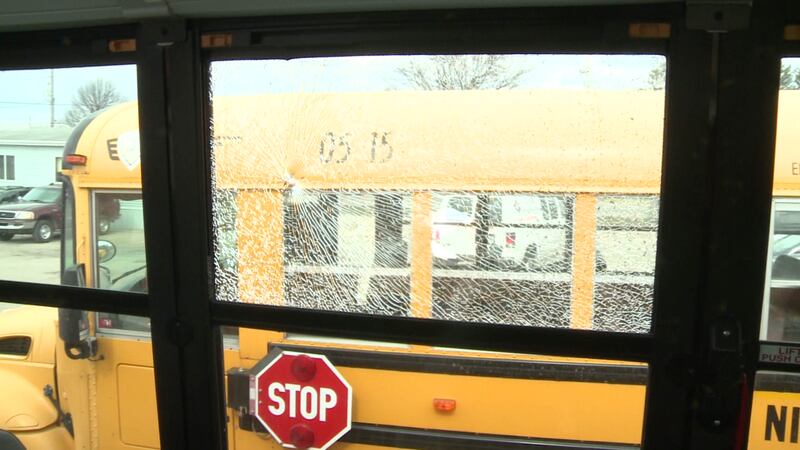 Published: Mar. 9, 2016 at 11:58 AM EST
Niles City police are investigating after they say someone shot a Niles school bus with a BB gun.
It happened Tuesday afternoon near the intersection of 15th and Michigan in Niles.
There were nearly two dozen students onboard the bus when it was shot at, but nobody was injured. The mother of a child on the bus says her daughter was an aisle over from where one of the two windows shattered.
"I was scared," Tonya Staggs said. "I was already shaking. I didn't know what was going on. [My daughter[ told me there was a kid next to the window that screamed because he heard the commotion by his ear."
The bus left from Ring Lardner Middle School on Monday just like it usually does but was forced to stop just a few blocks away.
"I went looking for my daughter because she didn't come home on time," Staggs said. "As I was coming back, I seen [sic] there was [sic] two school buses and cop cars. So I pulled down the block and got her as she was getting off the bus. I said 'what happened?' and she said the school bus was shot at."
It was actually shot at twice, breaking two windows on the driver's side of the bus; the second and seventh windows. A bus driver said the BBs did not penetrate the glass, but the force of them hitting the glass caused the spider-web like break. Staggs is thankful it didn't end up worse.
"Two shots being fired at a bus, that's deliberate," Staggs said. "That's intent to do bodily harm and these are young kids on the bus. No one should have even been home at that time of day."
Staggs says she didn't want her daughter riding the bus anymore unless it was absolutely necessary but her daughter was able to convince her otherwise.
"I'm very happy it wasn't worse," Staggs said. "But I hope Niles finds out who did it and press charges against who does it because these are our kids. We've been here for 18 years and we've never had any trouble. It's a good neighborhood. I was shocked. I'm just in shock."
Niles Community Schools released the following statement Wednesday morning:
"According to a police investigation, a Niles school bus carrying secondary school students was hit by a pellet or beebee gun on the ride home yesterday. Fortunately, no students were hurt during the incident. Parents were notified immediately and students were transferred to another bus and returned home safely. The bus was not on its normal route due to an obstruction that caused it to take an alternate route. The obstruction has been removed and the normal route will be used moving forward."
If you have any information about this shooting,