Indiana Toll Road officials celebrate grand opening of Howe travel plaza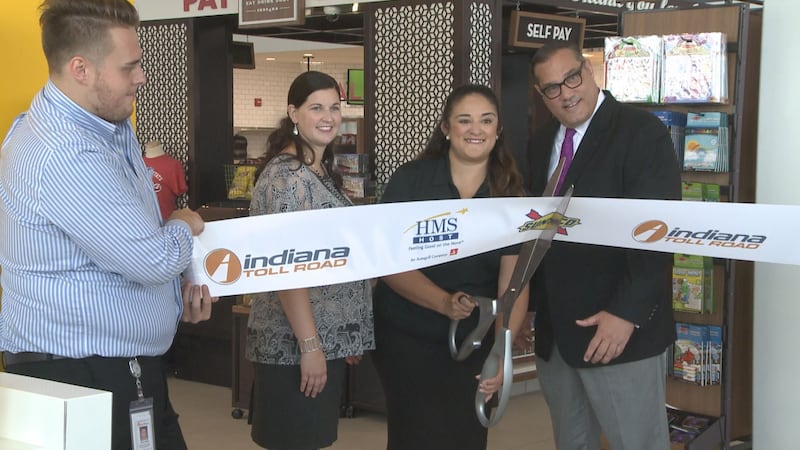 Published: Jul. 12, 2017 at 6:57 AM EDT
Folks traveling across the Hoosier state now have a full-service pit stop for the whole family to re-charge and re-fuel.
Along with creating
comes re-constructing all eight travel plazas from the ground up.
Wednesday, the Indiana Toll Road celebrated the grand opening of its Howe travel plazas—both East and Westbound—with an official ribbon cutting.
It marks the first time the pit stops have been updated since the ITR began operating in 1956.
"The old travel plazas are starting to show their age," said Michael Price, vice president of business development, HMSHost.
Mile marker 126 is now the focal point of the toll road's state of the art travel plazas.
"This is the start into Indiana from Ohio and the last you see going into Ohio, so this was really a great place for us to showcase what northern Indiana has to offer," said Alyssa Staley, director of customer service, Indiana Toll Road.
Unlike the Portage location that
, this rest stop is more than a convenience store.
"No longer do you sit in the back of the station wagon, so it's intended to give them an opportunity to stretch not just run in, use the facilities and run back out," said Price.
For restaurant options, travelers can choose from Starbucks, Popeye's and a fresh grill; however, grab and go snacks are also available for people who want to keep it moving.
"Some people like to run and get on the road… other people like to just get a break from being in the car so it's a nice option to have both," said Sandy Mesich, Virgina resident.
It wouldn't be a rest-stop without a place to gas up.
"We make it very easy for truckers and drivers and cross-country drivers to come in and pick up Sunoco fuel," said Jeamy Molina, spokesperson, Sunoco.
Besides re-fueling, power sources and free Wi-Fi allow ITR drivers to stay connected at all times.
"The new buildings are bright, they're open, they're airy; they're safe at night for anybody traveling with small children," said Price.
It marks the end of one era and the start of the next
"We're looking forward to creating a destination for the traveler on the Indiana Toll Road," said Price.
The Rolling Prairie travel plaza is under construction now and slated to open during the first quarter of 2018. Once that La Porte County plaza opens, demolition of the Elkhart plaza will begin.
The Indiana Toll Road Concession Company (ITRCC) is spending roughly $70 million on the entire plaza replacement project.
The company will also have the opportunity to bring in
beyond money brought in through tolls. Staley says they are developing a strategic plan focused on increased safety and awareness among drivers.
She says people can expect to see new signage, including billboards that would focus on "putting the phone down."
"These signs will also be used for any type of accidents or alerts to the public so they can make the safest decision and the quickest decision for their own travels," said Staley.
This extra signage comes with the potential for revenue from advertisements. Staley could not confirm a timeline for when the plan will be put into action.
Meantime, Sunoco is still looking for employees to work its APlus Convenience Stores at the travel plazas. To apply, you're asked to visit the Howe location and inquire about job openings, or click
to view current job openings and apply online.