Never Again: Remembering the youngest bus stop tragedy victims on their birthday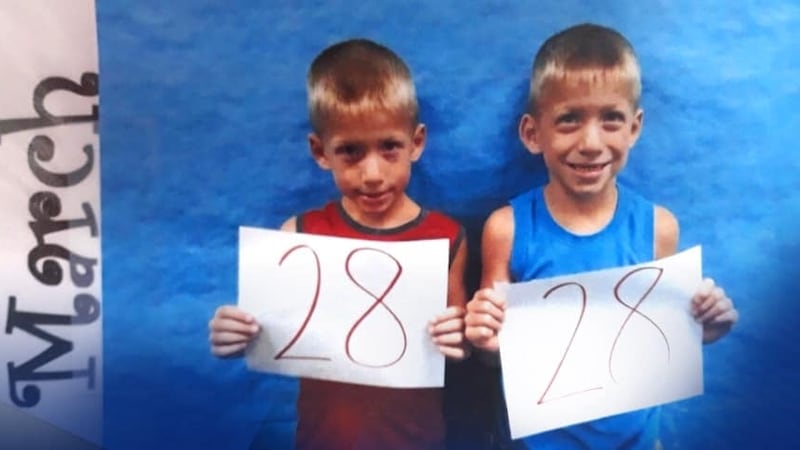 Published: Mar. 28, 2019 at 4:57 PM EDT
It's been a rollercoaster week for the family behind the MAXSTRONG school bus safety bill.
Indiana Senate Bill 2
.
While they celebrate that legislative victory, they're dealing with the difficult fact that Thursday is the birthday for youngest victims of the bus stop tragedy. Mason and Xzavier Ingle would've turned 7.
"They both came in at 3 pounds, 14 ounces. Exactly. The. Same," Brittany Ingle said with a laugh as she remembered the birth of her identical twins. "For 3 pounds at 29 weeks, that's pretty good."
Born at 29 weeks on the March 28, the tiny but mighty premature infants spent a lot of time in the neonatal intensive care unit.
"We were wondering every day what was going to happen in the NICU," said Shane Ingle, the boys' father.
"Their personalities were so different ... in the best way," Brittany said.
Xzavier was the loner. Mason was the cuddler.
"Xzavier had such a funny sense of humor, and Mason was sentimental," Brittany said.
"We got the kids a trampoline, and Xzavier was a pro doing flips," Shane said. "Mason?"
"Not so much," Brittany answered with a laugh.
Xzavier was a daddy's boy. Mason was a mama's boy.
"Every parent has a bond with each child," Brittany said. "It's not that you love one more or less."
The twins joined two older sisters from Brittany's first marriage: Selena and Alivia Stahl.
"Alivia was caring and nurturing, just so smart and talented. She had this bond with the boys," Brittany said.
So did Selena, now a 12-year-old who's working through her grief.
"People need to take into consideration, I have a 12-year-old daughter that is trying to get her life back together too," Brittany said.
Alivia, her two brothers and a neighbor boy were struck by a pickup truck last fall. Alivia and the twins died.
The pain is still so real.
"Now, all you have left are pictures," Brittany said.
The boys that came into this world exactly the same, left together side by side.
"To see your twins leave the world together …" Brittany with a quiet sob said. "They really were each other's best friends.
"Our life is forever changed. There's so much sadness in it. And it's not easy to do MAXSTRONG, but MAXSTRONG became our passion."
While this day is difficult, they will take their time to remember their boys with happiness.
"They brought such a joy to our lives," Brittany said. "They changed every bit of the person I am today, is because of them."
The Ingle family sponsored two teams with the Mentone Youth Softball and Baseball League. Alivia would've played with the Lady Vikings, and the boys were looking forward to their first season with their T-ball team.
The ingle family has also sponsored the field in Mentone. You'll see this MAXSTRONG, Never Again banner hanging there.
You are encouraged to leave your messages of support and positivity for the family on our WNDU Facebook page. Birthday memorial wishes for Mason and Xzavier and support for the family are welcome.
NewsCenter 16 continue to follow the legislation in their memory with Tricia Sloma's reports Never Again: Preventing Bus Stop Tragedies.