Never Again: The dangers bus drivers deal with on the road - Part 1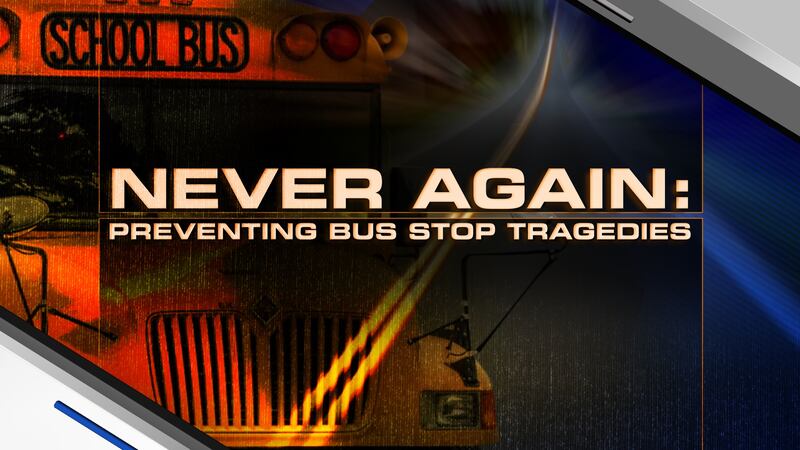 Published: Jan. 31, 2019 at 5:08 PM EST
With her ongoing series of reports, "Never Again: Preventing Bus Stop Tragedies," NewsCenter 16's Tricia Sloma has talked with grieving parents and frustrated residents. She's met with school leaders and lawmakers who seek ways to make our children safer. But we've never gathered together the people on the front lines of this safety battle.
Until now.
WNDU held a special meeting with area school bus drivers about what it's really like out there.
WNDU picked a central meeting place at Plymouth Community Schools where a conference room was turned into a television studio.
Fourteen drivers attended our meeting. Among them, one school superintendent who is a substitute driver and four transportation directors who also drive bus. It didn't take long for the seasoned drivers to open up about some scary moments on the road.
"Semis go by. They don't move over. I can't believe my mirrors have not been hit -- that's how close they've been," said Katie Bates from New Prairie.
"The distracted driver, I believe, is the majority of the concerns," said bus driver Dan Bridegroom from North Judson-San Pierre Schools.
"Everyone's so impatient. I'm on a country road and they're creeping towards me," said Jennifer Hullabagh from Argos. "The kids aren't on the bus yet, and they're still just creeping towards me!"
"Just the way people are driving constantly on the back of your bumper," said Brenda Uceny, transportation director at Plymouth Community Schools.
In the back of their minds, the recent bus stop tragedies and what lawmakers are trying to do to make things safer.
Like stop arm cameras.
"Show of hands: How many of you have stop arm cameras on your bus?" asked NewsCenter 16's Tricia Sloma.
About half raised their hands.
"We actually have three buses fitted now, and the week of February 4th we will do 100 percent. We will have 21 buses fitted," said Wilbur Collins, transportation director at North Judson-San Pierre.
"You're concentrating on what you're doing with your kids. So you don't even really attempt to get the license plate number," said Dan Bridegroom, a bus driver from North Judson-San Pierre. "Now with cameras on the buses, we can get the license plate number and we can hold them accountable."
"We can have all the stop arm cameras in the world, but it's the people in that other vehicle behind that wheel that are the big distraction," said Don King, the transportation director at Rochester Community Schools.
Linda Johnston has seen her share of technology changes in her 40 plus years of driving school bus for Lakeland. She likes having stop arm cameras, but she wants stiffer penalties too.
"Our big complaint as bus drivers, are they putting any bite to it?" said Johnston. "We call them in. They see them. Are they handing out tickets so it bites in someone's pocketbook?"
"I believe we're all for stiffer penalties but the problem is, is the prosecutors and local police departments be willing to take the volume of cases that that's going to generate," said Bremen superintendent and substitute driver Dr. Jim White. "It really depends on the nature of the legislation. Will there be mandatory prosecution on what's turned over or is it going to be a futile effort on our part where we are more frustrated from people passing our buses?"
Another top concern: children crossing a highway to board or get off a bus. The Fulton County children were struck in the dark while crossing a lane of Highway 25.
"At Plymouth, we've looked at a lot of routes after the tragedies," said Uceny. "We have looked at a lot of things, we've changed scenarios, but we'll never be 100 percent."
There are two problems: longer bus rides and difficult turnarounds.
"I'm constantly taking phone calls from parents that their kids are on the bus too long," said Uceny.
"(The) bus backs into someone's driveway to turn around and come back to that student. I get a phone call, from that person, from that landowner, 'That bus has torn up my yard,'" said Uceny.
"If you've got a stop on a highway, and you've got kids on this side of the road and this side of the road, I think a lot of times those turnarounds are just as dangerous as kids crossing the road," added Todd Huffman, transportation director and driver at Bremen.
New Prairie is 100 percent curbside. They also take extra measures on State Road 2, where the speed limit is 60. They move all the way onto the berm.
"You throw your stop arm out, a semi can't stop, they just can't hit their brakes," explained Bates. "So we feel as a corporation that it's safer to get all of the way off the road and just use our four ways."
All of the drivers agree, education is key. There is legislation that calls for every car driver to brush up on school bus rules.
"When you are sharing the road with a vehicle as important as a school bus, why not have more emphasis on the education on what those laws are?" said Jennifer Richter. "Whether when we go in to renew we take a certain portion, a quiz or something to refresh us."
"Educate people that they need to stop when the bus is stopped," said Huffman. "When the yellows are on, they need to slow down. When the sign is red, you have to stop."
WNDU has created a Michiana School Bus Safety Database. If you want to check to see how your district school buses perform highway drop offs and pickups, click on the following links:
That's where you'll also find out if your district school buses have stop arm cameras.
Several of our Michigan schools were unable to participate in our survey due to weather cancellations. We will update the list once they are able to provide us with their information.
Tricia Sloma has been following the progression of legislation and other action taken by members of the community to help improve school bus and bus stop safety since the tragic crash in late October. You can read and view more installments of her Never Again series here: