Never Again: Parents of bus stop victims speak; House panel amends safety bill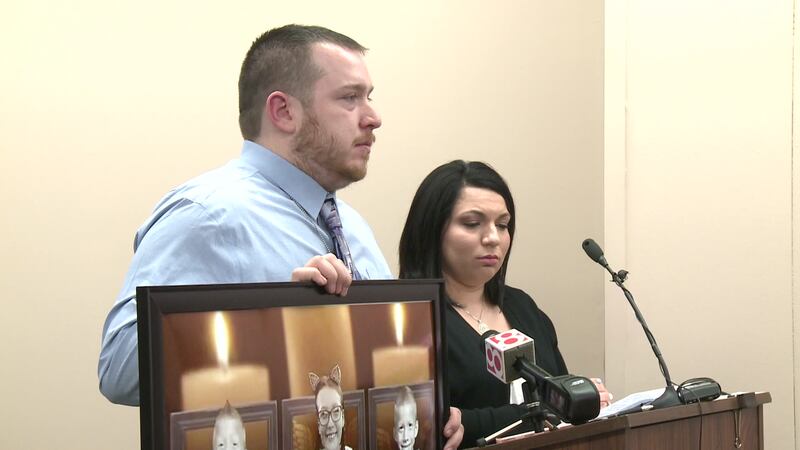 Published: Mar. 6, 2019 at 6:24 PM EST
An Indiana House of Representatives panel has made some changes to Senate Bill 2.
The school bus safety legislation was drafted after three children died and one child was injured at their Fulton County school bus stop last fall.
The House committee heard testimony Wednesday from members of state education and legal agencies offering support for the bill. However, the most compelling words came from the parents of the victims, Brittany and Shane Ingle, of Rochester.
The Ingles held a poster-sized photograph of their three deceased children, Alivia Stahl, Mason and Xzavier Ingle.
"This isn't easy for us to be here," Brittany said. "But I'm sure my children weren't the first to get killed like this and it's still happening. That week it was happening. Every time I turned on the news. And my heart breaks for those families as well."
"Safety and education go hand in hand," Shane said. "They're safe when they get to school. Now, we need to work on them getting safely to school."
"It's unbearable to think, a mom just getting up for the day and getting your kids ready for school, then your whole life is gone in the blink of an eye," Brittany said. "So, your vote will make a difference."
Two amendments were added Wednesday. One requires school buses to use reflective tape and daytime running lights. Another amendment states video images captured during stop arm camera violations must be kept in confidence until they are entered as evidence.
These are the main parts of the legislation:
- Tougher penalties for violators
- Curbside drop-offs and pickups on Indiana highways to prevent children from crossing the road
- The ability for school districts and individuals to petition for slower speeds in school zones
- School districts must review bus routes and safety policies every year by Sept. 1
- An emphasis on school bus traffic rules at the BMV when getting a license
- School corporations may add stop arm cameras with enforcement measures
The House Courts and Criminal Code Committee will continue to work on the bill. The committee will meet again next week when more amendments are expected to be added.
NewsCenter 16 will follow the progress of this bill in the House as we continue our push for school bus safety solutions in Tricia Sloma's series of reports titled "Never Again: Preventing Bus Stop Tragedies."