Never Again: Exclusive interview as legislation nears crucial vote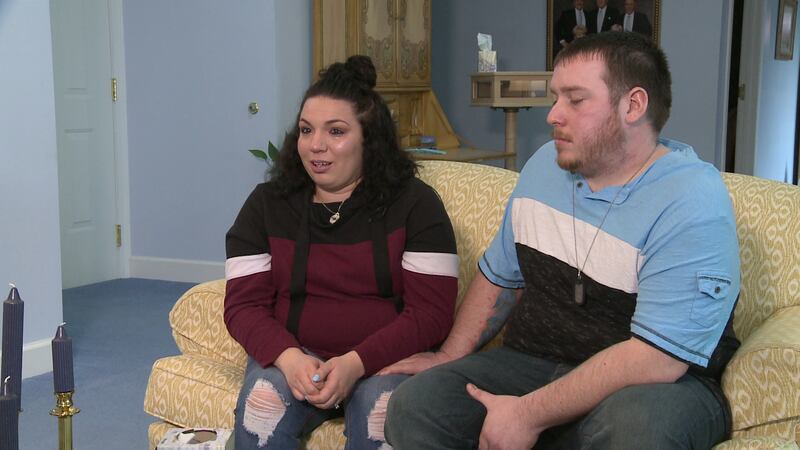 Published: Mar. 18, 2019 at 6:32 PM EDT
On State Road 25 just north of Rochester sits a mobile home community where kids once crossed the road to get on their Tippecanoe Valley school bus.
Parents had complained about this bus stop. A school bus had been rear-ended there before, and parents reported close calls from drivers who passed illegally.
But nothing could prepare them for what happened on October 30, 2018, when four children were struck. Three siblings died.
Brittany and Shane Ingle are excited to see the legislation advance in the Indiana House.
"We're super excited," said Brittany Ingle. "This was our passion from when this happened. We had to figure out something positive to do out of the tragedy."
"There's days you just want to lay in bed," said Shane Ingle. "But this gives us something to look forward to. To stay productive and just move. Keep moving."
Moving forward from their darkest day, October 30, 2018.
"The whole day was, like, off," said Brittany. "I got up. I got the kids ready."
Brittany's four amazing children included two girls from her first marriage and two boys from her second.
Oldest daughter Selena had a doctor's appointment and had just gotten up to eat breakfast.
Nine-year-old Alivia and 6-year-old twins Mason and Xzavier were excited for Halloween the next day.
Brittany wasn't completely dressed yet when Alivia begged to go.
"She said, 'Mom, I want to go. Mom, please,'" said Brittany. So, she let her kids go ahead but told Alivia to tell another mom she was on her way to the bus stop to discuss trick or treat plans.
Brittany says the bus came a few minutes early.
"I'll never forget it. I turned around and I started walking towards my bedroom, and I looked at the alarm clock and it was 7:12. And all I heard was screams," said Brittany. "No socks, no shoes, no bra, no sweatshirt. You go running out there. Like I am running! I thought it was maybe it was going to be, you know, someone hit the back of the bus again. But you turn the corner and that's not what that was. That was not what that was. That was my boys laying there in the middle of the road. They were laying side by side and their hands were touching."
It was then that Brittany's horror took another, unimaginable turn.
"You hear somebody say there's two more over here," said Brittany. "And I'm like, 'Oh my God! Where's Alivia.'"
Two more victims were found 87 feet from initial impact.
Maverik Lowe suffered serious injuries. Alivia's were even worse.
"Maverik was up above in front of her. And they were like in the ditch area," recounted Brittany. She heard Maverik speak.
"So I said, 'Maverik's talking, it's going to be ok. She's going to be ok,'" said Brittany. "You could only hope."
"And I flew back to the boys. As a mom, being one person, how do you get everywhere to save your kids. Like how? You can't," said Brittany.
"Paramedics came. They put the mask on her and started giving some oxygen, and I went back over with her and said, 'Alivia I love you. It's going to be ok.' There's a ton around Maverick. I look over and they're covering my boys with sheets and run back over there and rip off the sheets because it wasn't ok, you need to try," cried Brittany. "And I turn around and they're covering Alivia with a sheet. That is a parent's worst nightmare."
"How do you just see your kids and tell them you're going to be right there, and then they're all gone and they're all yours?" asked Brittany.
Shane was already at work in Logansport when he got the call.
"This wasn't the first phone call that I've got that Brittany was freaking out," said Shane. "I got the phone call when the bus got rear ended. I got the phone call when the bread truck drove past. I remember every single one of those phone conversations, and I'll never forget that morning."
"I couldn't imagine what I was driving into. But I knew when I got there. Our kids were gone," said Shane.
The past five months have been grueling for this family.
Big sister Selena went from having three siblings to being an only child.
"I just really miss them very much," said Selena with a sigh.
She is starting back to school part time.
"I'm doing ok," said Selena. "Sometimes I get my moments in the middle of the night when I realize they're not coming back."
Even though she's young, Selena understands what the MAXSTRONG bus safety bill will do.
"I want my school to change and I want every school to change," said Selena. "I'm proud of people getting cameras. I just want to say that because they're trying to help."
"This tragedy has opened our eyes. I think everybody's eyes," said Brittany. "Had these changes been made, then possibly my kids could still be here."
MAXSTRONG is named for Mason Ingle, Alivia Stahl and Xzavier Ingle. The main parts of the legislation strengthens penalties, encourages curbside drop off and pickups to prevent kids from crossing a highway, and allows school districts to have stop arm cameras with enforcement.
Again, this legislation will likely be voted on in its final form this week.
Tricia Sloma will there for the proceedings with another story for "Never Again: Preventing Bus Stop Tragedies."