ND students to walk out, remain seated during VP Pence's commencement speech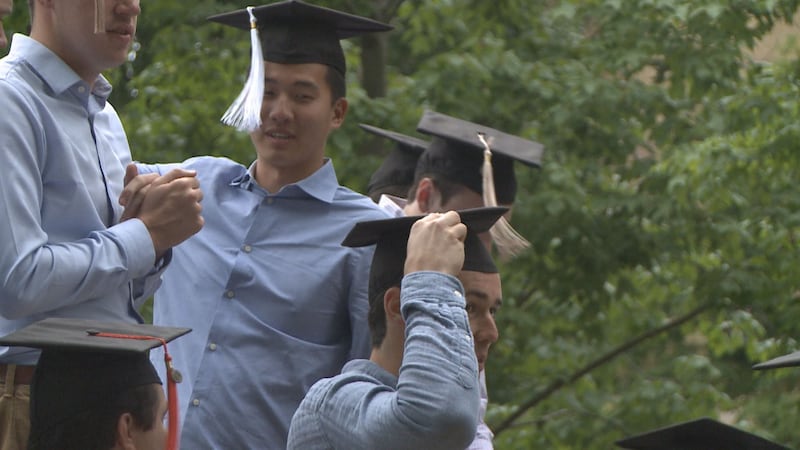 Published: May. 19, 2017 at 7:52 PM EDT
The University of Notre Dame is readying for Vice President Mike Pence's campus visit and commencement address. Meanwhile, at least 50 students
during the ceremony to protest the former Indiana governor and his policies, which they argue are contradictory to Catholic social teaching. Pence signed a controversial religious freedom law, told Fox News he
, and was against the resettlement of a Syrian refugee family in Indiana (over security concerns from that part of the world).
"He has supported policies that have targeted the weakest and most vulnerable among us," said graduate student Luis Miranda, a member of the group We Stand for ND. "These are my classmate; these are my friends; these are our family members as well. We're standing up for them. We're standing up for their dignity."
Kevin Burke, secretary for the Notre Dame College Republicans, said students have a right to walk out, although he contends insularity begets a misinformed culture.
"I think that's part of the problem we're dealing with now: people living in bubbles and don't want listen to people that don't agree with them," said Burke, a rising senior.
Devon Roura, a Notre Dame senior identifying with LGBT, isn't thrilled about Pence speaking but said he will remain seated partly because his friend, the salutatorian, will say the pre-commencement prayer.
"I think it's important to somebody who has a different perspective be in the room and really listening and really making an effort to challenge those views in the time to come as I graduate and move on," Roura said.
Senior Christopher Johnston didn't vote for the Trump-Pence ticket. Even though students plan to leave peacefully, he argued their act will disrupt the ceremony somewhat.
"Making controversy around the whole graduation ceremony kind of takes away from what this whole weekend is supposed to be about. It's supposed to be honoring graduates, honoring us, honoring our achievements," he said.
Miranda, one of the walk out organizers, hopes the silent gesture is audible.
"We're hoping to speak directly to the people all around the stadium," he stated. "Mike Pence is a human being. He's our brother; he's a child of God. We will respect his dignity and his right to be and espouse his ideas. But what does it tell about us a community, when we are willing to support someone that's espousing such things that are targeting people for being who they are?"
Visit
to watch the 2017 Notre Dame commencement address.