Mick Jagger heart surgery explained: TAVR less invasive than open-heart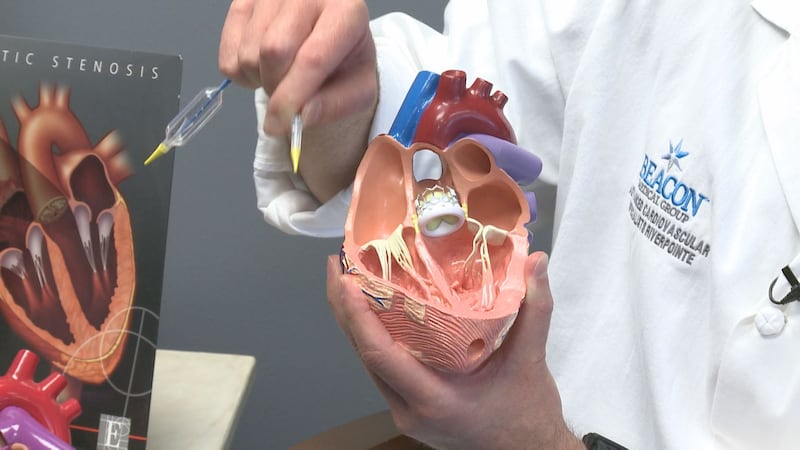 Published: Apr. 18, 2019 at 5:58 PM EDT
It's the procedure that helped save the life of Rolling Stones frontman Mick Jagger. And 'TAVR' is also saving lives in Michiana.
Beacon Health System's Memorial Hospital in South Bend and Elkhart General Hospital are the only area hospitals that perform it.
Patients with aortic stenosis become unable to live a normal life because they're too weak.
"There's a will for patients to do what they want to do, but there's a huge inability to do that," said Dr. Amjad Syed, a cardiothoracic surgeon at Elkhart General.
The disease is the result of a narrowing blood vessel in the heart.
The physicians say the debilitating condition can force blood into the lungs.
"They have significant shortness of breath. And for them, they are not even able to perform their activities of daily living, in terms of bathing themselves and cooking or shopping," Syed added.
Thankfully, Transcatheter Aortic Valve Replacement, or TAVR, is a minimally invasive surgery giving patients their lives back. TAVR repairs the damaged valve by wedging a replacement where the old one used to be.
"This valve, which is a model of the valve we would use, comes crimped to a catheter about this size, so it's only a few millimeters wide," said Dr. Troy Weirick, an Elkhart General cardiologist. "We back that across the valve and then after we're in position, we blow up the balloon that it's been wrapped around and it actually moves the diseased valve out of the way."
The doctors say a heart murmur could also be a sign of aortic stenosis and should be checked by your primary physician.
"We have more than a handful of patients referred to us with critical aortic stenosis, some who've been struggling over a year and they just didn't know that it was their valve," Weirick added.
There are risks, but if TAVR is right for you, recovery is much quicker than if corrected with open-heart surgery.
"If there hasn't been a lot of damage to the heart from that valve problem, they tend to have improvements that they notice when they wake up from the operation," said Dr. Walter Halloran, an Elkhart General cardiothoracic surgeon.
The doctors say aortic stenosis affects about 5 percent of the population, and the more severe cases affect about 1-2 percent.
To learn more, visit the
.