Local veteran, others can live comfortably thanks to Rebuilding Together project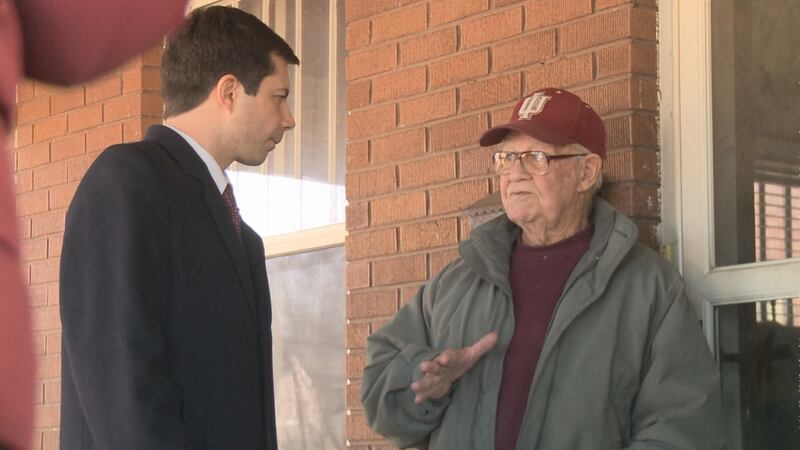 Published: Mar. 12, 2019 at 3:11 PM EDT
We all have our pride, but as we get older, it can be harder and harder to do things on our own. Eventually, we need help.
Thankfully, South Bend's Rebuilding Together program is there to help elderly people and veterans to fix up their houses when they might not be able to.
Meet Glenn Hall. He's a 92-year-old Navy veteran.
"This, you aren't going to believe," Hall said moving toward a window in his home.
It needs some work.
"What is that?" our reporter asked.
"The animals," Hall said.
"The animals?"
"You can see where they've eaten this all away. How the window got broke, I don't know, but I put this up and they chewed it all out and they still kept coming in."
In a nearly 100-year-old house, you can expect issues. The big problem is in the roof, leading to leaks and more.
"There's my bucket," Hall said, pointing to a water-filled bucket on the floor.
At 92, Hall says he can't do it alone, which is where Rebuild Together steps in. They help repair homes for the disabled and elderly every year. And after helping one house, the neighborhood tends to shape up.
"You see a lot of people, maybe not get jealous, but want to work on their own home," Rebuilding Together Board President Christin Kloski said. "So, you'll see everyone cleaning up their front yards or maybe the sidewalks around that home."
And because it's something that helps the community, the community usually has a large presence in the repairs.
"We find people from around the community really enjoy being a part of it," South Bend Mayor Pete Buttigieg said. "It's fun. We bring food, you get to know folks, we'll put a paintbrush in your hand, whatever is needed. It really is a community-wide effort."
For all of this support, Hall and others in his position couldn't be happier.
"It means that ... I just can't say it," Hall said, grasping for words. "I just ... I'm overwhelmed. I appreciate it so much."
So, Hall can say goodbye to the leaky roof, the bucket, and "the animals," and say hello to peace in a comfy home.
Fifteen homes in the area around Prast Boulevard are going to be fixed up, and repairs will happen in April.