Local school districts report bus driver shortages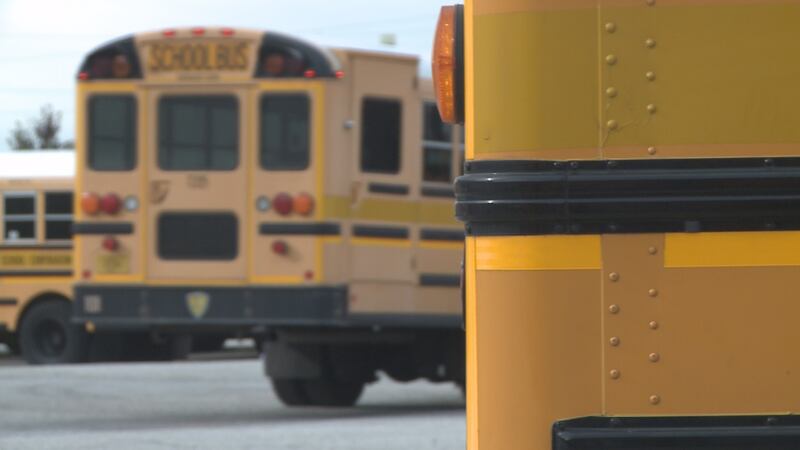 Published: Nov. 1, 2017 at 8:52 PM EDT
Northern Indiana school districts are reporting bus driver shortages a few months into the school year. Elkhart Community Schools Transportation Director Henry Lohmeyer told NewsCenter 16 he would like five additional fill-ins. Toward the end of the previous school year, the district almost had a severe shortage.
"We were dangerously close to that. But we were able to consolidate some routes and call in some drivers who had retired, so we are very, very grateful for that," said Lohmeyer.
About four days a week, Brenda Uceny, the head of transportation for Plymouth schools, returns to her roots as a bus driver. Currently, the district needs two permanent drivers along with five to seven substitutes.
"We struggle, but we get it done," said Uceny.
In the South Bend Community School Corporation, Juan Martinez-Legus relates. The director of transportation is a stopgap when there are insufficient substitute drivers. However, he says the larger size of his school corporation makes their need unique.
"We offer more programs. When we have a driver that's out, and we don't have a driver to cover that, you feel it here because every route affects another route in our corporation," said Martinez-Legus.
While he wouldn't specify the number of substitutes needed in South Bend, Martinez-Legus said he always is looking for additional drivers.
"We have coverage for our routes. We have additional substitutes, and we're constantly building, and we're not going to stop," he said.
None of the school districts interviewed pointed to bus driver shortages as the source of delays in students showing up to school.
Why aren't there enough drivers?
"I really don't know," said Brenda Uceny. "We sit here and ask ourselves everyday that. What can we do to reach out to people? Why do we have the shortage? It's kind of a perplexing concept."
When asked about the pay factor, Uceny agreed it may deter someone from signing up to drive. In her district, drivers average $72 per day (they are paid by miles), working roughly three hours.
"With that, it's kind of hard to make a living. A lot of our drivers are retired from other full-time jobs, want something part time, and it's just kind of a fill-in," explained Uceny.
Nonetheless, her staff can fatten their paychecks by driving for athletic teams, school trips, and other extracurricular activities. One of the perks, said Uceny, is drivers can attend the events (e.g. school play or game) for free.
"It's really kind of a neat opportunity to be able to do that," she said.
During the day, Elkhart drivers, who start at $18.33 per hour, can work in other departments, such as food services.
"If someone wants to have a full-time job, we can do a lot of different things to get them as many hours as they can take," Lohmeyer said.
Like Plymouth, bus operators for South Bend schools are able to drive additional shifts.
"Because we do provide and we have so many different programs, a lot of our drivers are able to have 8-hour days," said Martinez-Legus.
He said his drivers have a starting wage above $16 an hour.
"It's something that we're working on," Martinez-Legus admitted. "Unfortunately, because funding is different from corporation to corporation, and that's funding that the state gives us – most people don't realize that our funding is actually less here, and we have to offer more programs
-- more federally mandated programs. We do not get reimbursement for a lot of those programs or for the transportation."
School bus drivers have to possess a commercial driver's license (CDL). The license bureau does a 10-year driver history assessment and requires a driving skills test. In some instances, prospective drivers must pay for their training, which averages one month. Plymouth and Elkhart, however, offer reimbursement.
Additionally, driver's must be healthy, drug-free, and cannot be Type I diabetic with an insulin pump.
"All of this is what we put our people through to make sure they are out there and they are good safe drivers. They're out there with our kids," said Martinez-Legus.
To attract new drivers, local school districts are attending job fairs, placings ads in the newspaper, and hanging banners. Plymouth is ramping up the creativity.
"We recently put an ad on Papa John's pizza lids. That's a first time we've ever tried that," reported Brenda Uceny.
She and Juan Martinez-Legus, in South Bend, agree veteran drivers are the best marketers.
"They are our top recruiters. They've seen a lot of improvements, and they tell us that. They go out, and they tell people that," said Martinez-Legus.
Recently, Uceny said she was on a bus route and asked if any of the students knew of someone who wanted to be a bus driver.
"The one little girl said, 'You know, my mom just quit her job. Maybe she'd like to drive a bus,'" recalled Uceny.
As part of his marketing pitch, Martinez-Legus said he is honest about the job.
"I would say the pros are knowing you can make a difference for your country coming in. It's that big because our kids go all the way across the country, and they're going to be taking care of us," he said.
Uceny also effused pride when asked about why she enjoys driving buses.
"It's very rewarding that you hear those kids talking behind you, about what they learned that day, and so that driver gets to be a part of that child -- not only academically -- but from the standpoint they get to know their family. They get to know their siblings. They get to know what goes on behind those doors," she said.
As for the downside, Martinez-Legus talked about dangerous drivers and instant opportunities for people to complain.
"The cons are that if somebody says you did something, they can go all over social media and blast you," he said. "Overall, it's a good job! It's a great job."