Jimmy and Rosalynn Carter Work Project ends, but work continues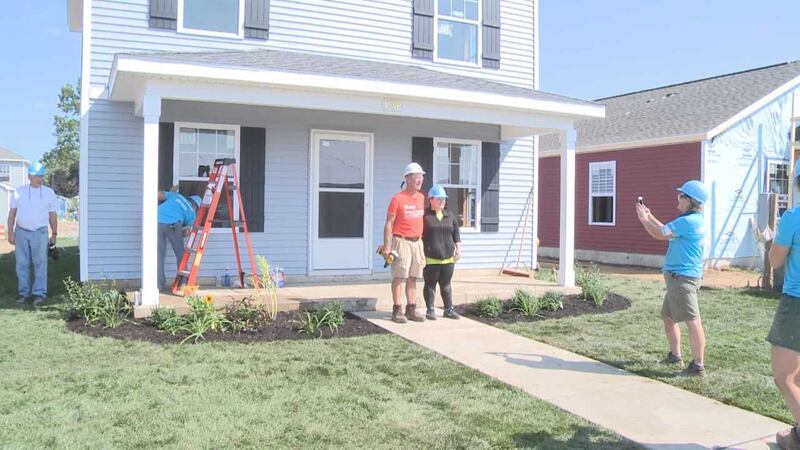 Published: Aug. 31, 2018 at 5:38 PM EDT
The Jimmy and Rosalynn Carter Work Project comes to an end with a closing ceremony.
After a week of building 22 homes, the Carters will leave Michiana, but the work will continue.
The Habitat homes in a subdivision just off of Byrkit in Mishawaka are almost completely done, and volunteers already have plans to come back and place the finishing touches on the homes.
While these families are excited to move into their new homes, they are going to miss the volunteers who worked alongside them.
"As the week comes to a close, it's kind of emotional, because I've been working with these people side by side for the last five days and it's kind of bittersweet," said Cleora Taylor, who will soon own one of the homes."
"It's kind of sad that this is the last day," said Jim Williams, the CEO of Habitat for Humanity of St. Joe County. "This is the end of the Carter Work Project, but it's just the beginning of a brand new vision for our affiliate and the ability to help more families in our community."
Though this is the last day for former president Jimmy Carter and his wife, Rosalynn, the work will continue in St. Joe County.
Business man Frank Darnell sold an additional seven acres to Habitat for Humanity, so that this subdivision may be expanded.
"This is phase one with 40 lots and now, phase two, an additional 40 lots that we'll be able to build on," said Williams.
That's a total of 80 Michiana families in need who will have the opportunity to become homeowners, like Cleora Taylor, a single mom who is purchasing the home the Carters themselves helped build.
"Just being able to provide stability for my children, showing them all the hard work that I put in, knowing that they can also work hard towards their goals and dreams, whatever they want to do in the future," said Taylor. "Just showing them that you can have something as long as you work hard towards it."
Taylor has a twin boy and girl, another son, and an autistic daughter.
She says the support she's received from Habitat and from the volunteers has impacted her the most.
"I'm a firm believer in you show love, you get love," said Taylor. "So, I always put love and joy out into the world through social media, through anything I do. The love that we've been receiving this week has been phenomenal."
As for the Carter Work Project, they will be at a new site for a week next year as they are every year.
The location for next year is a surprise, but the CEO of Habitat for Humanity of St. Joe County says it was humbling and an honor to have them here this year.