UPDATE: MAXSTRONG bill passes Legislature; parents react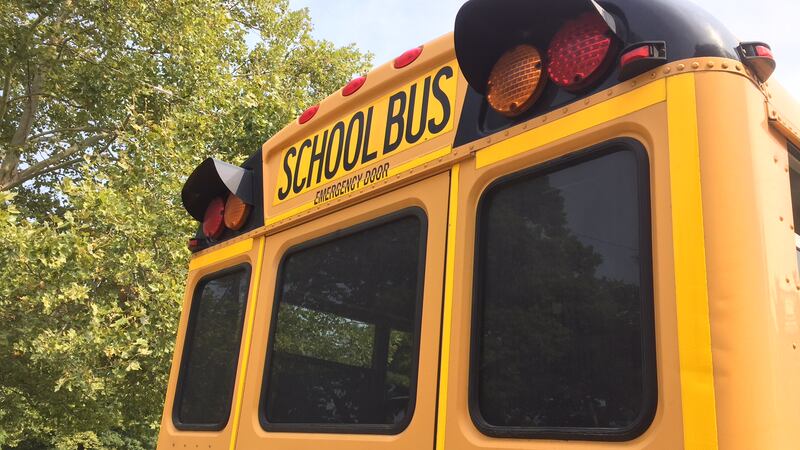 Published: Apr. 23, 2019 at 4:44 PM EDT
The MAXSTRONG school bus safety bill has passed the Indiana Legislature and now awaits a signature from Gov. Eric Holcomb.
The new version has passed the Indiana House and Senate. It attempts to restore a key but controversial component of the bill. That involves trying to come up with a way to help school corporations pay for the installation of stop arm cameras on buses.
Brittany Ingle, the mother of Alivia Stahl, Mason Ingle and Xzavier Ingle, the three children killed in a Fulton County bus stop crash last fall, told NewsCenter 16's Tricia Sloma the family cannot stop smiling in response to the measure passing the Legislature.
"[Legislators] showed they cared, not just when the accident happened but now, when it really matters," said Shane Ingle, the father of Mason and Xzavier and the stepfather of Alivia.
The MAXSTRONG bill passed the House, where debate had slowed the bill's progression, by a final vote of 90-4.
The bill increases penalties for stop arm violators and includes a funding option for stop arm cameras so school districts can petition counties for money collected from violators.
Brittany Ingle said the bill would not have passed without the support and hard work from the community around her.
"This senseless tragedy that happened, something positive had to come out of it, and this is it," she said. "So, my kids will be forever remembered in saving lives, and, hopefully, MAXSTRONG will go nationwide."
Seeing cameras on buses across the state will be a reminder of their guardian angels, but Brittany and Shane Ingle hope to see another reminder: a MAXSTRONG sticker.
"It would be amazing to know that our kids did what we always knew they would, and that's change the world," Shane Ingle said.
"They had so much to offer this world, and they were great kids," Brittany Ingle added.
This week, the parents finished a new memorial they created at the scene of the crash that killed three of their children.
"I always knew we would do something over by the road," Shane Ingle said. "It was just getting the strength to go over there."
"I just want people to remember when they drive past here, there's still a school," Brittany Ingle said. "This really happened. These three kids' lives were lost, and I just want them to still be remembered. Slow down."
Brittany and Shane Ingle say their work as parents is not done.
"As parents, we always went all out for our kids, no matter what. And we still have that drive, even though they are not here," Shane Ingle said.
"We're just going to keep their memory alive," Brittany Ingle added.
Brittany and Shane Ingle say they plan to be in Indianapolis when the bill is signed.
The original bill proposal would have allowed private companies to install bus cameras now, and they would be paid later with fines collected from stop arm violators. The proposal hit a wall in the Indiana House of Representatives.
The compromise version passed Tuesday would make school systems pay for cameras up front, keep the current flow of fines in place and still give school corporations at least a crack at that cash.
"We've simply allowed schools and school systems to petition units of local government to ask that they pay the cost of the cameras. It's up to the unit of local government whether they do or don't, and they can do no more than just pay for the cost, so it's not an ongoing stream of revenue," explained Sen. Randy Head, R-Logansport, before the Senate Rules Committee.
The first attempt to sell that new plan to the House Rules Committee on Monday afternoon turned out to be an uphill battle.
"So, I'm to understand some of the language in this report did not pass either house?" asked Rep. Ben Smaltz, R-Auburn.
"The intent is all the same," responded Rep. Ethan Manning, R-Denver. "The exact language is not, but the idea of having a new way for schools to pay for a stop arm camera was in the Senate-passed version."
The new version of the bill will still increase penalties for stop arm violators, require curb service along highways in high-speed areas and add school bus safety to the list of topics featured on the exam for a learner's permit or a driver's license.
The following statement came from Mike Stahl, Alivia's father:
"Today marks an Amazing step in Bus Stop Safety for our Hoosier children, families, and communities. Myself, and my family would like to say thank you to Senator Randy Head, his office, all Representatives involved, Tricia Sloma, and all Hoosiers for all of their hard work and support for this Bill. I know Alivia is looking down upon us all, and is so proud to see what has been accomplished. We miss her dearly with all of our hearts every day. My hope is these changes will help prevent such a horrible tragedy from ever happening again. This Bill is a great step in the right direction in helping keep our children safe. However, we must remember it is our responsibility as drivers to be due diligent, and follow traffic laws. Our Children are precious, and our future. So I ask, when you see a stopped school bus with its lights on and stop arm extended. Please think of your children, grandchildren, nieces, nephews, or friends children. NOTHING is more important than our children's lives and future. I pray, and hope that our great state has shown how important this issue is, and is a shinning example for other states across our country."