Holy Cross to offset financial woes by selling land to Notre Dame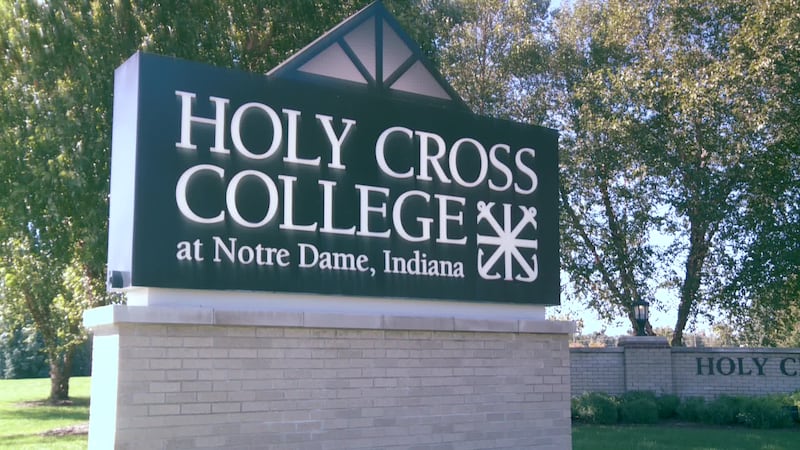 Published: May. 12, 2017 at 5:12 PM EDT
Prayers were answered on Friday night for anyone who calls themselves members of the Holy Cross College family.
At a meeting of the school's board of trustees on Friday, a plan was approved in which Notre Dame will essentially buy the land Holy Cross sits on and lease it back to the college.
No details were released, but sources tell NewsCenter 16 the linchpin of the deal involves Holy Cross selling its campus to Notre Dame for between $15 and $20 million.
The college will then lease the land back from the university for $1 a year.
On a Friday evening, Holy Cross College in South Bend is a quiet place. Most of the students have finished tests and gone home.
"We were really hoping to get this done before graduation," Holy Cross Board of Trustees chair Dave Bender said.
On Friday, both Holy Cross and Notre Dame leaders agreed to a deal in which Notre Dame will buy 75 acres and lease it back to the small college, easing any concern about financial woes.
"The issue with small private colleges now is they don't have the same endowment that Notre Dame would have. They are so tuition dependent," Bender said.
Holy Cross currently has around 600 students. This month, the college raised alarm when a Holy Cross leader mistakenly sent a campus-wide email arguing the school will have to grow or die.
"The email was unfortunate because it was one man's opinion. And it was an opinion that was not privy to all of the facts," Bender said.
With the deal, Bender says Holy Cross hangs onto its accreditation for ten years and avoids a similar fate as fellow Christian school St. Joseph's College in Renssalaer, which closed this month.
"We looked at what went on there, even though we were deep into the process by the time that happened. We looked at that as a case study of what to do and what not to do," Bender said.
Bender says while Holy Cross's future is secured, they will have to grow enrollment, expand and consider potential academic cuts. They also have one month to submit a financial report to the accrediting board.
Holy Cross's graduation happens on May 26th.
Bender says interim president Father David Tyson could remain in his post for another year or two until they appoint their next president.
Just last week we reported about an
It indicated that if the financial fortunes of the school didn't change soon, it might have to shut down.
NOTRE DAME, IN (May 12, 2017) –Holy Cross College will be partnering with the University of Notre Dame on one initiative that is part of a long-term financial sustainability plan to address the financial concerns recognized by the Higher Learning Commission (HLC) and the college's Board of Trustees. The HLC reaffirmed the accreditation of Holy Cross College for 10 years—the maximum amount of time allowed—in the fall of 2016. "The HLC's reaffirmation and accreditation of Holy Cross College is an endorsement of the college's quality, reputation and student formation-focused programs," says Justin Watson, Ph.D., vice president for academic affairs. "The HLC team noted that Holy Cross operates with integrity, and it has continued its transformation from a two-year to a four-year college with changes to its curriculum that enhance the students' academic experience and success." In its final report, the HLC recommended follow-up steps in its evaluation of the college's financial sustainability, including developing a four-year financial plan to be submitted in June 2017. The HLC report identified Holy Cross College's dependence on short-term lines of credit and the redirection of restricted gifts to balance budgets and finance its operations, as well as its reliance on long-term debt to fund growth as financial risks to be addressed. The Holy Cross College Board of Trustees had also recognized these issues during its strategic planning process last year and the HLC report confirmed the exigency of a multi-year financial plan. "Although a great deal of attention has been given to Holy Cross's financial position lately, the Board of Trustees has been working on a robust and sustainable financial plan since the beginning of the academic year," says Dave Bender, chair of the Holy Cross College Board of Trustees. "The opinions and rumors that have been circulating recently are not reflective of the work the Board of Trustees and administration have done to secure the future of the college." While the interim president and administration of the college are developing the financial plan for the HLC, the Board of Trustees has focused on independent strategic plan initiatives. As part of those initiatives, the college approached the University of Notre Dame with a proposal that the university purchase 75 acres of land owned by Holy Cross College and the Brothers of Holy Cross Midwest Province on the west side of State Road 933 and south of Holy Cross Village. Notre Dame would then lease the property back to the college to support its ongoing operations. "We are pleased to announce that an agreement on all sides has been reached and will be submitted for final review and approval by the members of the Corporation, the Congregation of Holy Cross Superior General, and the Holy See," says Bender. The Holy Cross College Board is confident that this arrangement with Notre Dame will provide Holy Cross with the financial capital to meet operating needs, as well as reduce the college's need for long-term debt and short-term credit. "Holy Cross and Notre Dame have successfully collaborated on a number of formal and informal initiatives over the years, and both institutions recognized that this was another good opportunity to work together," says Bender. "Although we will not be releasing the details of this private agreement, we can assure the entire Holy Cross community that it will have a stabilizing impact on the college and will allow us to confidently plan for the future." The HLC accredits degree-granting post-secondary educational institutions in the North Central region of the United States. It is one of six regional accrediting associations recognized by the U.S. Department of Education and the Council for Higher Education Accreditation. The HLC was created to develop and maintain high standards of academic excellence. Receiving HLC accreditation means an institution meets recognized standards of education regarding its mission, governance, teaching and learning, financial stability, and relations with its constituents, as well as federal compliance requirements.