Fmr. President Carter, wife to visit Mishawaka for Habitat for Humanity project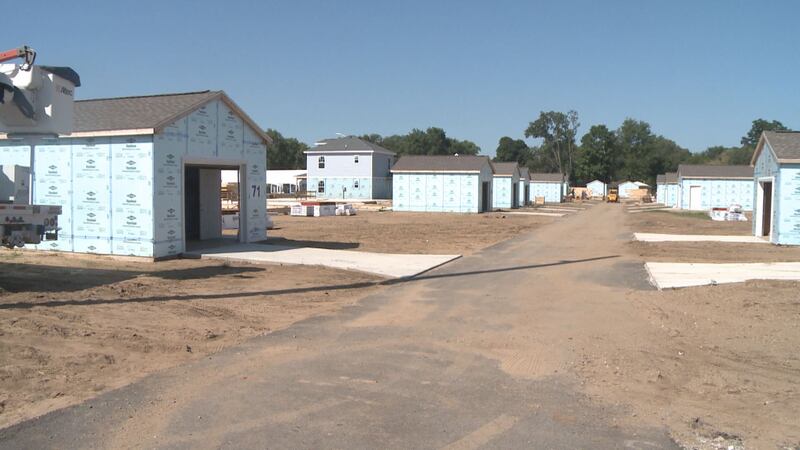 Published: Aug. 23, 2018 at 4:02 PM EDT
Former U.S. President Jimmy Carter and Rosalynn, his wife, are visiting Northern Indiana this weekend to work on their annual Habitat for Humanity build in St. Joseph County -- specifically, the project happening in the 1500 block of Byrkit Avenue in Mishawaka.
"For them to take one year out of that busy schedule to come build houses with Habitat, they've done that for the last 35 years -- that's just an amazing thing," said Jim Williams, President and CEO of Habitat for Humanity of St. Joseph County.
Volunteers have been working on the Mishawaka neighborhood since March, said Williams. Throughout the upcoming week, 2,000 people from around the world will donate their time and talents. Most will be construction workers.
"Just to be a part of this construction project and know that families are going to be able to move into their new home in just a short time is a pretty gratifying feeling," said Paul Phair, volunteer and member of the local Habitat steering committee.
Williams says Habitat families must meet certain criteria: housing need; must take classes on budgeting and home maintenance; must put at least 250 hours of labor into the home, depending on family size; and demonstrate the ability to repay a 0 percent mortgage.
Monthly house payments range between $550 and $600. Utilities are approximately $135. Habitat for Humanity uses the mortgage payments to reinvest into the community to assist families in the program.
Community fundraising is also paramount to the fruition of the Carter Work Project. $6.7 million dollars was raised for the St. Joseph County build, which includes construction on eight homes in South Bend.
On Thursday, a representative from Indiana Trust Wealth Management presented a $500,000 check for the 2018 Carter Work Project from the Vera Z. Dwyer Charitable Trust.
"Those residents, those families that are going to own these homes are going to make this their neighborhood. This will be their community, and their legacy will continue with the joy that that home ownership brings," said David Kibbe, President and CEO of Indiana Trust Wealth Management.
The goal is to have as many families move into the Mishawaka neighborhood by the holiday season.
On Sunday, former President Carter and Rosalynn will speak at the Notre Dame Purcell Pavilion from 5 to 6 p.m. The event is free and open to the public. Doors open at 4:30 p.m.
The Carters also plan to attend the South Bend Cubs game next Wednesday, August 29.