Final beam raised in construction of Memorial Children's Hospital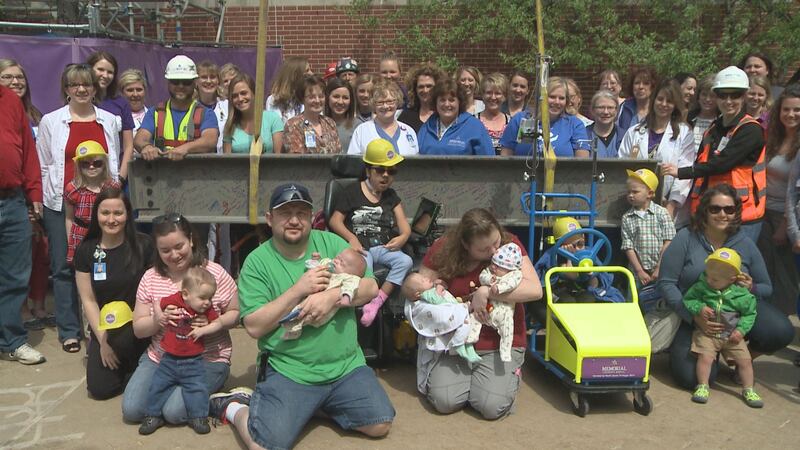 Published: Apr. 20, 2016 at 5:53 PM EDT
Memorial Children's Hospital, designed for 21st century pediatric medicine, is one step closer to moving into its new home.
Wednesday afternoon, the final beam used for construction was ceremoniously lifted into place.
Planning started back in 2012, construction kicked off last summer, and now the new hospital is less than 12-months from opening its doors.
The state of the art facility boasts a 100,000 square-foot expansion, making it possible to care for a broader range of illnesses and medical conditions.
The $50 million dollar addition was designed with the goal to give every child in our region the resources he or she needs to live a healthy life.
Before the beam was raised Wednesday, guests in attendance had the opportunity to make their mark by signing the beam.
"All this is contributing to kids getting off to a great, great start in life, and making sure that all the resources they would need are here in place so they don't have to leave town," said Phil Newbold, CEO, Beacon Health System.
"It's another thing that puts South Bend on the map as a place that really cares about their kids and families," said Dr. Bob White, Neonatologist, Memorial Children's Hospital.
The current hospital will be moved in its entirety to the new building, just next door.
"The goal is to make sure the facilities, the technology matches the capabilities and skills of our talented clinicians and staff," said Newbold.
The improved hospital will be equipped with a brand new playroom, atrium, and private rooms for parents and their children.
The shared spaces that currently exist will be transformed into a place to call your own during your child's stay.
"Many people are here for 20, 30, 40, 50 days and they need a rest pit...a place to go and get away from all this during the stressful time," said Newbold.
"It's going to provide so much more one-on-one time with their babies, more bonding time, and just great staff and support for them as they're going through a rocky journey," said Jennifer Unger, parent.
A modern hospital, with a new vision for our region.
"This is a once in a lifetime opportunity. We take care of babies day in and day out and we wish we could have a place where we could really do it right, and now the community and the hospital are making that possible," said White.
Wednesday's event represented the completion of the exterior frame. By next month, windows and roofing will be done; then work on the inside will kick off.
The new hospital is set to open sometime in March 2017.