UPDATE: A look at what's next after Buttigieg vetoes rezoning for pro-life group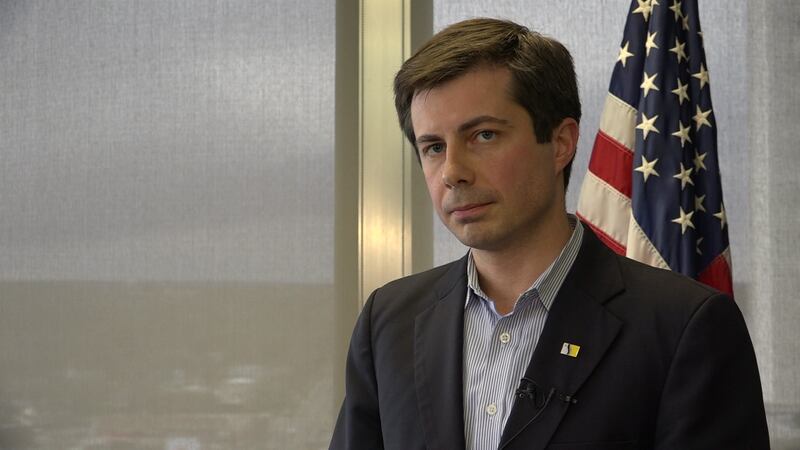 Published: Apr. 27, 2018 at 5:05 PM EDT
South Bend Mayor Pete Buttigieg has vetoed the rezoning of a property near the site of a proposed abortion clinic. It would have allowed the pro-life Women's Care Center to set up next door.
The rezone would have changed the property from residential to business.
Buttigieg made the announcement Friday afternoon.
"In my judgment, the neighborhood would not benefit from having the zoning law changed in order to place next door to each other two organizations with deep and opposite commitments on the most divisive social issue of our time," Buttigieg said in a letter to the Common Council. "However respectful and well-intentioned the people I have met from both proposed facilities, I do not find that the neighborhood would benefit from placing them in close proximity to one another."
In a statement, Notre Dame President Rev. John Jenkins said he was disappointed in the decision.
"The Women's Care Center, on whose board I serve, gives women in crisis the support they need for themselves and their babies before and after birth," the statement reads. "It doesn't engage in political advocacy, but provides compassionate, non-judgmental loving care to women most in need. I am saddened by Mayor Buttigieg's decision to veto a bill that would have allowed the Women's Care Center to build a facility near one that seeks to provide abortions. The mayor's decision excludes an important presence from that neighborhood and thwarts plans that had met the criteria for rezoning and had been approved by the Common Council. Far from enhancing the harmony of the neighborhood, it divides our community and diminishes opportunities for vulnerable women to have a real choice. The mayor is a talented and dedicated public servant with whom I have worked closely to serve our community, but I am deeply disappointed by his decision."
On Friday, it was a win for pro-choice advocates, but a blow for the Women's Care Center to expand on the west side.
"I actually started shaking," said Karen Nemes, the media coordinator for Pro Choice South Bend. "We have done so much in such a short amount of time to get the word out to the community that this is what was happening and that we still had the possibility for veto."
She said in less than a week they were able to collect 500 signatures on a petition. Although they won Friday they said the fight is not over.
"No the fight's never over and access to reproductive healthcare is still a problem in Indiana as well as nationally so we're going to continue to fight for that as well," said Nemes.
"We are deeply saddened that care for women and children in South Bend got caught up in politics," said Jenny Hunsberger, Vice President of the Women's Care Center.
Hunsberger said in the 34 years they've been here they've been open right next to 22 abortion clinics.
"There has never been an instance in violence. Today we have 29 centers in 10 states. There has never been violence," Hunsberger said.
Hunsberger said they will meet next week to figure out what's next. The council will have to decide at their next meeting whether or not to hold another vote.
Council President Tim Scott said it's too soon to say.
"It's too early to tell if the council will take a vote to rescind the veto, but if the council wants a vote, we will take a vote," Scott said. "This is the democratic process. I respect the mayor's veto and I respect my council colleagues' decision and votes."
This is the first time Mayor Buttigieg has sent in paperwork for a veto.
"Two council members from the area most directly impacted wrote to ask that I veto the bill," said Buttigieg. "That's a highly unusual step and not one that I can remember having taking place before on any number of close council votes."
Buttigieg encourages the Women's Care Center to expand to the city's west side just on a different lot.
"To make a determination whether the neighborhood is so much better off by these groups being right next to each other that it merits a change in the zoning law, to me it just didn't meet that standard," Buttigieg said.
On April 23, the pro-life Women's Care Center won the battle to rezone land next door to the site of a proposed abortion clinic.
The South Bend Common Council voted 5 to 4 in favor of the rezoning.
Proponents of Whole Women's Health, the proposed abortion clinic, said the care center would threaten the safety of women and could draw in protesters.
"Today, we applaud Mayor Pete Buttigieg for standing up for what is right and putting women and families of South Bend first," a statement issued by the Whole Woman's Health Alliance says. "This veto shows that he is listening to the community and ensuring access to quality healthcare is available.
"Whole Woman's Health of South Bend is committed to providing comprehensive reproductive healthcare services with expert medical staff and physicians. We have enjoyed participating in open and honest conversations with key community leaders, community members and local allies and we look forward to continuing to build those lasting relationships as we continue the process of providing care to those that need it. As members of the South Bend community, and with broad support locally, Whole Woman's Health of South Bend will always uphold the values of dignity, respect and compassion in the medical care we provide."
Some council members were concerned about safety.
"There's a credible concern that locating here will cause harm and will create a conflict zone in an area that's already wrought with issues," Councilwoman Regina Williams-Preston said. "Services the Women's Care Center provides would be bringing women with many small children to the center. The bus stops are pretty far away. They may be walking to the center and there's no sidewalks to that so that in my mind presents something of a safety issue."
The two sides met recently and discussed what could be done to make the area safer, and the Women's Care Center wrote down several commitments to the city and their neighbors.
"We will not allow protesters or protesting, and we will ask anyone in the public right of way in front of our property to leave," Women's Care Center Vice President Jenny Hunsberger said. "We will not support protesting by constructing out-buildings, putting up signs or speakers. We are categorically 100 percent opposed to protesting."
Even with those stipulations, Whole Women's Health isn't exactly keen on the idea of a pro-life organization moving in next door.
"There's not a written commitment that will change the core mission of Women's Care Center, which is to do everything they can to mislead and deceive women who they can access, which is why they want to locate next to our clinic," Whole Women's Health Alliance Managing Director Jesse Torrey said.
Whole Women's Health has been appealing a decision by the state health department after they denied a license for the abortion clinic, but they say they aren't going anywhere.