Buttigieg formally announces candidacy for president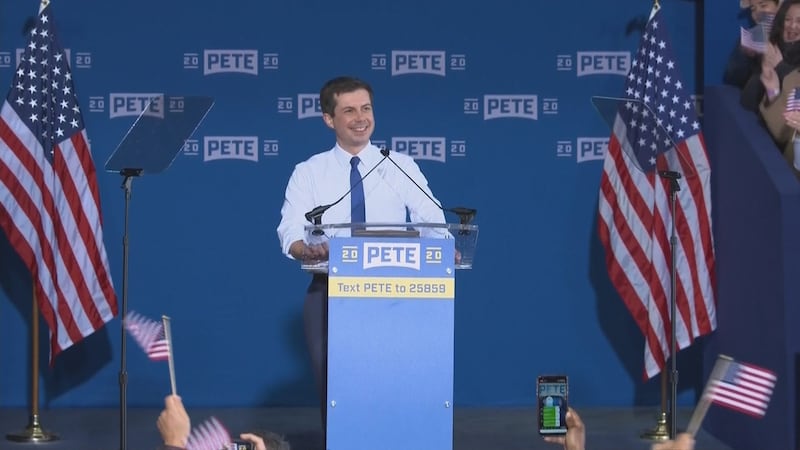 Published: Apr. 14, 2019 at 1:44 PM EDT
In a long-anticipated move, South Bend Mayor Pete Buttigieg officially announced his 2020 candidacy for president in a special event held Sunday afternoon.
Buttigieg, a Democrat who was sworn in as mayor on New Year's Day 2012 after being elected at 29 years old, made his official candidacy announcement about 20 minutes into a 37-minute speech, right around 3:20 p.m. at Studebaker Building 84 in downtown South Bend.
"It is time to walk away from the politics of the past and toward something totally different. So, that's why I'm here today," Buttigieg said. "I'm here to join you to make a little news. My name is Pete Buttigieg. They call me Mayor Pete. I am a proud son of South Bend, Indiana, and I am running for president of the United States."
A rousing cheer from the crowd ensued, followed by a chant of "USA," a chant that was repeated more than once throughout the speech.
Approximately 6,000 people were on hand to witness the announcement. More than 4,500 people were inside, while another 1,500 watched outside, according to the fire marshal.
"This time, it's not just about winning an election; it's about winning an era," he went on to say.
Buttigieg enumerated the core of his candidacy, pointing to three ideals.
"The principles that will guide my campaign for president are simple enough to fit on a bumper sticker: freedom, security and democracy," he said.
He went on to describe what freedom, security and democracy specifically mean to him.
Buttigieg concluded his announcement on the theme of hope.
"You and I have the chance to usher in a new American spring," he said. "So, with hope in our hearts and with fire in our bellies, let's get to work, and let's make history. Thank you!"
To watch the full Facebook Live broadcast of Buttigieg's announcement and its lead-up,
.
Before announcing his official candidacy, Buttigieg spoke about turning South Bend around, about people believing the only way forward for people from the city was to get out. He said some did -- but some came back.
"We wanted things to change around here, and when the national press called this a dying city, we took that as a call to arms," he said. "... Now, I can confidently say, South Bend is back."
Buttigieg spoke first outdoors to those supporters who were not able to get into the building for the official announcement.
"I am impressed by the people standing inside," he said before moving indoors. "I am moved by the people standing outside."
He spoke outdoors about "an act of hope," saying, "This is what a new American spring looks like."
"I can't do this without you," he said. "But with you, we're going to go all the way."
Among those participating in the ceremony was West Sacramento Mayor Chris Cabaldon, who touted Buttigieg's presidential candidacy as history.
"I'm ready to roll up my sleeves and get to work for Mayor Pete. Are you?" Cabaldon asked. "Let's go make some history!"
Austin, Texas Mayor Steve Adler called Buttigieg his mentor, despite the fact that Buttigieg is a younger mayor of a smaller city in a different part of the country.
"Wouldn't it be great if we had a president who listens and actually answers questions, and in his answers, teaches us something about nuance?" Adler asked. "... Wouldn't it be great if we had a president who is of a generation that will actually live with the consequences of the decisions we make today? Wouldn't it be great if we have a president who was really smart?"
Retired Chicago journalist Renee Ferguson, who took in Buttigieg when he was participating in a journalism internship, said making "Buttigieg" a household name could be a difficulty. But "there's a small ray of hope," she said, citing the example of former President Barack Obama.
"We can pronounce any name if it belongs to a person who belongs to us," she said. "... We can pronounce the name of a person who's the real deal."
Dayton, Ohio Mayor Nan Whaley called Buttigieg "the smartest person I know." She said he is practical about what can be done but visionary about what needs to be done.
"In short," she summarized, "he is the polar opposite in every way of Donald Trump."
Buttigieg
as mayor of South Bend, which fueled speculation that he may make a bid for the White House.
On Jan. 23, Buttigieg further hinted at his political aspirations when he
for a 2020 presidential bid.
Despite not having officially announced his intentions to run for president prior to Sunday afternoon, Buttigieg went on a media tour that included appearances on
at South by Southwest and
just to name a few. In addition, he
, "Shortest Way Home," in February.
At the beginning of April,
from his presidential exploratory committee. In the first quarter, the committee had raised $7 million.
"Right now, you could make the case that Pete Buttigieg's $7 million is the single most impressive fundraising report we've seen from any of the candidates," said Chuck Todd, moderator of "Meet the Press."
In a poll released this past week by St. Anselm College in New Hampshire,
among presumptive Democratic presidential candidates. He was polling at 11 percent, trailing former Vice President Joe Biden and near-2016 nominee Sen. Bernie Sanders.
A South Bend native, Buttigieg was
as mayor in 2015 with 80 percent of the vote.
Among the initiatives touted on his
, Buttigieg "introduced the 1,000 Homes in 1,000 Days initiative, which demolished or repaired abandoned homes throughout South Bend" during his first term. In his second term, "he constructed safer, more appealing 'Smart Streets' as part of downtown placemaking."
Buttigieg is also a veteran. He was an officer in the U.S. Navy Reserves between 2009 and 2017, serving a seven-month deployment in Afghanistan in 2014. For his service and work in counterterrorism, he earned the Joint Service Commendation Medal.
An openly gay man,
to his husband, Chasten Buttigieg, in a ceremony on June 26, 2018.