Parents of 3 killed at Rochester bus stop react to school bus safety bill setback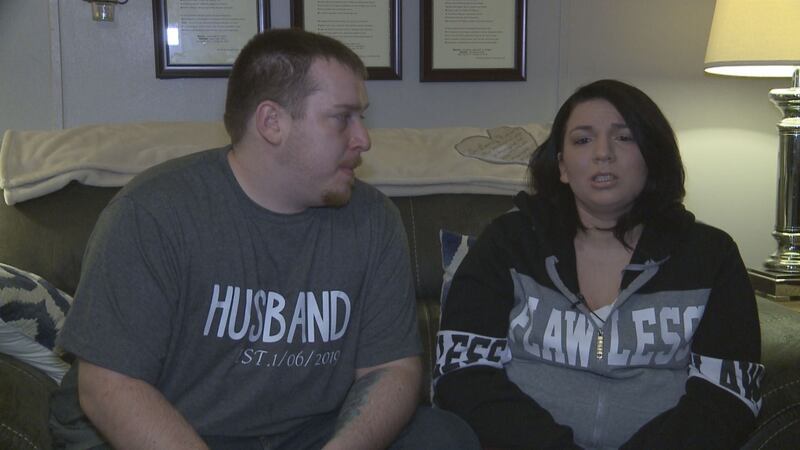 Published: Mar. 21, 2019 at 11:55 PM EDT
The MAXSTRONG school bus safety bill was drafted after Mason Ingle, Alivia Stahl and Xzavier Ingle were struck and killed while boarding a bus in Rochester last October.
On Thursday, the mother of those three children, Brittany Ingle, and her husband, Shane Ingle, reacted to a decision by the Indiana House of Representatives that resulted in
they inspired, and it's safe to say they aren't happy about that weakening.
"It's really disappointing that other legislators don't see the safety for our kids being important. How many children have to die before they care?" Brittany Ingle asked.
What isn't safe anymore, however, is an automatic suspension for violators who drive around activated stop arms. The Indiana House decided to get rid of that provision and, instead, leave it to a judge to make a decision on the penalty.
"Why is it that this woman killed three kids and can drive? Three little innocent lives were taken and they still have driving privileges. But we're going to leave it up to a judge. That should be an automatic suspension," Brittany Ingle said.
The House also stripped any language from the bill that would have allowed school corporations to install cameras now and pay for them later using fines collected from any stop arm violators.
"I have a very strong philosophical opposition to revenue sharing with private companies out of criminal penalties or criminal fines," Rep. Matt Pierce said Thursday.
Shane Ingle, Brittany's husband and the father of twin boys Mason and Xzavier, did not like that answer.
"If it's your community and it's your kids, you care. You don't need a contract to say that they get this amount and the school gets that amount. It shouldn't be about money when it comes to kids," Shane Ingle said.
Brittany Ingle says she is disappointed with legislators not seeing eye-to-eye with the bill.
"Everybody was rallying around us, wanting to help. I thought we were all on board. We had a really strong build going, and to see that they deluded it and weakened it, it's really disappointing," she said.
The following is the full statement issued by Mike Schwab, the grandfather of the victims, with the MAXSTRONG foundation:
"Today the House of Representatives chose to pass an amendment that greatly reduces the opportunity for schools that desire to have stop arm cameras on their buses, but lack the funds to purchase and install them. This is both troubling and greatly disappointing and could not DISAGREE more with the decision. The INDIANA House has chosen to dirty and greatly dilute a bill that was passed UNANIMOUSLY by the Indiana Senate, which will now put MORE CHILDREN AT RISK of being hit by a driver that blows through a school bus stop arm. School bus stop arm cameras are an important component to improving school bus safety and we need to do whatever we can to help ALL SCHOOLS that desire these cameras. These cameras provide PRIMA FACIA evidence to assist with holding drivers that blow past school bus stop arms accountable which we feel would help to reduce and hopefully one day ELIMINATE near miss incidents where drivers blow past school bus stop arms putting children boarding and exiting at great danger. With more than 3,000 such near misses in a single day and estimates of over 500,000 near misses in 2018, we should be open to help from wherever we can get it and worry more about ways to provide these important cameras to ALL school systems that desire them, rather than continue to focus on ways to restrict efforts to improve school bus safety for all children in Indiana. We hope that the INDIANA HOUSE will take a pause and remember the commitment so many of them made after the tragedy on October 30th, 2018 that claimed the lives of my beautiful grandchildren, Alivia 9 yrs old and my twin grandsons Mason and Zxavier. Many legislators shared their sympathy for our family and said they would do everything they could at any expense to improve school bus safety for all children in Indiana in hopes of preventing such horrific tragedies from happening again. By passing the amendment today, the Indiana House only made it more difficult to provide these cameras and FAILED to live up to the commitment they made to the public to make the safety of children their TOP PRIORITY. We hope the INDIANA HOUSE with a REPUBLICAN SUPER MAJORITY will resist further changes from the bill that was passed in the INDIANA SENATE UNANIMOUSLY by both the Senate Committee and the Full Senate and listen to the public and VOTE YES on Senate Bill #2 - The MAXSTRONG Bill. This bill has received overwhelming support from the Public, Bus Drivers, Transportation Directors, Emergency Responders, Police, Lawyers and more. My family and our MAXSTRONG FOUNDATION will continue to push for meaningful legislation and ask the public to voice your concerns and urge the Indiana House to "PASS THE SENATE VERSION OF 'SENATE BILL #2.'"