Breaking Barriers: Notre Dame's most diverse Leprechaun class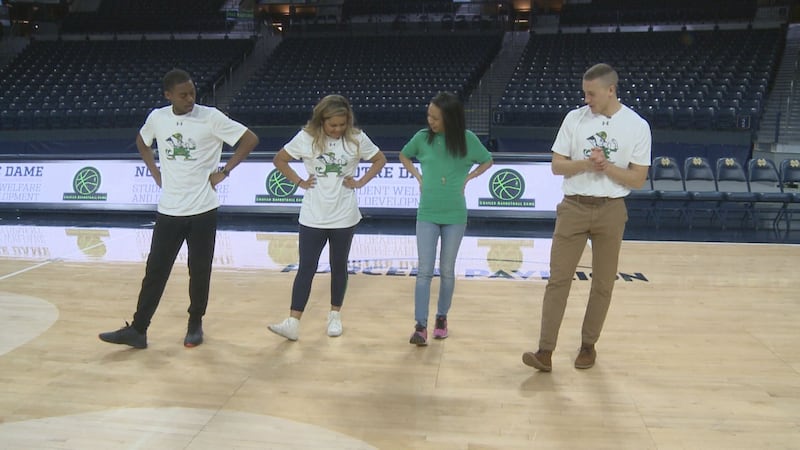 Published: May. 3, 2019 at 6:44 PM EDT
"Leprechaun Sam"
"Leprechaun Lynnette"
"LepreConal."
"He has a fun one," Lynnette Wukie said.
They're the first ones to do it like this, and together, they've got some amazing chemistry.
Samuel Jackson, Wukie and Conal Fagan will rile up Notre Dame fans next season.
The trio is the most diverse in the University's Leprechaun mascot history. Named the official mascot in 1965, the green suit and country hat was normally worn by white, male students.
"It's really cool, because we've become part of the tradition, legacy at Notre Dame, and if anyone wants to go for the role, then they can," Fagan said.
"We're not changing tradition. We're not breaking tradition, we're just showing that the tradition of Notre Dame is for anyone and everyone that wants to go after it," Wukie said.
"There's a place for everyone, and everyone has a place here," Jackson said.
A junior from Alabama, Jackson is the second African American student in this spot. It's a role he says he'll make unique, one that shows how close-knit he finds Notre Dame's campus.
"My role now as Leprechaun, and identifying as I do, is only a symbol towards that. Regardless of my race or any other identifications, I know I have a family here," Jackson added.
"Am I ready for this?" Wukie asked.
Wukie also wasn't sure if Notre Dame was ready for a female Leprechaun. The sophomore from Ohio said Conal texted her before the deadline to make sure she was in.
"He said, 'You have 16 hours, you better be applying to be the Leprechaun,'" she recounted.
She's the third African American student to don the costume, and most notably, she's the first woman.
Now the phrase she used in her application video -- "Who says the Fighting Irish can't fight like a girl?" -- has become a tagline of inspiration.
"Any precedent of it being a man's role or just anything like that, you don't necessarily have to listen to those kind of things," she said.
"I just love pulling on that green suit and just getting crazy with the fans," Fagan said.
Many fans may remember Fagan, who is back for his second season as a Leprechaun.
"It always freaks people out when they hear an Irish accent. They don't believe me at first, but I convince them," he said.
The Northern Ireland native and sophomore says he's excited for next season, and his new "Leprefamily," as Jackson calls it.