9/11 conference speakers call for Gitmo closing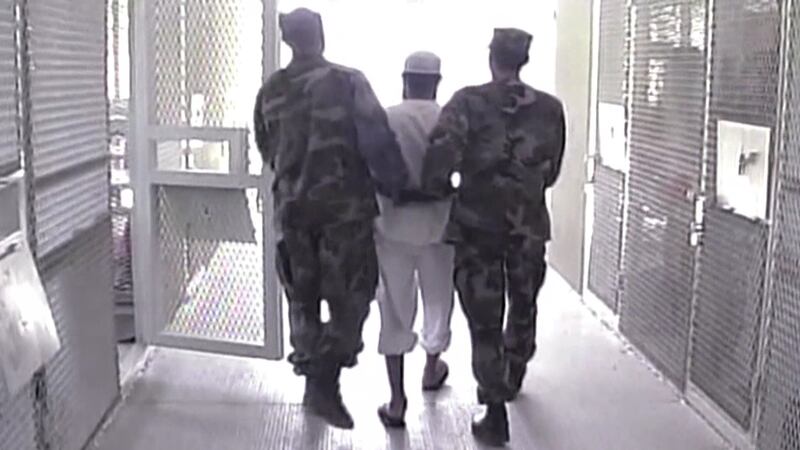 Published: Sep. 22, 2016 at 5:54 PM EDT
9/11 was the focus of a daylong conference at the University of Notre Dame.
The gathering wasn't your typical solemn ceremony to mark the tragic loss of lives, but instead focused on the legal liberty lost by society as a whole.
"That's a classified opinion, a client of mine, material support of a terrorism case, from the Seventh Circuit Court of Appeals," said Attorney Thomas Durkin holding up a piece of paper with thick black lines covering much of the text. "Not only did I not get to read it, I didn't get to see a good deal of the evidence that it relied upon."
With no evidence needed as many as 800 suspected terrorists were detained at the Guantanamo Bay Detention facility at the peak. Only 61 are being held there now. Some clearly feel the population at Gitmo should drop to zero.
"They should not be being held without being charged, pure and simple. I've represented three people there, two have gone home, one has recently been cleared for release," Durkin said. "I've been there nine times. It's, if people would go there it would end. It's forlorn, it's forbidding, it's like a gulag, it's like a Devil's Island."
In 2008 and 2009, Attorney Durkin (ND class of '68) also represented one of five high value detainees charged with orchestrating the 9/11 attacks (Ramzi bin Alshibh). The proceedings were held at Guantanamo before a military commission. Durkin feels the cases belong in the criminal courts.
"We've made a stupid, what I think stupid political promise that we're going to win a war on terror," said Durkin. "We had a war on crime; we had a war on drugs, now we have a war on terror."
Durkin says the logic for using military commissions is to protect battlefield evidence: "What I took issue with today is that I think it's more designed to protect the intelligence agencies, in particular the CIA black sites from what occurred there."
Another aspect of the war on terror was discussed at length: the plight of 1 million people whose names are on the government's terror watch list and the 80,000 or so name on a no fly list.
"People on the watch list can be detained up to three hours every time they go through an airport," said Notre Dame Law Professor Doug Cassel. "And when they do that the security officials will examine and copy their, all of their electronic devices, their computers, their telephones, and those of their family members, their children."
"The sum total of what we've heard this morning, I think, can only be described as alarming to anybody who is concerned about civil rights and human rights," concluded Cassel.
Last week the U.S. House of Representatives voted to stop any further transfers of Gitmo detainees, saying 30 percent of all those released are suspected or known to have resumed terrorist activities.
One speaker today called Gitmo a "psychological scar" on the country that was so objectionable it was commonly used by terrorist groups to recruit new members.