Crossing Borders Part 1: The migrants of Chicago's tent cities
Published: Nov. 20, 2023 at 6:57 PM EST
CHICAGO (WNDU) - Tonight, we are beginning a special series called "Crossing Borders: Migrants in the Midwest."
This story stretches from the U.S.-Mexico border to Chicago, where tent cities of asylum-seeking migrants have sprung up throughout the city.
We went to Chicago last month, where we found asylum-seeking migrants camped out on the streets of the city, pitching tents at police stations, and even sleeping in airports. Among the thousands of new arrivals, most have arrived on buses from Texas.
Obviously, these people need food, shelter, and services. Chicago resources have been stretched thin.
But this story is about people living day-to-day with no idea what's next.
It is a gray day on Chicago's southwest side. We drive past residential homes in the Chicago Lawn neighborhood toward the police department's 8th district headquarters on W. 63rd Street.
Suddenly, tents appear along S. Homan Avenue. The cloth shelters are denser along 63rd street, packed tightly together along the front of the police station.
We emerge from our news vehicle and begin to meet these refugees, these asylum-seeking migrants.
Buses of migrants began arriving in Chicago toward the end of August 2022.
In early October, Chicago's Office of Emergency Management and Communications (OEMC) estimated there were over 17,000 migrants in Chicago. As the Windy City nights get colder, that number now exceeds 18,000.
My colleague, Erika Jimenez, spoke with Edwin, a young father who just arrived. He tells Erica he is from Venezuela, where he served in the military.
He says his commanding officers used threats and coercion, forcing soldiers to steal from Venezuelan people. When he resisted, he was told his family would be killed. That's why he brought his family to the United States.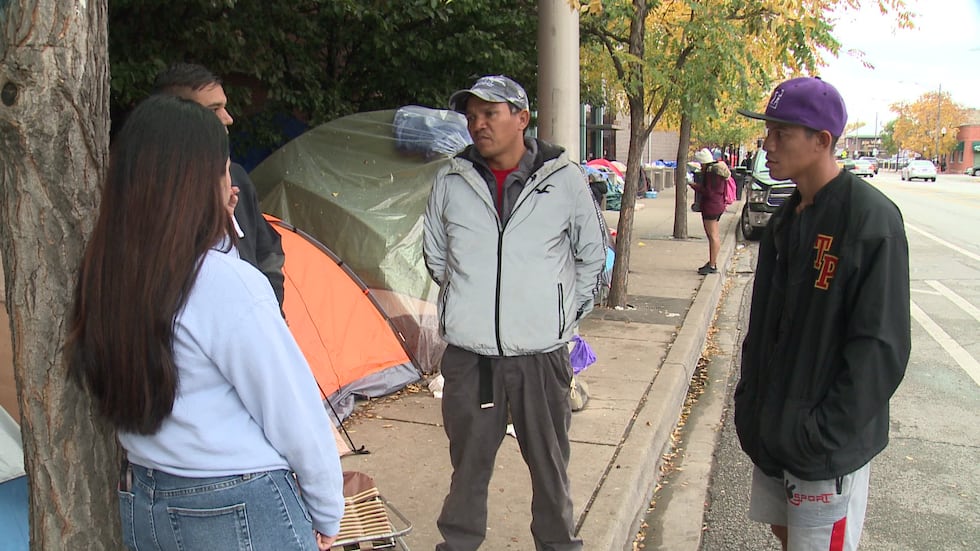 As this young father, Davis, shares his story, his toddler son plays with a push toy, sometimes pausing to melt into his father's legs as though they are one being.
Davis tells Erika he is a fisherman and had his own boat in Venezuela, but soldiers-turned-shakedown crooks regularly took his profits. That's why he brought his family here.
These makeshift shelters are popping up all over Chicago, but there are plans in the works to create more permanent shelters. Those plans, though, are drawing the ire of some Chicagoans.
In Brighton Park, crews have broken ground on what is planned to be an expansive shelter. Residents of the neighborhood are incensed at the city's decision to build a colossal shelter in their section of the southwest side.
Imelda Salazar is a community organizer with the Southwest Organizing Project, or SWOP. The group is doing all it can to meet the needs of the many migrants being dumped here.
"The day-to-day is finding them where to stay, give them food. And as you know, Chicago's getting colder, so finding the immediate hygiene products so they can get a shower," Salazar said. "Some of them it has been three months, four months, and they haven't taken a shower so that's the immediate."
I asked Salazar if she believes an immigrant migration to Michiana is possible. She answered that question succinctly.
One thing I know is if there are jobs, you will have immigrant families.
Salazar is adamant the people she is encountering aren't in the United States for a handout. They have come to the United States to work and contribute.
That is the human part of this story. The other part of this story is what many see as a leaky border. Critics of U.S. immigration policy say there are too many people crossing into the United States without legal documentation.
Later this week, we will hear from Indiana's Junior U.S. Sen. Mike Braun, who is extremely critical of the Biden administration's management of our southern border. Braun is seeking to be the next governor of Indiana.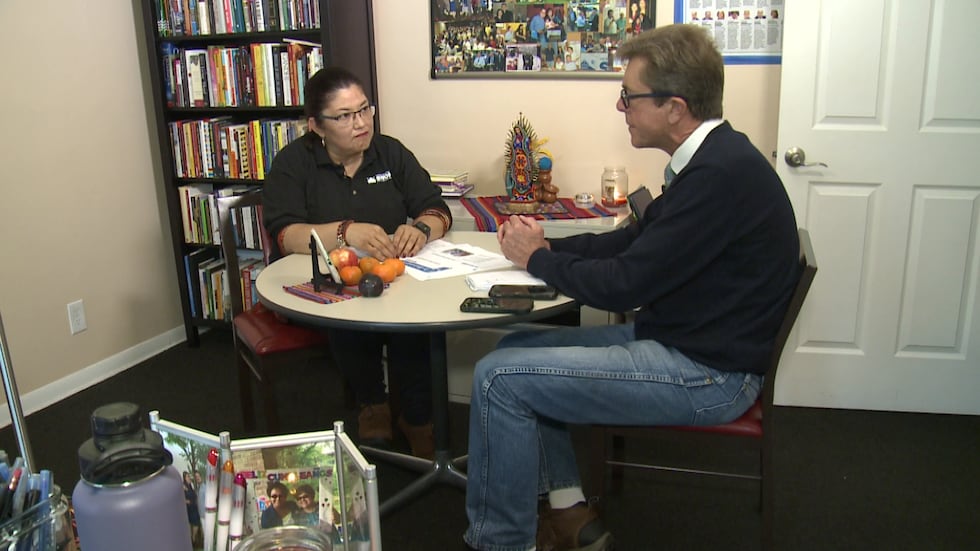 Copyright 2023 WNDU. All rights reserved.