Crossing Borders: Migrants in the Midwest
Watch Special Reports on 16 News Now (Monday, Tuesday and Wednesday at 6 p.m.)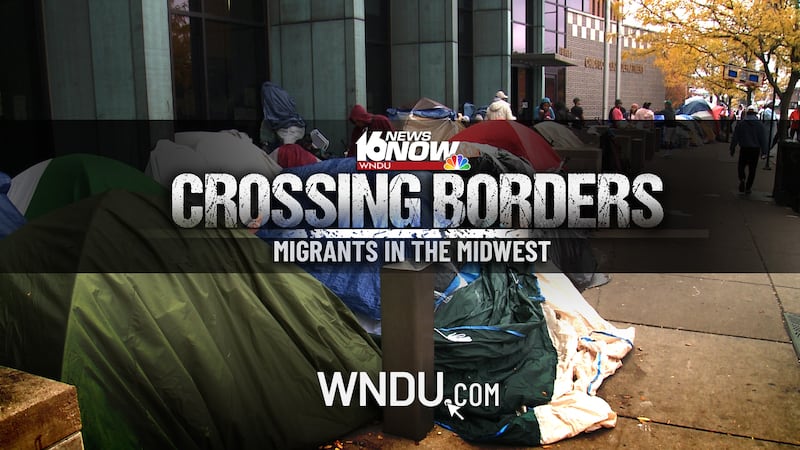 Published: Nov. 20, 2023 at 9:54 AM EST
CHICAGO (WNDU) - It's a story about hardship, perseverance, hope, kindness, resentment, and human nature. It's a story about immigration policies and tough decisions that it seems nobody wants to make. The apparent lack of decisions has caused pain for so many different people. It's a story a team of us from 16 News Now and WNDU.com will unpack for you as objectively as we possibly can. We went to Chicago to ask questions, listen and observe.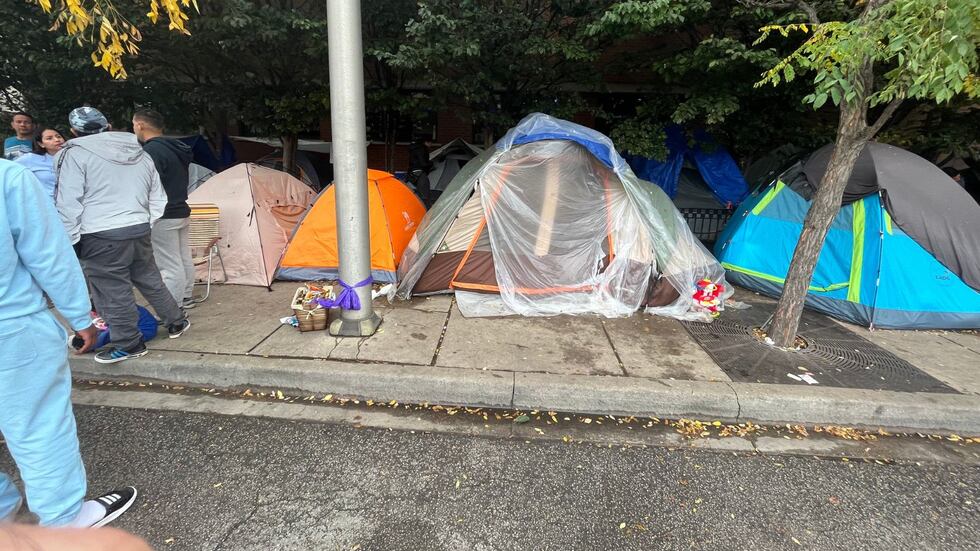 "There are more than two sides to this story, there are multiple sides to this story because everybody has an opinion and everybody needs to be listened to," said Chief Photographer Don Schoenfeld. "And out of all those opinions maybe we can come up with some solutions that make sense."
Schoenfeld has worked in Michiana since the late 1980s, but he grew up in Chicago. In fact, he grew up very close to the tent city at the Chicago Police Station on the city's southwest side. He still knows a lot of people in that area, and he has spoken with them about this escalating crisis.
"I grew up in that neighborhood and I've talked with some friends, the pastor of my former church, and some people in the non-profit world. They're helping out, the city is helping out, and there's some government funding. But on the other side, people are upset because there have been homeless problems in the area for many years and they wonder why nothing has been done to help Americans in that predicament."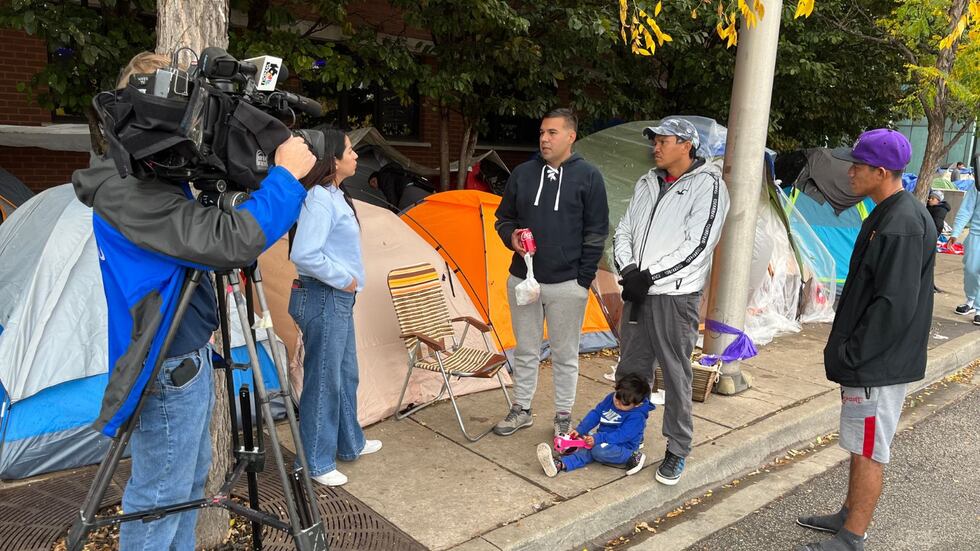 Immigration policies have always been debated in this country. The controversy is really nothing new. According to the New American Economy Research Fund, the major difference between now and the early 1900s is from where the people are coming. In 1907 nine out of ten immigrants in this country came from Europe, now about 30 percent come from Mexico, and many others come from non-European countries, including a recent influx of people from Venezuela. Since 2014, it's estimated that more than seven million people have left that country. They're fleeing political persecution and severe economic troubles. Perhaps unwittingly, the United States has contributed to those economic problems with tough sanctions against Venezuela. In 2015 President Barack Obama declared Venezuela an unusual and extraordinary threat to national security. He pointed to the government corruption there and the human rights abuses. When President Trump took over in 2016, he increased sanctions against Venezuela, and they have continued under the Biden Administration.
"I don't think the average person in America or Michiana has the best understanding of the situation because I know I didn't before we went and saw some of these things firsthand," said Carli Luca, an award-winning investigative reporter and our team leader for this project. "The journey for them isn't just to cross the border, the journey is to get to the border and then cross the border. We talked to one young man who had a friend who did not make it."
That young man had to tell his friend's mother that her son had not survived the journey. He told us about the agony of that conversation. A conversation that probably happens more than we know with family members who watched their loved ones takeoff with nothing but the possessions they can carry, in search of a better life. Many have landed in Columbia and other South and Central American countries, but thousands continue the journey north to the United States. It's about three thousand miles through jungles, dangerous water crossings, mountains and crime-riddled areas. Many just don't make it. Those who do make it have more obstacles as they become trapped in American politics.
"Having been to Chicago and seeing what this story looks like here in the Midwest it seems like this is more of a story about people and humanitarian issues than it is politics, and that's what our team has focused on for our audience," said Luca.
George Mallet is an award-winning veteran reporter and anchor who took on the role of lead reporter on our team. He was struck by the circumstances facing people who seemingly had no choice but to leave Venezuela.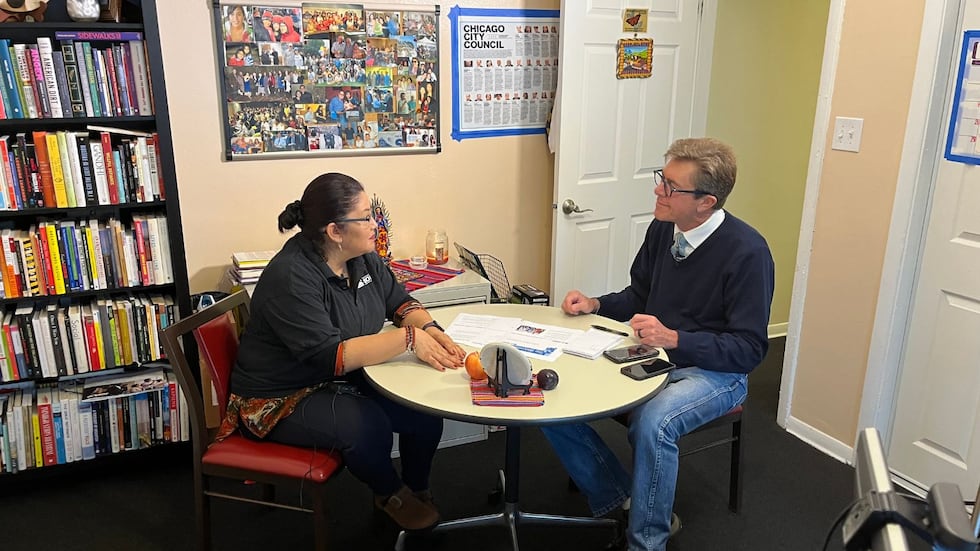 "I feel badly for people who have to flee their country because their family may get killed," said Mallet. "We talked to a military guy named Edwin and that was his situation. He was being ordered to essentially be a shakedown artist for the government. If he refused to do it, his commanding officers said they would kill his family."
It's hard not to feel compassion for people like Edwin. Our team all felt that for the people living in the tent city, but we also knew that as journalists we had to make sure we got other opinions on the situation. Mallet was concerned about the strain the situation is putting on our resources. When we were in Chicago in late October there were an estimated 18,000 new migrants in the city.
"It's taxing Chicago's resources and I guess the question is—to what extent is it going to tax all our resources."
This story required the ability to communicate with people who don't speak English. Erika Jimenez is a talented young reporter who was born in El Salvador, but moved to Miami at age four and grew up there. Her younger perspective was important and her ability to communicate with the migrants and others involved was critical to what we wanted to do.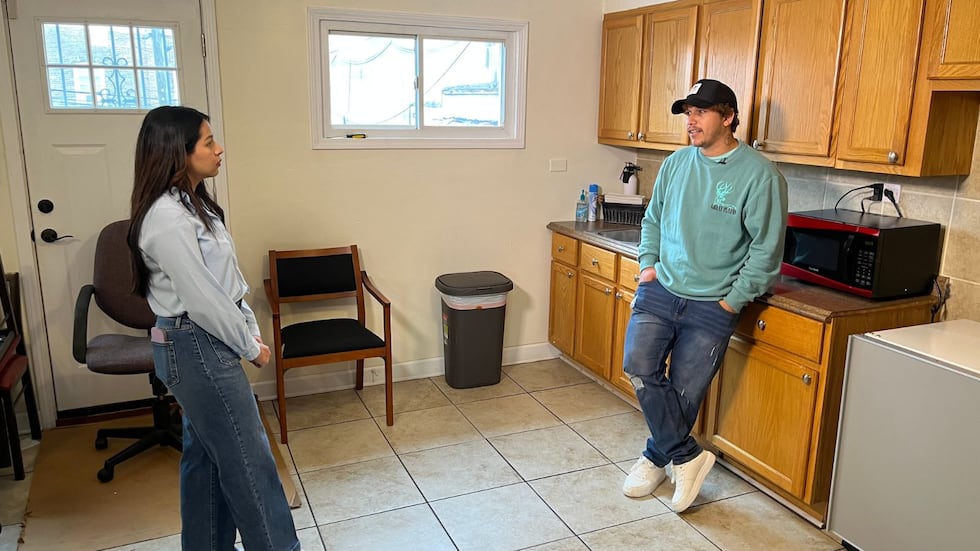 "This is a topic that's super important to me," said Jimenez. "I feel like we all have an immigration story. I thought I knew what I was getting into, but when I was there in Chicago it touched me in a way I could never imagine. I know my job is not to have anyone pick a side, but it's definitely to inform. I think it's important to highlight what these people are going through on a day-to-day basis."
We all observed what the people living in that tent city around the police station are going through. Their tents are small and unheated, there is no space between the tents, there are a few portable potties for use, children play with toys just a few feet from busy streets, and food and water arrive sporadically for people to consume. Some of the migrants didn't even know where they were, they thought they were still in Texas. But despite all the hardships and confusion Mallet said he felt there was still a sense of optimism when he talked to them.
"I felt like there was a lot of optimism. I think, especially in Latin America, the United States is still viewed as a land of opportunity."
The complex nature of covering this issue has left us with mixed emotions. As journalists, we are charged with providing fair, fact-based reporting. Yet, seeing the pain and misery of those who fled their homelands to journey here without homes, jobs, or healthcare, just to find a better life, touches our hearts. We know the United States has long been considered a place where everyone has a chance, where social justice is important, and where the poor and oppressed can overcome obstacles and achieve remarkable things. But having seen with our own eyes, men, women and children sleeping in the streets has left us asking questions. Has the flood of immigrants changed American policy? How does a nation of immigrants handle the latest wave of immigration and how will the way we handle it impact our country's future?
Watch a video version of this story below:
The first part of our special series focuses on the human side of the story, as we meet asylum-seeking migrants who are camped out on the streets of Chicago, living day-to-day with no idea what's next.
READ MORE: Crossing Borders Part 1: The migrants of Chicago's tent cities
EN ESPAÑOL: Cruzando Fronteras Parte 1: Los migrantes en las ciudades de carpas de Chicago
The second part of our special series focuses on the volunteers who are doing all they can to make things work for the asylum-seeking migrants being dropped by the busload in Chicago.
READ MORE: Crossing Borders Part 2: Crisis hits close to home for volunteers
EN ESPAÑOL: Cruzando Fronteras Parte 2: La crisis toca a los voluntarios
The final part of our series hones in on Michiana politicians arguing who is to blame for the crisis at the border. There is nearly a universal agreement that U.S. border policy is flawed. But there is very little agreement on who is to blame for the border problems. We also talk to a pastor in South Bend who says his congregation will be welcoming to any weary, tent-dwelling migrants who come from Chicago's southwest side to Michiana.
READ MORE: Crossing Borders Part 3: Michiana leaders divided on the border crisis
EN ESPAÑOL: Cruzando Fronteras Parte 3: Líderes de Michiana divididos sobre la crisis fronteriza
Copyright 2023 WNDU. All rights reserved.