Wake Forest at Notre Dame: X-factors, keys to win, final score predictions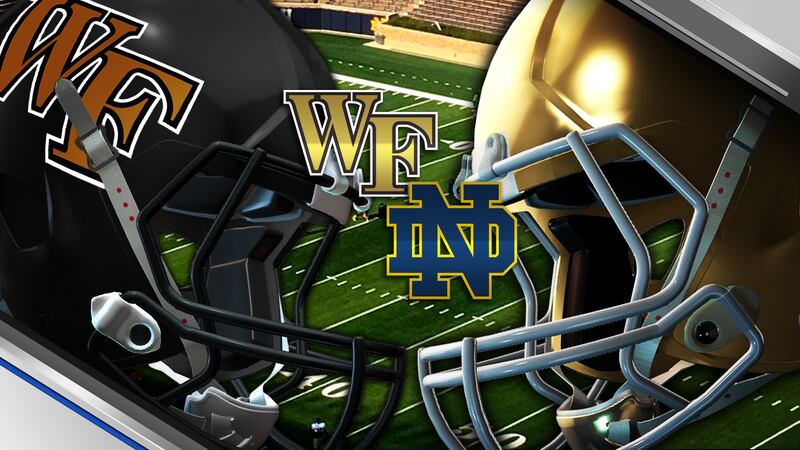 Published: Nov. 18, 2023 at 2:09 AM EST
SOUTH BEND, Ind. (WNDU) - The Fighting Irish football team is looking to bounce back from its loss to Clemson two weeks ago and send its seniors off with a win in their final game in the House that Rockne Built.
Here's a look at our Countdown to Kickoff team's X-factors, keys to win, and final score predications.
X-FACTORS
Julianne Pelusi: Sam Hartman
I've gotta take the low-hanging fruit. Defensive coordinator Al Golden and linebacker JD Bertrand talked this week about how their defense was able to pick Hartman's brain a little bit to prepare for his former team. And who else would Hartman rather bounce back against from his seven interceptions over the last four games other than the Demon Deacons?
Jackson Neill: Chris Tyree
The senior is Notre Dame's leading receiver and has made plays in almost all the Irish's wins. But Tyree is coming off one of his worst performances of the season — a four-catch, 29-yard day against Clemson where he also muffed a punt. He'll need to bounce back if Notre Dame wants to win big.
Chuck Freeby: Howard Cross III
Martin's Super Markets doesn't give up sacks the way Wake Forest's offensive line does. So, Howard Cross... have yourself a Senior Day, my man! Howie, as Al Golden likes to call him, has had a stellar year with 54 tackles, a pair of forced fumbles, and he does have one sack. I think he can add to that number on Saturday and leave the stadium the right way.
KEYS TO WIN
Julianne Pelusi: Win one for the senior class
Maybe some more low-hanging fruit, but my key to the game is this group of seniors wanting to walk off that field for the last time on Saturday with a win. And the way these underclassmen talk about their seniors, they sincerely care that these guys are going to end their Irish careers on a high note. I don't think these guys are going to head home Saturday night with a final sour taste in their mouths.
Jackson Neill: Pass defense and their ability to cause turnovers
Wake Forest has played three quarterbacks this season. They've combined for just 11 touchdowns and 10 interceptions. The Irish need to pick off a pass or two.
Chuck Freeby: Wake up and score against Wake Forest
Too many times on Senior Day, everyone gets all weepy and it takes them some time to clear their eyes and focus on football. Wake Forest has shown the ability to hang around if you let them, so wake up! Get out of the gate quick and let the good fathers at Notre Dame continue to be above the deacons on the scoreboard as well as rank.
FINAL SCORE PREDICTIONS
Julianne Pelusi: Notre Dame 37, Wake Forest 10
I'm going with a lofty Irish win. I think they're going to dominate this game like they did against Pitt — another one of the weaker opponents in the ACC.
Jackson Neill: Notre Dame 34, Wake Forest 17
Notre Dame should blow out the Demon Deacons, but Wake Forest just has a way of sticking around against teams — having one score games against Clemson and Duke — so it'll be close. But Notre Dame pulls away in the second half.
Tricia Sloma: Notre Dame 49, Wake Forest 10
This is going to be a big show for the seniors.
Terry McFadden: Notre Dame 31, Wake Forest 14
The slow mesh offense of Wake Forest will slow the Irish defense initially, but the Irish pull away for a win.
Chuck Freeby: Notre Dame 31, Wake Forest 6
Michael Kern loses the lottery and is selected as Wake Forest's starting quarterback on Saturday. That's bad news for him. The Irish defense enjoys a field day on their home field, and Notre Dame cruises past the Demon Deacons.
Copyright 2023 WNDU. All rights reserved.