Musical journey comes full circle for Irish Guard co-captain from South Bend
Published: Nov. 17, 2023 at 8:03 PM EST
SOUTH BEND, Ind. (WNDU) - Notre Dame football seniors aren't the only ones taking the field at Notre Dame Stadium for the last time on Saturday.
The seniors in the marching band are being honored as well, and that includes the prestigious Irish Guard.
One co-captain grew up right here in South Bend.
"It's a really high honor here at Notre Dame," said Gabe Falcone, a Holy Cross College senior. "Basically, their role in the band is to protect the band. If you ever see us march, we're always in the very front of the band in a straight line, we look very intimidating. We're not allowed to smile or anything like that."
That must be hard for someone like him, who always seems to have a smile on his face.
He's been a fan of the band and the Irish Guard for a very long time. He gives credit to his Aunt Brenda Falcone from South Bend.
"She always brought me like over the summer as a child, and I really loved it," Falcone said. "She loved the Irish guards. She made sure that I always had pictures with the Irish Guard."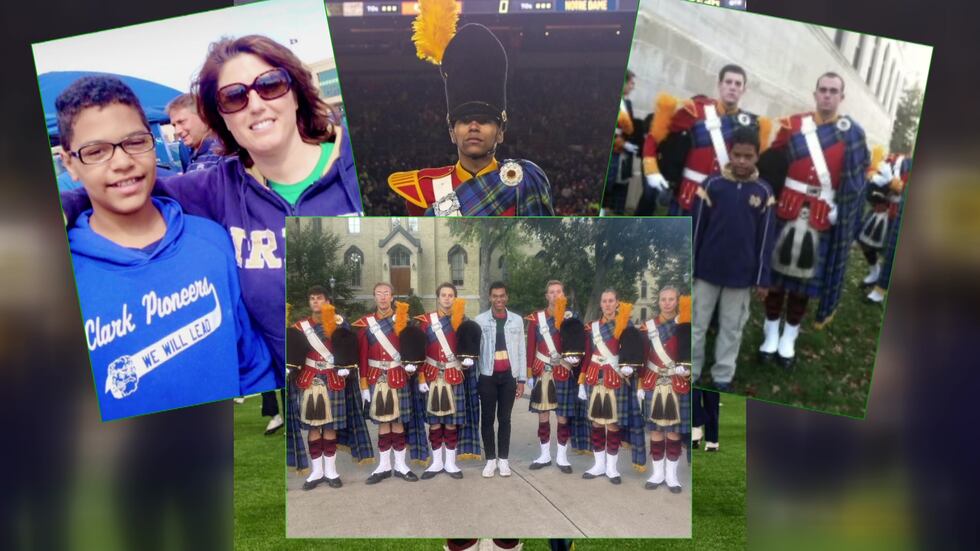 Pictures that helped plant the seed. Gabe fell in love with music.
"I always loved band. I did band in elementary school. That's where I started playing clarinet," Falcone said.
He became a proud Marching Wildcat, performing in halftime shows, concerts and parades.
"My high school experience was great. I was in the marching band at Riley High School in South Bend," Falcone said.
Falcone kept his grades up, getting into college at Holy Cross. Because Notre Dame allows students from Holy Cross and Saint Mary's to join the band, Falcone got his chance.
"While they are smaller schools, they might not have the same opportunities as Notre Dame does," Falcone explained. "So, I think it's really special that Notre Dame allows Holy Cross and Saint Mary's students to be in the band."
And in Falcone's case, the Irish Guard. He's wrapping up his second year with this elite squad.
Falcone reflects on childhood memories made right here in South Bend.
"It's kind of come full circle now just because as a kid, I was around Notre Dame band all the time," he said. "I started doing band as a kid probably because of that. So now that I'm in the Irish Guard — a captain in the Irish Guard — it really has come full circle."
Falcone will graduate from Holy Cross with a degree in psychology. He would like to go to grad school to get a master's degree in social work.
He will be honored with the other band seniors on Saturday.
Copyright 2023 WNDU. All rights reserved.