Indiana falls to Illinois in overtime 48-45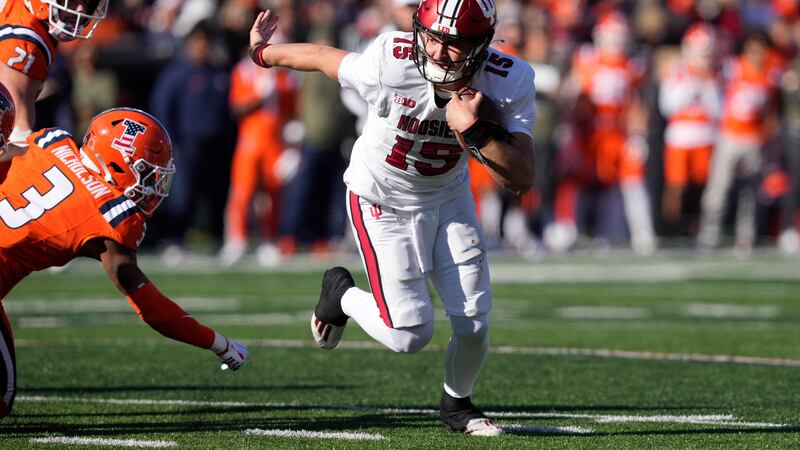 Published: Nov. 11, 2023 at 4:33 PM EST
CHAMPAIGN, Ill. (AP) - John Paddock threw a 21-yard touchdown pass to Isaiah Williams in overtime to give Illinois a 48-45 win Saturday over Indiana in a Big Ten game.
After Indiana's Chris Freeman kicked a 41-yard field goal in OT, Paddock scrambled to his right and connected with Williams near the end zone.
Paddock threw for 507 yards and four touchdowns in his first start for the Illini since transferring from Ball State. Replacing injured starter Luke Altmyer, Paddock completed 24 of 36 passes.
Williams, the Big Ten's leading receiver, had nine catches for 200 yards and two touchdowns for Illinois (5-5, 3-4).
Pat Bryant had five catches for 131 yards and a touchdown for the Ilini before being injured midway through the third quarter and Casey Washington had five catches for 99 yards and a touchdown.
Reggie Love had 24 carries for 140 yards and two touchdowns for Illinois, which ended a four-game losing streak to the Hoosiers that dated to 2012.
Brendan Sorsby was 22 for 33 passing for 289 yards and three touchdowns -- he also ran for two touchdowns -- and Donaven McCulley caught 11 passes for 137 yards for Indiana (3-7, 1-5), which led 27-12 in the second quarter.
Indiana tied the game at 42-42 with 28 seconds left on a 26-yard touchdown pass from Sorsby to DeQuece Carter and a two-point conversion pass from Sorsby to E.J. Williams Jr.
After trailing 27-26 at halftime, Illinois took a 33-27 lead on a 42-yard touchdown pass from Paddock to Williams in the third quarter.
The Illini padded their lead in the fourth quarter on a 37-yard touchdown run by Love, but Indiana responded with a 5-yard touchdown run by Sorsby before Griffin kicked a 21-yard field goal.
The teams combined for 587 total yards, 369 by Illinois, in the first half, as they each drove up and down the field.
Each team also made a major miscue in the first quarter.
After Illinois drove to the Indiana 4 but had to settle for a 24-yard field goal by Caleb Griffin, Williams fumbled a short Indiana punt and the Hoosiers' Jared Casey recovered on the Illini 32. That led to a 1-yard touchdown by Trent Howland.
Williams made up for the fumble on Illinois' first play following the Indiana touchdown.
He got wide open as the Indiana secondary lost him and caught a 67-yard pass from Paddock. Love ran 8 yards or a touchdown on the next play.
Indiana retook the lead early in the second quarter on a 6-yard touchdown pass from Sorsby to McCulley. Illinois closed the gap on a 27-yard field goal by Griffin, but Indiana responded with another Sorsby to McCulley 6-yard touchdown pass.
The Hoosiers pushed their lead to 27-12 after Paddock fumbled a snap, scrambled and tried to throw the ball away, but his pass was short and intercepted by Louis Moore. That led to an 18-yard touchdown run by Sorsby, who bounced away from a group of four Illinois tacklers and had a clear path to the end zone.
Paddock made up for his miscue by throwing a 20-yard touchdown pass to Washington and a 13-yard touchdown pass to Bryant with 18 seconds left in the half.
THE TAKEAWAY
The Illini still have a chance to go to a bowl game. They need to do no worse than split their final two games against Iowa and Northwestern. The loss eliminated Indiana from bowl eligibility.
UP NEXT
Indiana: The Hoosiers will play host to Michigan State next Saturday.
Illinois: The Illini play at Iowa next Saturday for their last road game of the regular season.
Copyright 2023 The Associated Press. All rights reserved.