No. 10 Irish crushed by No. 6 Gamecocks in historic matchup in Paris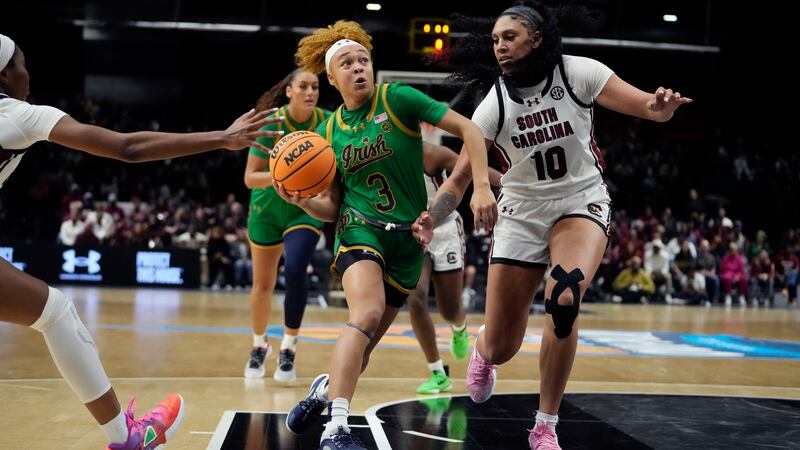 Published: Nov. 6, 2023 at 4:25 PM EST
PARIS (WNDU) - Notre Dame freshman Hannah Hidalgo shined for the Irish in the City of Light, but their opponent shined brighter.
The No. 10 Fighting Irish were crushed by No. 6 South Carolina 100-71 on Monday in the first-ever NCAA women's basketball game played in Paris.
Notre Dame (0-1) led 25-24 after the first quarter, but South Carolina (1-0) used a 24-6 run in the second quarter to break away from the Irish. The Gamecocks used defense and a relentless pace to do what they have done much of the last four seasons — wear down opponents.
Notre Dame shot 50% and had just two turnovers in the first 10 minutes. South Carolina clamped down in the second quarter, where the Irish were just 4-of-15 shooting with six turnovers. From there, the Gamecocks never looked back and handed the Irish their most lopsided defeat ever in an opener, according to our reporting partners at the South Bend Tribune.
While it's a tough loss for the Irish, Hidalgo did lead all scorers with 31 points in her regular season college debut. The five-star freshman was ranked as the fifth-best college prospect by ESPN.com.
Meanwhile, Notre Dame was without star guard Olivia Miles, who averaged 14.3 points, 7.3 rebounds and 6.9 assists per game a year ago. Miles continues her rehab from a knee injury she suffered during the ACC Tournament last March.
When Miles returns, she and Hidalgo should form a high-scoring backcourt.
Other double-digit scorers for the Irish on Monday included Maddy Westbeld and Sonia Citron, who had 12 points apiece.
Notre Dame will return to the court on Sunday, Nov. 12, at NJIT. The Irish will make their home debut next Wednesday Nov. 15, against Northwestern. For a full look at the schedule, click here.
Copyright 2023 WNDU. All rights reserved. Copyright 2023 Associated Press. All rights reserved.