Notre Dame falls at Clemson 31-23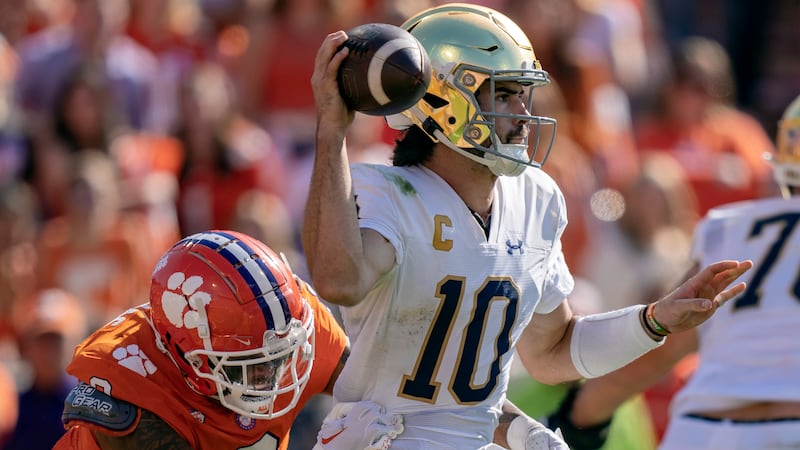 Published: Nov. 4, 2023 at 4:47 PM EDT
CLEMSON, S.C. (WNDU/AP) - The Notre Dame football team struggled on the road again in its 31-23 loss on Saturday afternoon at Clemson.
The Fighting Irish (7-3, No. 15 CFP, No. 12 AP) took an early 3-0 lead but struggled to take advantage of early chances. They settled for three first-half field goals after solid drives and found themselves down 24-9 by halftime.
While the Irish did find the end zone in the second half, they never could climb out of the hole against the Tigers (5-4), who came into Saturday's matchup with a two-game losing streak and more losses in a season than they had in 13 years.
Notre Dame held Clemson to only one more score in the second half, but the Irish were stuck deep in their own territory in the fourth quarter, as the Tigers downed punts inside the Notre Dame 15.
Sam Hartman finished 13 of 30 for 146 yards and two interceptions, including a pick six score from Clemson linebacker Jeremiah Trotter Jr. that put the Tigers ahead 24-6 in the second quarter.
It was the first time an unranked Clemson had beaten a ranked team since 2021 when the Tigers beat Wake Forest 48-27. That team was also led by Sam Hartman, whose teams are 0-6 vs. the Tigers for his career.
Notre Dame is off next week before facing Wake Forest at home on Nov. 18.
Copyright 2023 WNDU. All rights reserved. Copyright 2023 The Associated Press. All rights reserved.