Clemson seeking upset win over Irish amid struggles this season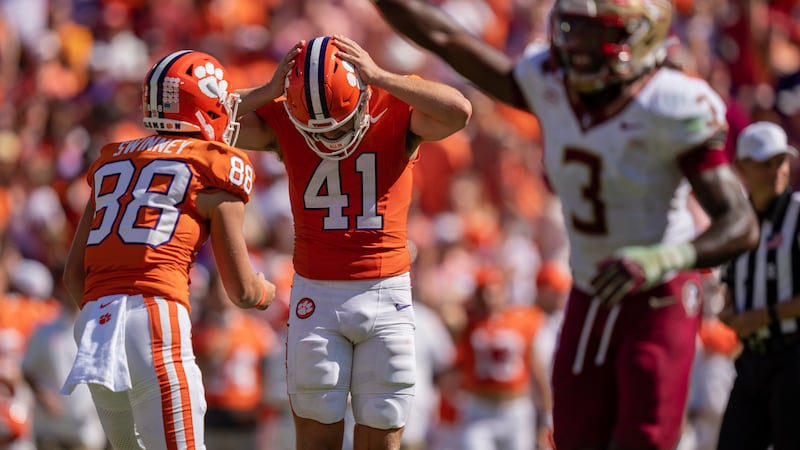 Published: Nov. 4, 2023 at 1:17 AM EDT
CLEMSON, S.C. (WNDU) - One could argue Clemson is among the most disappointing teams in college football this year.
The Tigers were ranked No. 9 in the AP Poll before the season. Now, they're just 4-4 heading into their matchup against Notre Dame.
Clemson simply doesn't have the same fire power as it used to. The Tigers have been a perennial powerhouse in the College Football Playoff era, but now they need a win over the Irish to keep themselves in the hunt for a bowl game.
Dabo Swinney's program is getting a dose of reality it's not quite used to.
"Every game is the biggest game," said wide receiver Brannon Spector. "We would like to say that this game is a turnaround game because we've lost two games in a row."
The Tigers have lost the last two games and don't have their typical talent. They can't overwhelm a team like Notre Dame anymore.
"When you're playing a physical, downhill team such as Notre Dame, you have to bring your 'big boy pads,'" explained linebacker Barrett Carter. "We're looking forward just to getting back out and competing and showing that we're able to compete with a team such as Notre Dame."
There's no Trevor Lawrence under center willing this team back to the College Football Playoff. There's no Travis Etienne in the backfield. The Tigers also don't have that typical fire power receiving corps they're known for.
"Honestly, we haven't really had much adversity around here in 13 years," Swinney said. "I mean, it's been a long time. Losing a national championship is not adversity. We've won seven out of the eight ACC titles. Nobody feels sorry for the Tigers."
They're back to the middle of the pack, looking to just make it to a bowl game and play spoiler to the Irish.
Even though Clemson is down bad this season, they can give the Irish a run for their money. Notre Dame's had its fair share of struggles this season on the road, and Clemson has won two national championships in the College Football Playoff era.
Kickoff at Death Valley on Saturday is slated for 12 p.m. EDT. The game will air on ABC.
Copyright 2023 WNDU. All rights reserved.