'Stay Like a Champion Today' at Chris Zorich's home
Published: Nov. 2, 2023 at 7:25 PM EDT
SOUTH BEND, Ind. (WNDU) - Residents of South Bend have developed nothing short of a "cottage industry," renting out their homes for Notre Dame home football games.
Former Notre Dame defensive tackle Chris Zorich has taken that industry over the top, with a cottage in South Bend's Northshore Triangle.
Zorich and his wife, Candy Rose, set up "The Chris Zorich Experience" for fan boys and fan girls. You rent out the Zorich cottage in South Bend, and Zorich himself greets you at the door.
For an entire home game weekend, you are immersed in Fighting Irish football. On the walls of the "Mini Clover" cottage are amazing items of Notre Dame memorabilia.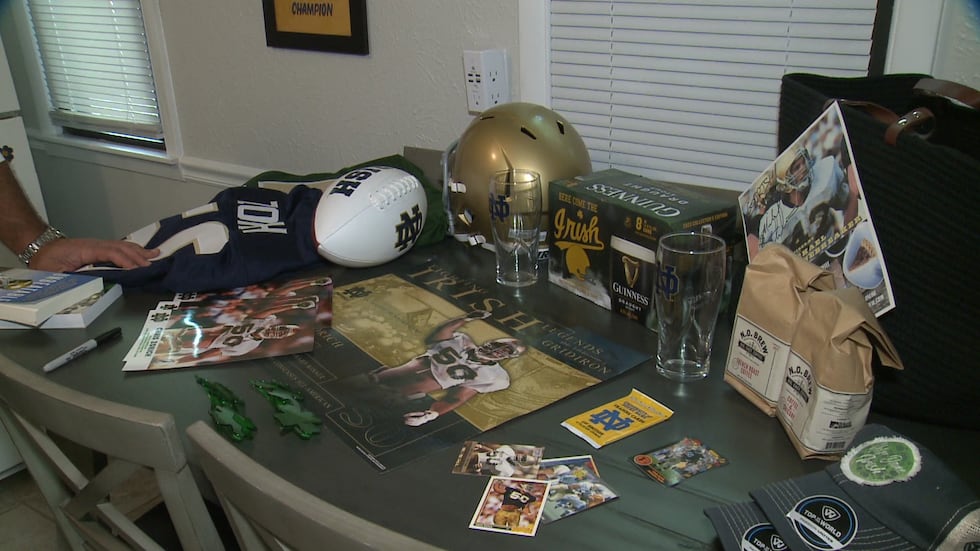 But here's the main thing — Zorich comes and spends time with you. He will regale you with stories about the 1988 college football championship or tell you about playing for both Lou Holtz and Mike Ditka.
You can have a cold Notre Dame Guinness with him. Your dog can even meet Zorich. That's right — the joint is dog friendly.
"We're dog lovers as well," Zorich said. "Not only do we want inclusion of the dog folks, but we know how hard it is to find places that allow dogs. So, we are dog friendly. I'm on my eighth dog."
The Mini Clover is less than two miles from Notre Dame Stadium. It is a comfortable, nicely appointed home.
There's a lengthy waiting list for home football weekends. You can book the experience for a non-game weekend — you just have to work out the timing with Zorich. He is here a lot, even when the team isn't playing.
For more information on "The Chris Zorich Experience," click here.
Copyright 2023 WNDU. All rights reserved.