Beacon surgeon, Notre Dame engineer working to revolutionize spine surgery
Published: Oct. 12, 2023 at 6:43 PM EDT
SOUTH BEND, Ind. (WNDU) - As we get older, our backs can wear out. The disks between our vertebrae wear out, leading to spinal compression. That can lead to pinched nerves and a host of painful conditions.
The solution for many patients is spine fusion surgery, but spine fusion surgery may be undergoing a revolution that was developed right here in Michiana.
In spine fusion surgery, the surgeon cleans out the affected bones of the spine and then inserts a spacer to protect the spinal cord and other nerves. But those metal or plastic spacers are made of an entirely foreign material.
A neurosurgeon and an engineer, both born and raised right here in Michiana, have decided we can do better than that.
I sat down with Dr. Stephen Smith — a super smart neurosurgeon with Beacon Medical Group — and Dr. Ryan Roeder — an equally smart engineer and professor at Notre Dame. They teamed up to create the new, FDA-approved medical device, which is implanted in a patient's spine to relieve spinal compression.
"So, this is the most common surgery that's done in the cervical spine to alleviate a spinal cord compression or a nerve root pinch that might be causing someone either, in worst case scenarios, paralysis or partial paralysis, or perhaps more commonly a radicular pain, or neck pain that's radiating down the arm or creating a numbness or a weakness," Dr. Smith explained.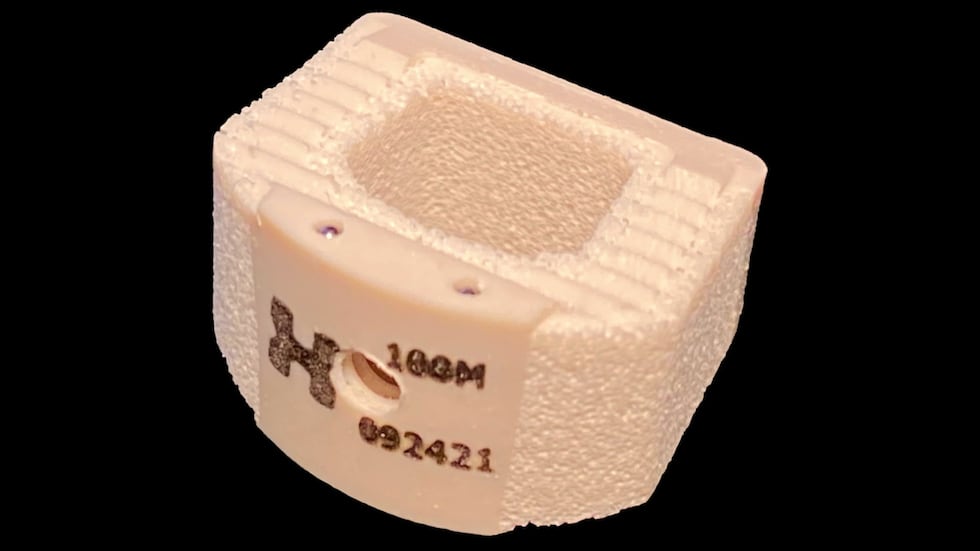 That surgery isn't new, but this revolutionary, bio-friendly implant is.
"The main aim of this device is to try to get something that's more friendly, more inducing to fusion to hopefully lead to quicker, faster, more complete results, more relief," Dr. Smith said.
When Dr. Smith does the surgery, he replaces the disk with the implant. Now, this kind of surgery has been done for years, but this new implant is porous. It's got a biological component to it, and it will allow bone to heal right through it.
Dr. Roeder is the materials expert who came up with the implant's bone-friendly qualities.
"We've got a network of tiny microscale pores throughout this tiny little implant that allows bone to grow into it, and the same mineral that's found in your bones is put into this implant to again encourage bone to grow into it and attach to it," Dr. Roeder explained.
Dr. Smith has performed four surgeries with the new bio and bone-friendly implant. All those procedures have gone exceedingly well. He won't, though, declare success until all his patients are three months post-op.
Dr. Roeder and Dr. Smith are understated guys, not given to hype. But their new implant is fully FDA-approved, is now being mass produced, and promises to give patients relief much sooner than before.
Copyright 2023 WNDU. All rights reserved.