Oil and gas companies would pay more to drill on public lands under new Biden rule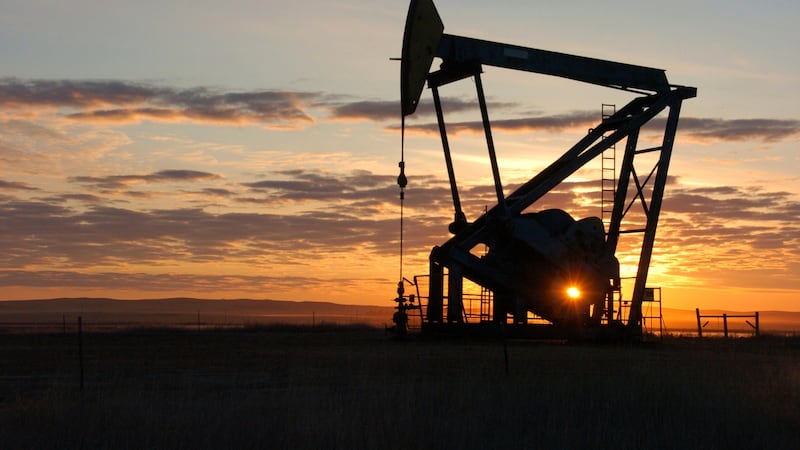 Published: Jul. 20, 2023 at 4:01 PM EDT
|
Updated: Jul. 20, 2023 at 6:08 PM EDT
WASHINGTON (AP) — Oil and gas companies would have to pay more to drill on public lands and satisfy stronger requirements to clean up old or abandoned wells under a new rule announced Thursday by the Biden administration.
A rule proposed by the Interior Department raises royalty rates for oil drilling by more than one-third, to 16.67%, in accordance with the sweeping climate law approved by Congress last year. The previous rate of 12.5% paid by oil and gas companies for federal drilling rights had remained unchanged for a century. The federal rate was significantly lower than what many states and private landowners charge for drilling leases on state or private lands.
The new rule does not go so far as to prohibit new oil and gas leasing on public lands, as many environmental groups have urged and as President Joe Biden promised during the 2020 campaign. But officials said the proposal would lead to a more responsible leasing process that provides a better return to U.S. taxpayers.
The plan codifies provisions in the climate law, known as the Inflation Reduction Act, as well as the 2021 infrastructure law and recommendations from an Interior report on oil and gas leasing issued in November 2021.
The new rule "provides a fair return to taxpayers, adequately accounts for environmental harms and discourages speculation by oil and gas companies,'' said Laura Daniel-Davis, principal deputy assistant Interior secretary for land and minerals management.
Interior "is committed to creating a more transparent, inclusive and just approach to leasing and permitting that serves the public interest while protecting natural and cultural resources on our public lands,″ she added.
The new royalty rate set by the climate law is expected to remain in place until August 2032, after which it can be increased. The higher rate would increase costs for oil and gas companies by an estimated $1.8 billion in that period, according to the Interior Department.
The rule also would increase the minimum leasing bond paid by energy companies to $150,000, up from the previous $10,000 established in 1960. The higher bonding requirement is intended to ensure that companies meet their obligations to clean up drilling sites after they are done or cap wells that are abandoned.
The previous level was far too low to force companies to act and did not cover potential costs to reclaim a well, officials said. As a result, taxpayers frequently end up covering cleanup costs for abandoned or depleted wells if an operator refuses to do so or declares bankruptcy. Hundreds of thousands of "orphaned" oil and gas wells and abandoned coal and hardrock mines pose serious safety hazards, while causing ongoing environmental damage.
The Interior Department has made available more than $1 billion in the past two years from the infrastructure law to clean up orphaned oil and gas wells on public lands. The new rule aims to prevent that burden from falling on taxpayers in the future.
Bureau of Land Management Director Tracy Stone-Manning, whose agency issued the new rule, said the proposal "aims to ensure fairness to the taxpayer and balanced, responsible development as we continue to transition to a clean energy economy. It includes common-sense and needed fiscal revisions to BLM's program, many directed by Congress."
The BLM, an Interior Department agency, oversees more than 245 million acres of public lands, primarily in the West.
Environmental groups hailed the rule change as overdue and said the Biden administration recognized that business as usual by the oil and gas industry is incompatible with increased risks from climate change — a crisis the oil industry played a large role in creating.
"These changes were badly needed — to put it mildly — and will help make onshore leasing more fair to taxpayers and hold industry accountable for its harms,'' said Josh Axelrod of the Natural Resources Defense Council.
But he and other advocates said Biden should keep his promise to end new drilling on public lands. "In addition to making polluters pay with these fiscal reforms, it's time for the Biden administration to align our federal fossil fuel program with America's transition to a clean energy economy,'' said Mattea Mrkusic of Evergreen Action, another environmental group.
The oil industry said the rule change would discourage oil and gas production in the United States.
"Responsible development of federal lands is critical for meeting the growing demand for affordable, reliable energy while reducing (greenhouse gas) emissions,'' said Holly Hopkins, vice president of the American Petroleum Institute, an industry lobbying group.
"Amidst a global energy crisis, this action from the Department of the Interior is yet another attempt to add even more barriers to future energy production,'' she said.
The proposal issued Thursday follows an Interior report on federal oil and gas leasing issued in November 2021. Biden ordered the report soon after taking office in January 2021 as he directed a pause in federal oil and gas lease sales, citing worries about climate change.
The moratorium drew sharp criticism from congressional Republicans and the oil industry, even as many environmentalists and Democrats urged Biden to make the leasing pause permanent.
The moratorium was overturned by the courts, and oil and gas lease sales have resumed, including some mandated by the climate law in a compromise with Democratic Sen. Joe Manchin of West Virginia.
A separate Biden administration proposal would put conservation on equal footing with industry on public lands. A BLM plan would allow conservationists and others to lease federally owned land to restore it, much the same way oil companies buy leases to drill and ranchers pay to graze cattle.
Environmentalists say the plan would benefit wildlife, outdoor recreation and conservation, but critics, including Republican lawmakers and the agriculture industry, say it could exclude mining, energy development and agriculture.
The rules on oil and gas and public lands use are both expected to become final next year.
Copyright 2023 The Associated Press. All rights reserved.