Boil order in Wakarusa lifted with minor restriction
Published: May. 24, 2023 at 10:21 PM EDT
UPDATE: The boil order has been lifted for the town of Wakarusa, but with a minor restriction due to an early morning fire on Saturday at a local business.
Town officials are asking you to avoid watering your yards and gardens until further notice because the fire lowered the water in the town's system.
Meanwhile, the splash pad will remain closed until further notice.
ORIGINAL STORY:
WAKARUSA, Ind. (WNDU) - A water main break on Wednesday night on State Route 19 outside of Forest River RVs has caused the town of Wakarusa to put a water boil order into effect.
According to officials, a large water leak was discovered in the town and has "compromised the system." With the order, the town has also asked residents to stop all sprinkling of yards and gardens.
Under a boil water advisory, residents should:
Use bottled or boiled water for drinking and to prepare and cook food.

If bottled water is not available, bring water to a full rolling boil for one minute. After boiling, allow the water to cool before use.

Boil tap water even if it is filtered.

Do not use water from any appliance connected to your water line, such as ice and water from a refrigerator.
Residents tell 16 News this isn't the first time they've experienced a boil order, but local restaurants are going above and beyond to ensure customers stay safe.
"It's mainly affected our drink situation," says Morgan Berry, a server at Cook's Pizza. "A lot of people will come in and just drink fountain drinks for hours, and they haven't been able to do that. We are only able to give them cans because the ice is no good, and the fountain is no good. And then also for washing things like lettuce and other veggies, we've had to use bottled water for that as well."
The order requests residents and businesses to boil water before use or switch to bottled water for drinking, cooking, and preparing food.
"We're using bottled water, canned pops; we still have our bar options available as well to guests," says Savanna Baker, manager at Shortstop Inn. "If we need to buy bagged ice that's not through our ice system, we can. Right now, we're able to use some of the ice that we had before the incident happened and then just bleach water and that kind of thing. We are using plastic dishes for cups and stuff to try and reduce the amount of dishes that we are washing."
Repair crews tell us they have to wait until the water tests negative for chemicals before lifting the boil order.
"We heard about the boil order alert last night, so the owners had the whole night to prepare for today," Baker said. "Shelly, our owner, she spent the morning on the phone with the Health Department just making sure that we're doing everything possible to make everything safe for everybody here."
The Wakarusa Dime Store also made some changes to ensure customer safety.
"One way it's affecting us is our nuts; we make them in-house, so instead of using city water, now we have to use bottled water," says Kiley Weiss, Event Manager at the Wakarusa Dime Store. "Fortunately, it's the only part of our business that is being affected by the boil order."
Baker and her patrons are trying to follow the guidance until the water main break is fixed.
"Just to be safe, follow the guidelines that everybody is putting out there," Baker said. "I mean, we're going to get through it as a community, and if you need somewhere safe to go, come see us at Shortstop."
The town manager declined an interview with 16 News but is directing residents to the Town of Wakarusa, Indiana, Facebook page for boil order updates.
For more information on boil orders, click here.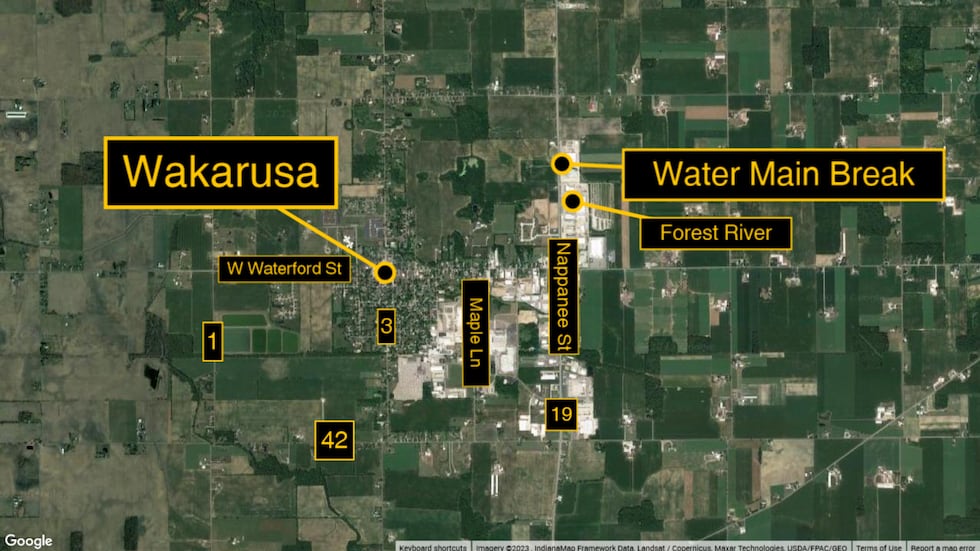 Copyright 2023 WNDU. All rights reserved.