Fiona the capybara dies at 12 years old, zoo says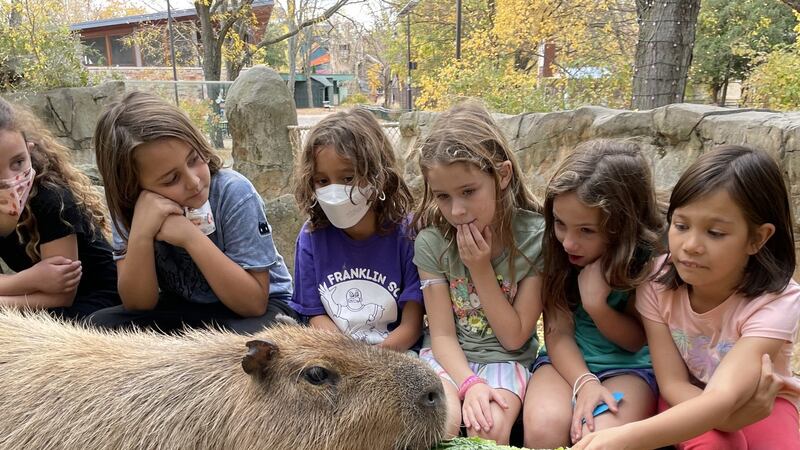 Published: May. 10, 2023 at 8:39 PM EDT
MADISON, Wis. (WMTV/Gray News) – A Wisconsin zoo announced the passing of one of its capybaras, a longtime and well-loved resident.
The Henry Vilas Zoo said on Wednesday that Fiona the capybara had died at 12 years old from natural causes.
According to the zoo, Fiona had lived a long life for capybaras.
Officials with the zoo said the South American rodents typically live eight to 10 years in the wild. The team estimated that capybaras who have veterinarians taking care of them only have a one in five chance of living as long as Fiona did.
In its post, the zoo shared a picture of a group of children feeding Fiona a romaine lettuce leaf, which was one of her favorite treats. Moments like these made her one of the zoo's top ambassadors from the day she moved to the zoo from Canada during the pandemic.
Zoo staff also remembered the frequent "full body flop(s)" that would follow the all-over scratches she so enjoyed. They also recalled the watermelon and bell peppers that left her drooling with drool marks on her caretakers' pants.
Morrison, the zoo's male capybara, is receiving extra attention right now as he adjusts to losing Fiona, the zoo added.
Capybaras are social animals, so zookeepers are already working with the Species Survival Plan and trying to find another friend to find him a new friend.
Copyright 2023 WMTV via Gray Media Group, Inc. All rights reserved.