LIVESTREAM: Ospreys form nest atop WNDU studio tower
Published: Apr. 14, 2023 at 1:36 PM EDT
|
Updated: Jun. 30, 2023 at 1:51 PM EDT
SOUTH BEND, Ind. (WNDU) - As many of you have noticed, we've been keeping our eyes on a nest that was formed by a couple of ospreys on our studio tower this spring.
And for a long time, we've allowed you to join us in watching their progress by putting up a 24/7 livestream of the nest for your viewing pleasure. During that time, three eggs were laid and hatched.
However, we temporarily took the livestream down after we learned some heartbreaking news in mid-June regarding two of the three osprey chicks that had hatched in the nest. After the two chicks died, their carcasses were still clearly visible in the nest, and we didn't want to show you that.
After monitoring things on a day-to-day basis, we've determined those carcasses are no longer visible. Therefore, we've brought the livestream back for your viewing pleasure. You can keep an eye on their progress by watching the video above or by clicking here.
As you can see, the third osprey chick — who we've decided to name Huey — has grown tremendously!
Below is a timeline of the nest's progression since the ospreys made our studio tower home:
Friday, April 21:
The Potawatomi Zoo joined Lauren Moss and Matt Engelbrecht on 16 News Now at 4 to answer some of your questions about the new ospreys who have made our WNDU Studios home!
Monday, April 24:
These ospreys are really starting to settle in now!
Thursday, April 27:
And now there are two!!
Sunday, April 30:
Three eggs!!!
Friday, June 2:
The first egg hatched sometime overnight! Here's video of the newborn chick being fed some fish for breakfast!
Sunday, June 4:
The second egg has hatched! Here's video of both newborns being fed breakfast by their parents!
Monday, June 5:
The third and final egg has hatched!!! You can see all three of the chicks in the nest in the picture below the video!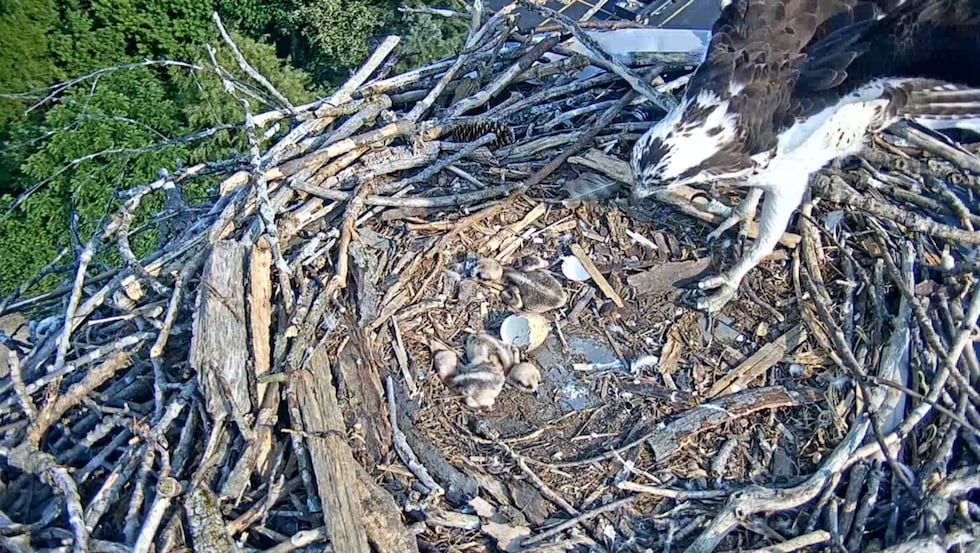 Wednesday, June 14:
We learned some heartbreaking news today, as two of the three baby birds that recently hatched have passed away. It either happened late last night, or sometime early this morning.
While we aren't sure exactly why the birds passed away, experts tell us sometimes it's just nature.
"The chicks hatch at different periods of time, so there's a stronger chick and a weaker chick," said Josh Sisk, executive director at the Potawatomi Zoo. "When resources are really strong, all of them will survive, and the reason they do that is if resources are short, that means the strongest chick is going to survive.
"So, there's a pretty good chance that the one chick is going to survive and that's kind of how nature kind of makes things work," he added. "So, rather than having three weak chicks, there's going to be one really strong healthy chick that's going to survive and then be able to continue to nest."
Due to the circumstances, we've taken down the livestream until further notice.
Thursday, June 22:
Many of you have reached out with questions and concerns after we took the livestream down. We took the stream down because the carcasses of the two chicks who died were still clearly visible in the nest.
However, we still want to give you an update on how things are going with the nest:
How is the third osprey chick doing?
The third osprey chick is alive and well! This bird is continuing to grow (see below), which falls in line with what experts from the Potawatomi Zoo told us about the likelihood of survival for the strongest chick of the bunch.
Have Mom and Dad deserted the nest?
Mom and Dad have NOT left the nest! While Dad is often away from the nest to get food, Mom is always close by her surviving chick.
When will the livestream come back?
It is still unclear at this time when the livestream will go back up. We're continuing to monitor things on a day-to-day basis and will let you know of any significant updates.
Friday, June 30:
After monitoring things on a day-to-day basis, we've determined that the carcasses are no longer visible. Therefore, we're bringing the livestream of the nest back for your viewing pleasure.
Copyright 2023 WNDU. All rights reserved.