UPDATE: Former Irish forward Sam Brunelle won't take court in 'homecoming' game against ND due to suspension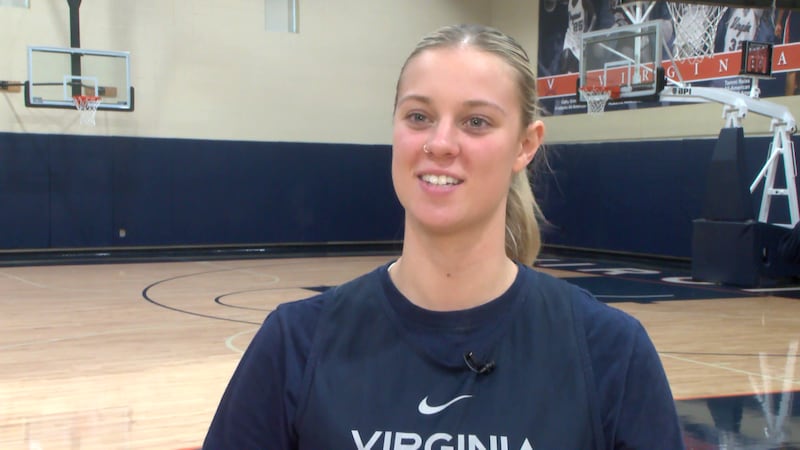 Published: Jan. 19, 2023 at 1:15 PM EST
UPDATE: Notre Dame women's basketball fans who were excited to welcome back Sam Brunelle likely won't see her take the court at Purcell Pavilion on Sunday afternoon.
In Virginia's last game against Florida State on Thursday, Brunelle picked up a Flagrant 2 fighting foul and was ejected. That carries a one-game suspension, which means she will not be allowed to play against the Fighting Irish.
ORIGINAL STORY:
SOUTH BEND, Ind. (WNDU) - A former Notre Dame women's basketball player is making her "homecoming" to South Bend this weekend.
Former Irish forward Sam Brunelle, who transferred to Virginia after spending three seasons at Notre Dame, will play at Purcell Pavilion when the Cavaliers visit on Sunday.
Brunelle, a Virginia native, played in 80 games for the Irish from 2019-2022, starting 31 of them. She averaged 10 points and 4 rebounds per game.
Brunelle says she is excited to return to South Bend to face her former team.
"I'm sure I'll feel it all, honestly," she says. "I think right now I'm cool with it. I'm excited to go back and see my friends that are going to come to the game and watch. (I'm) excited to see my former teammates. I still keep in touch with some of them, so it'll be good. I think it'll be a good trip, and I'm excited to see everybody again."
Tipoff is set for 2 p.m. on Sunday at Purcell Pavilion. The game will air on the ACC Network.
Copyright 2023 WNDU. All rights reserved.